Boy Bands Get Wet 'n' Wild Singin' in the Rain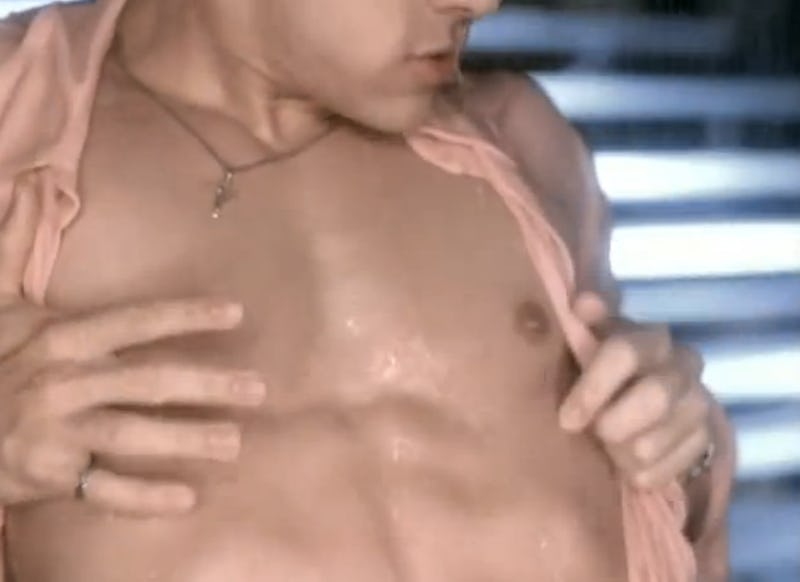 When the blessing of One Direction's video for "Steal My Girl" dropped Friday, the Internet went crazy for many reasons, but the main one was Harry Styles' hair and all of the guys getting drenched in rain at the end. (Sorry, spoiler alert.) The whole video is a fun, crazy mix of everything from chimpanzees to Sumo wrestlers to Danny DeVito — I love your work! — but at the end of the day, the rain dancing really takes center stage.
As we all know, they are far from the first boy band to incorporate rain into a music video. That title goes to Backstreet Boys in "Quit Playing Games With My Heart," which will never allow me to look at a basketball court the same way again. That video likely inspired O-Town's "Liquid Dreams" in some way, which has less real rain and more weird waterfalls and splashing. And honestly, Boyz II Men missed an opportunity with "Can You Stand the Rain" — why was there not a rain-soaked video for that song? I'm also still not over *NSYNC never dancing in the rain, though the streets in "I Want You Back" looked recently rained on. Relive all the actual rainy boy-band videos below.
Backstreet Boys — "Quit Playing Games With My Heart"
This was the original Magic Mike, basically. The boys of BSB sang and danced in the rain with unbuttoned shirts, and A.J. McLean even writhed around while touching his bare chest. As they got drenched, they just kept singing on that deserted basketball course...
O-Town — "Liquid Dreams"
This video had more CGI rain fall than anything — along with weird women-shaped water everywhere, but I'll spare the explanation of what "Liquid Dreams" means — but the guys did splash around. Less sexy than even One Direction's video, but hey, maybe the recently-reunited O-Town 2.0 will make a video in the rain next?
One Direction — "Steal My Girl"
The rain scene in "Steal My Girl" is more silly than sexy, but Harry Styles unbuttons his shirt, so that counts as something. It also seems the most natural, without it just randomly starting to rain like in "Quit Playing Games With My Heart." It also incorporates Danny DeVito, which no other boy band can say.
Images: YouTube (2); Vimeo