9 Easy DIY Costumes to Save Halloween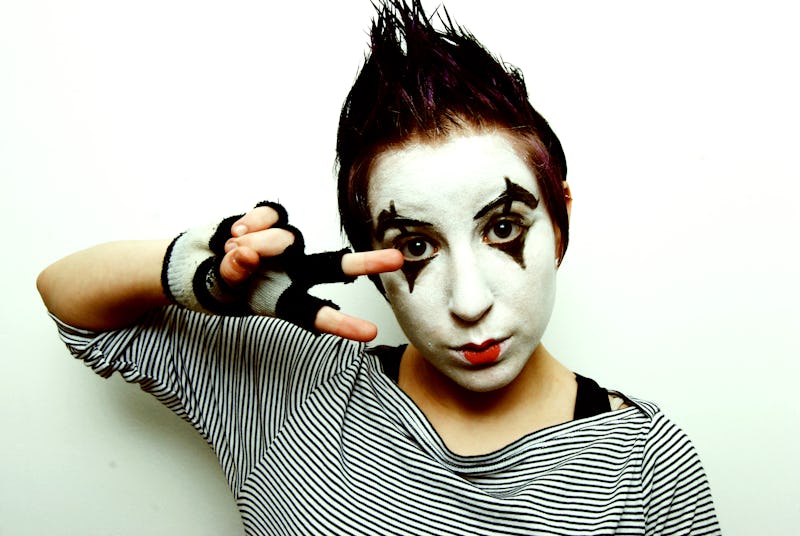 "Hey, what are you gonna be for Halloween?" says everybody for the entire month of October, and you've been all carefree and whimsical, like, "Hahaha, not sure yet! I'll think about it later because I'm busy looking at these hilariously ridiculous male stripper costumes," and now we are mere days away from everyone's favorite perennial dress-up fest, and your eyes widen as you make the startling realization that ahhhhhhh you still don't have a good idea! It's time to whip up a last minute Halloween costume, stat.
So what are you gonna do? You could always throw on your trusty cat ears, draw some eyeliner whiskers, and call it a night. But this is the age of social media — Facebook is a costume contest — and you cannot afford to have weak Halloween game, my friend. The last-minute lines at Halloween City are going to be insane, and you don't want anything cookie cutter-ish anyway, so that's out. You're basically down to one option: it's time to Cinderella this bitch. You need a quick and dirty, über-creative DIY job that you can pull together in no time. Don't worry, because I am here to help! And I've already done the hard part by scouring the Internet for these nine fast, easy, and, most importantly, FUN costumes to save your Halloween rep.
1. ZOMBIE ELIZABETH BENNET
Here's how: Jane Austen fan? Penchant for the undead? Combine your loves with this costume! You'll just need an old timey nightgown, fake blood, and zombie makeup prosthetics (check out these pro tips from The Walking Dead 's Special FX Makeup Designer).
2. BAT
Here's how: THIS IS WICKED COOL! All you need is black pants or a skirt, a hoodie, an old umbrella, and a few basic tools — these directions make for an easy peasy put together.
3. AMERICAN GOTHIC
Here's how: A black schoolmarm dress with a brooch for her. Plain white shirt, overalls, dark suit coat, pitchfork, and (perhaps) bald cap for him. Picture frame to go around the both of you = awesome couples costume.
4. ICE CREAM CONE
Here's how: Brown pencil skirt and heels, ruffled, frosting-colored top, and here's a simple how-to for the cherry on top. Plus, more pics to inspire your sweet creation.
5. BALLERINA
Here's how: Looking to raise the barre with your costume this year? Super-easy assembly with leotard, tights, ballet slippers, and bun — maybe add a tutu or ballet skirt. Variations for guys (this dude who went prima ballerina is pretty much my favorite thing), and those abloom with child (what's not to like about a pregnant ballerina). It helps to have some moves, but you're on your own in that department.
6. HOT CARE BEAR
Here's how: To be a hottie Care Bear, you'll need a white tank, monochromatic Easter egg-colored shorts, jacket, wig, and ears, and some felt to make your favorite belly badge. Or go the more authentic (read: comfortable) route — slap that badge on your pastel footie pajamas (which, don't lie, you already have), put on some matching ears, and you're officially seven years old again!
7. GREEK GODDESS
Here's how: This one's for the non-ballerina basics. Long flowing white dress, gold headband or a wreath of leaves, gold arm cuff, maybe carry around a bunch of grapes — and if you're lacking a white gown, simply put a Roman twist on the idea by wrapping a white sheet into a toga.
8. ADAM AND EVE
Here's how: Nude undergarments, headband, artificial leaves, a glue gun or needle and thread, unwavering confidence in your essentially-naked bod, and dude willing to bare all with you. Or, you could do a more progressive "Adam and Steve" spin-off, or "Eve and... Eve?"
9. MIME
Here's how: Plain top and loose slacks with suspenders or a jumper in a black, white, and/or red color palette. Bonus points for stripes! Top it off with a beret and face paint, and treat fellow partygoers to your silent dramatics. (Seriously, the whole night, just shhhhhhhh — I promise, you'll be a huge hit. Wink.)
Images: Will Brown, zombieite, Matt Thompson, Lenore Edman, Nathan Rupert, ChrisHaysPhotography, Jonathan McIntosh, Dex, Eliya/Flickr; Studio DIY