Another Reality Show Hit With Horrifying Reports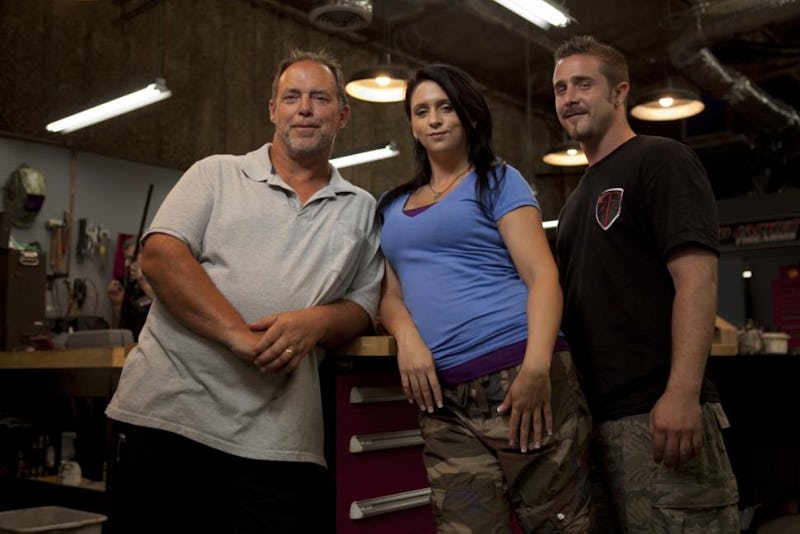 Perhaps it's just been an unfortunate past couple of months, but lately it seems that so many reality TV stars have been finding themselves in a lot of trouble, both legal and moral. From The Real Housewives of New Jersey's Teresa Giudice being sentenced to 15 months in prison to reports of Here Comes Honey Boo Boo's Mama June reportedly dating a sex offender, Mark McDaniels, who allegedly sexually assaulted her own daughter, Anna, when Anna was 8, much of the celebrity news I've heard lately has me horrified. And now, unfortunately, it seems like there's more: According to new reports, Discovery Channel's Sons of Guns stars Stephanie Hayden and Kris Ford were arrested for allegedly abusing Hayden's 9-year-old son.
This is sickening. The couple was reportedly arrested on Friday because Ford allegedly struck Hayden's son with a belt last month, causing him to bruise. Although Hayden is not being accused of abusing her son, she was taken into custody because her son told police officers she was in the room when the incident took place, according to Livingston Parish officials.
The fact that Ford allegedly beat Hayden's child is disgusting, but I'm also upset that it took an entire month for them to be arrested. That's just unacceptable, and Hayden should have reported it immediately.
Clearly, there is something very wrong going on in this family — and not only because of what happened to Hayden's son, but because her father, Will Hayden, was reportedly accused of child molestation just a few months ago. Unsurprisingly Sons of Guns was eventually cancelled after those reports were made public.
Good riddance.
Image: Discovery Channel