'Fast & Furious 7's Official Name Has Been Release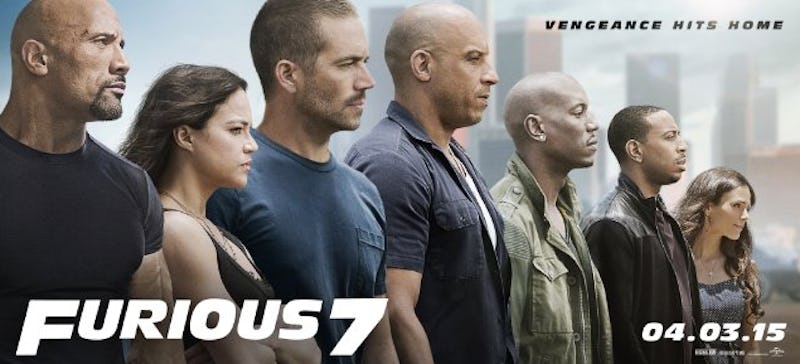 For car fanatics and action movie-seekers everywhere, Universal Pictures has a major announcement to make: The trailer for Fury 7 will be released in just seven days. As the seventh installment of the Fast & Furious franchise, this will be the late actor Paul Walker's last performance on the big screen since his death in a tragic car accident. Universal Pictures released a statement on Facebook on Sunday saying that the movie trailer would be revealed at The Road to Furious 7: Trailer Launch Event at Universal Studios in Los Angeles, and that tickets for the film would start to go on sale Monday, Oct. 27.
The movie, which casts actors like Vin Diesel, Jason Statham, Dwayne Johnson and Michelle Rodriguez to name a few, is set to premiere on April 3, 2015. On Saturday, Nov. 1, the same day as the launch event, Diesel, Rodriguez, Jordan Brewster, Tyrese Gibson, Ludacris and Statham will be answering fan questions posed on Instagram.
"Go to Instagram and submit a video, asking your favorite Fast & Furious star your question while using the hashtag #AskFurious7," Universal's statement reads. "Or, simply write your question in the Comments section below. Your question could be answered live on-air!"
For those who can't attend the event, a live broadcast will take place on the Fast & Furious Facebook page as well as on E! at 12 p.m. PST or 3 p.m. EST.
Image: Universal Pictures/IMDb