The Exciting News Keeps on Comin' For T. Swift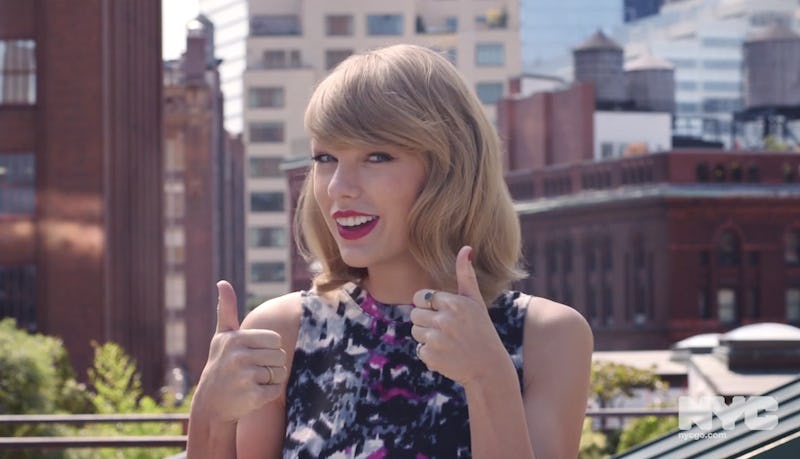 It's time to take "Welcome to New York" to a whole new level, Swifties. Taylor Swift was named New York City's global welcome ambassador for tourism, which basically means you'll see her popping up in videos and billboards around the city. (Unfortunately, it probably doesn't mean she will personally welcome you to NYC when you arrive, like you would get leis in Hawaii.) Swift announced the exciting news on Good Morning America with a video clip of her teaching everyone how to pronounce "Houston Street." Spoiler alert: it's not how you say Houston, Texas. Even though she moved into her $19.9 million Tribeca penthouse just about seven months ago, she's excited to learn with tourists and new residents alike. "I'm still learning, but I'm so enthusiastic about this city that when I love something, I'm very vocal about it," Swift said on GMA. "New York was a huge landscape for what became this album. It's affected my life in ways I'm not even aware of fully."
In a set of videos on New York City's official site, she also reveals what drew her to the "absolutely overwhelmingly electric" city, and how she used to be intimidated that it was "bright and bold and loud." Apparently that's how she wants to live her life now, which is seen throughout 1989 , her first pop-only album that everyone at Bustle is totally obsessed with.
Though Swift can't be your real tour guide, she does have an outline of how to have a great day in NYC: start with a great cup of coffee, then explore a neighborhood without making a plan. She says you'll find "secret treasure places," and if you get lost along the way, just as a "honest and friendly" New Yorker for help. Welcome to New York!
Images: NYCGo