'The Voice's Bryana Salaz Deserves More Attention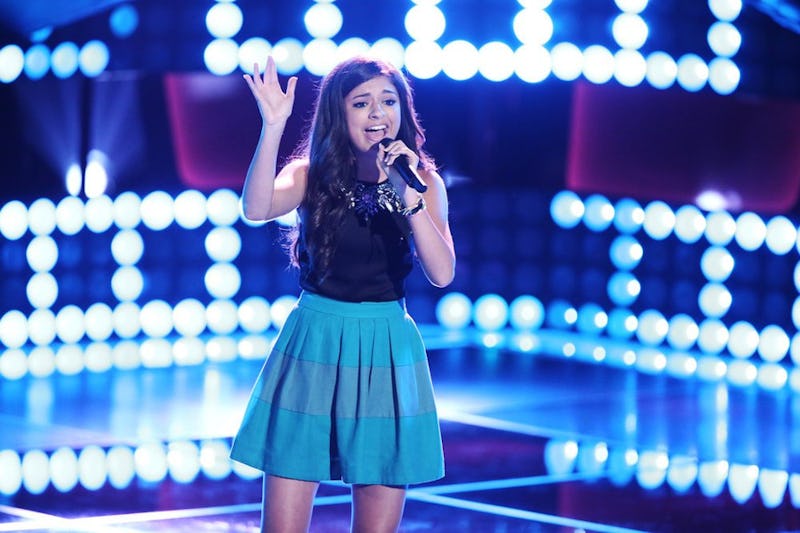 I know that The Voice needs to be picky with which contestants it focuses on each week because, otherwise, we'd be watching every single night. (Not that I'd complain.) But I feel like the series did a great disservice to its fans when it didn't show Team Gwen singers Bryana Salaz and Gianna Salvato's "Boom Clap" battle round, even though Gwen told Salaz that she has "The Voice." I guess I can forgive the series' mistake, however, because in the upcoming knock-out rounds, Salaz will perform Demi Lovato's "Heart Attack," against fellow Team Gwen powerhouse, Sugar Joans. And I'm sure it'll be a performance that'll blow the roof off of this place — especially since Salaz has performed this song before.
Look, Team Gwen is full of great singers — in fact, Joans and Salaz might be her two biggest voices right now. But, Salaz is absolutely a cut above the rest. Like the 16-year-old says during her interview, she's unique and she's special and I completely agree. Joans might come from musical pedigree, but Salaz is just one a whole different level of pure, natural power and talent. If Gwen lets her go, it'd be an epic fail for Team Gwen and the No Doubt singer's chances at winning her first season as a judge.
Salaz has the potential to be huge and she's been proving it for years:
She's A Natural
Look at this little nugget of a human channeling Barbra Streisand at a competition in Hawaii in 2010. I feel like Lea Michele would die of envy after watching this video and hearing Salaz's voice. The singer was probably 12 years old when she brought the house down with this song — that's natural talent. That's The Voice.
She's A Performer Through-And-Through
I remember watching Salaz's blind audition and being totally blown away by her stage presence and how comfortable she was standing up there doing her thing in front of some of the music business' biggest stars. There's a future star in there and, clearly, the judges realized that too when Gwen, Adam, and Blake all turned around. They were enamored by Salaz's energy, control, and presence and that counts for everything.
We Didn't Get To See Her Battle, But She Has "The Voice"
WHY DID WE NOT GET TO SEE THIS BATTLE? Just listen to all of those words of praise Gwen offered up for Salaz — she's the total package, she's THE VOICE. It was such a grave injustice for the series to give the "Boom Clap" battle a glossing over when it was obvious that it showcased a powerhouse performer with chances of winning.
She's Knocking Out Her Favorite Demi Lovato Song
In the description of this video, Salaz establishes that she's putting her own twist on the Demi Lovato track. Which is exactly what she'll be doing during her The Voice knock-out round. Essentially, she's got a leg up because she clearly already knew her voice well enough to put her own spin on this song in 2013. Salaz is heading into this knock-out round seriously prepared with her voice and her knowledge of what the judges are looking for, so she's absolutely going to come out on top.
Image: Tyler Golden/NBC