Gwen's 'Voice' Team is a Female Powerhouse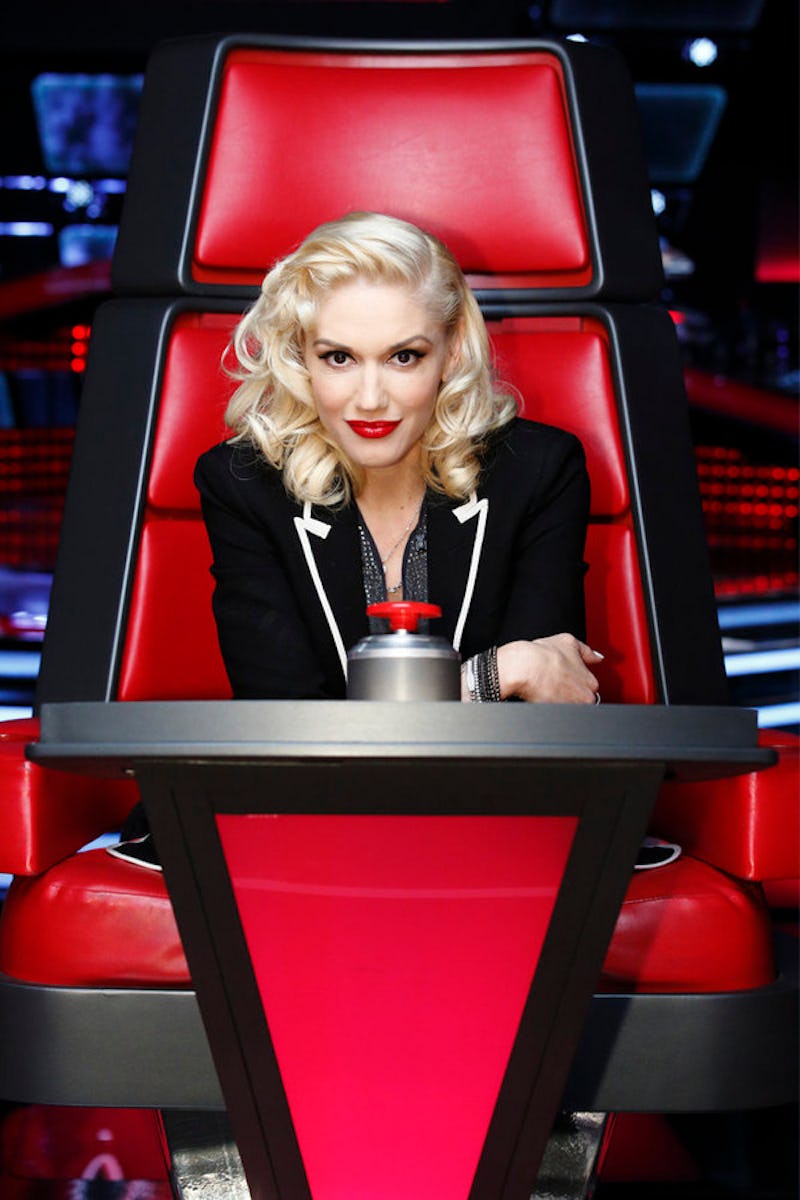 The Voice has completed this season's blind auditions and each coach's team is assembled. Voice newcomer Gwen Stefani, in particular, looks like she's brought a killer group of performers together. Gwen is the only female judge this season, and the only one whose team is predominantly women. Get it, girl. During several different auditions, when a female singer was trying to decide between Gwen and another coach, Gwen brought up the fact that she knew what the music industry is like for women. Well, she got eight girls to go Team Gwen, so I guess her pitch worked. Now that the group is fully formed, let's rank Team Gwen's 12 singers from least to most likely to win.
True to her ska and punk roots, Gwen's team is mostly made up of more rock-style singers, with a few pop and reggae artists thrown into the mix. The Voice has heavily favored soul, R&B, and country singers in the past, but it looks like Gwen is trying to shake things up and bring some new styles to the competition, which I, for one, am really excited about. Top 40 needs some hardcore lady singers with a little edge. Bring back the '90s, Gwen!
Here's how I think Gwen's team will fare:
12. Gianna Salvato
Gianna's last place rank is not really fair, if we're deciding who should win based just on talent. Unfortunately, The Voice is still a reality TV competition, so more than raw talent is at play. NBC only aired 20 seconds of Gianna's blind audition — tacked on to the auditions of two other singers. With such little airplay, the network and the show don't seem to be banking on Gianna at all. She probably won't make it past the Battle Round.
11. Troy Ritchie
Troy has a decent voice. He's not so low on this list because I thought he sounded bad. But to me, his audition felt more like a frat bro breaking out a guitar to impress the ladies than a performance from a serious vocalist. Good enough for his college's a cappella group? Sure. But good enough for The Voice? I have my doubts.
10. Mayra Alvarez
My first impression of Mayra's voice is that she'd be perfect for a Disney animated film soundtrack. She came across as very "pageant queen" on stage, and didn't show a ton of emotion for most of the song (though her belt at the end was impressive). She does have one of the broadest vocal ranges of anyone on Gwen's team, but I don't know if that's enough to get her to the top.
9. Jessie Pitts
Jessie has a voice that sounds like cotton candy tastes: sweet but without any weight. She has that same breathy, raspy sound that made Holly Henry from Season 5 stand out, but without Holly's strong lower register. I just can't see her winning over the big-voiced belters this show favors.
8. Bryana Salaz
Speaking of belters, Bryana clearly knows what makes an audition stand out: a catchy, upbeat song and a lot of vocal theatrics. Bryana showed off both, and I could see her having a large fan base among voters around her age — she's 16. But she doesn't have a lot of technique to fall back on, and there was quite a bit of shout-singing going on. She's still in high school, so maybe she's just too young to compete against more experienced vocalists right now.
7. Anita Antoinette
Anita got all four chairs to turn, so clearly she's doing something right. She has a rich, soulful voice, and she's studied at Berklee College of Music, so she has the technical understanding and craft to back up her talent. The reason she's not higher on the list has more to do with her ability to connect with fans. Her singing is fairly understated, and I think she'll have to branch out from reggae music to crossover with pop and country fans who make up the bulk of The Voice's audience.
6. Ryan Sill
Ryan is the contestant who benefitted the most from The Voice's blind audition concept. This kid does not look like a pop star, he looks like he sings in a church choir. Ryan started a little bland, but he grew on me throughout his audition. He gained confidence and was able to hit some notes I did not expect to come from him. By the end he was owning the stage, and showing some real potential.
5. Sugar Jones
Sugar's style is obviously inspired by former Voice coach Christina Aguilera. Her huge, roaring voice sounds eerily similar to the "Ain't No Other Man" singer. In a battle round it's hard to see how anyone could beat out Sugar, unless the coaches feel she's relying too heavily on her belt while not showing other techniques.
4. Menlik Zergabachew
Like Anita, Menlik may also be at a disadvantage for singing reggae, a less popular, non-Top 40 genre. But Menlik's style came across as more pop-friendly than Anita. More importantly, he showed some serious swagger and confidence on stage, which is really important in this type of competition. (He's also really cute, which is equally important in this type of competition.)
Fun Fact: Gwen Stefani has recorded with Sublime, the group that wrote Menlik's audition song, "Santeria."
3. Jean Kelley
Jean has some of the most precise control over her voice we've seen in any of the auditions. Her vocals are crisp and clear, and she has enough strength behind her phrasing that she doesn't need to break out the belt to prove how good she is.
2. Taylor John Williams
Taylor auditioned with Kanye West's "Heartless," a bold risk that definitely made me sit up and take notice. Singing a rap song may be cliché at this point, but Taylor's song choice, and his ability to make it his own, still shows that he has a unique perspective, that he knows himself, and that he's got a "cool factor" you can't fake. Sometimes that's worth more than showy vocals.
1. Amanda Lee Peers
Amanda's performance was instantly likeable. She's one of the only rock singers in the competition, but she also has a twang that could cross over into pop-country á la Carrie Underwood. She was one of the few auditioners who was really able to convey the emotion behind her song, get the crowd going, and have a lot of fun, all at the same time. Amanda is also currently performing with a band, so she already does this for a living. Now, she's just going to do it on a (much) bigger stage.
Images: Trae Patton/NBC