Will 'Interstellar' Have Strong Female Characters?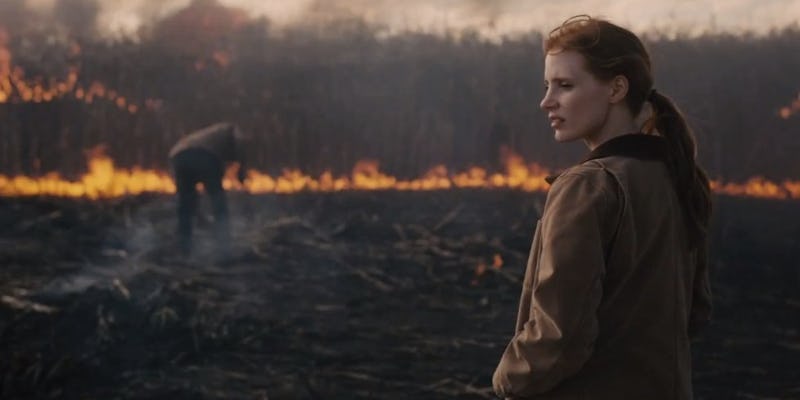 Christopher Nolan has never wanted for capable actors. Now a Hollywood power player, it's no surprise that he can line his latest movie Interstellar (which has just released its first batch of reviews) with stars like Matthew McConaughey, Anne Hathaway, and Jessica Chastain. But even before striking it big with his Dark Knight trilogy, the director built his early films like Memento and Insomnia on the talents of Guy Pearce, Al Pacino, and Robin Williams.
Moving into the blockbuster game, he wrangled Christian Bale, Liam Neeson, Morgan Freeman, Heath Ledger, and Tom Hardy. For The Prestige, he snagged Hugh Jackman and David Bowie. For Inception, Leonardo DiCaprio and Joseph Gordon-Levitt. And in just about everything, he finds a place for Michael Caine. Oh, and there are some women in there too.
Female characters appear to be the director's biggest blind spot. Any one of his tortured leading men jumps immediately to the brain upon thinking over the director's epic filmography, but it's a tough endeavor to conjure up a Nolan heroine with any genuine merit. Hathaway's Selina Kyle in The Dark Knight Rises is as close as we get in Nolan's three-movie Batman franchise, with would-be runners up relegated to the effectively formless Rachel Dawes (so easy to recast thanks to a determined lack of impact) or the means-to-a-twist-ending Miranda Tate/Talia al Ghul. Beyond Gotham City, there's hardly a competitor in the league: ladies take form as idealized love interests, witless victims, or stuck-in-the-backseat Ellen Pages.
Considering the gravitas of the woman with whom Nolan has worked thus far, we can't be too optimistic about Interstellar, which reunites the filmmaker with Hathaway and aligns him for the first time with Chastain. But it's their characters that give way for hope this time around.
As evident from the movie's trailers, Hathaway plays an astronaut who joins engineer McConaughey on a mission into space to find the natural resources much needed by a dying planet Earth. Back home (and here's where a major spoiler kicks in, so beware) we have Chastain, who plays McConaughey's adult daughter, aging at a normal rate while wormhole space travel keeps her dad a youthful 40.
Neither one is a spurned lover or a dead wife; neither one an expendable pawn there only to further contort the puzzle. With no Gordon-Levitts, Hardys, or even the odd Dileep Rao to overshadow her contributions, Hathaway may serve as a level party — or at the very least close contact second-in-command — to the star-hopping McConaughey, proving far greater an asset than Nolan ever let Page be.
Down on Earth, Chastain will bear the lion's share of drama. Though she'll split the stage with screen brother Casey Affleck, trailers suggest that it is with McConaughey's daughter "Murph" (that's her — and Mackenzie Foy in the early stages) where Interstellar's pulsing heart truly lies.
It might be unnerving to talk about the heart of a Nolan flick. From his cold and nihilistic superhero series to his decidedly unimaginative dream movie, Nolan has never exemplified any particular favor of sentiment. But everything we've seen and understood from this story so far — one embedded in the relationship shared by a devoted father and his compassionate daughter — hits just shy of Spielberg sweetness.
Though a whole mess of problems sprouts from insinuating that the director's first go at a "feelings movie" might land it is first full-formed female characters, I'm not entirely ready to discount the partnership of these ideas. No, you don't need sentimentality to write interesting women. What you do need, however, to write interesting characters of any kind is some air of sophistication. And it seems like that's something Nolan is accessing for the first time in Interstellar.
In fact, maybe it's not that his female characters were so much worse than his male. Maybe his male characters — his grimacing brute Christian Bale, his dull-as-a-doornail Leonardo DiCaprio, his curmudgeonly amnesiac Guy Pearce — were just as poorly developed, but were, as America has tragically come to expect, simply given more time onscreen, more stuff to do. And maybe with Interstellar, Nolan has grown sophisticated enough to decry American expectation, to cast off his own resistance to heart and imagination, and to really work on the characters to whom he's never given much of a second thought. As per usual, he's got just the actresses for it. But this time around, he's got the characters to match.
Image: Paramount Pictures (3)