'The Originals' Elijah Proclaimed Himself Feminist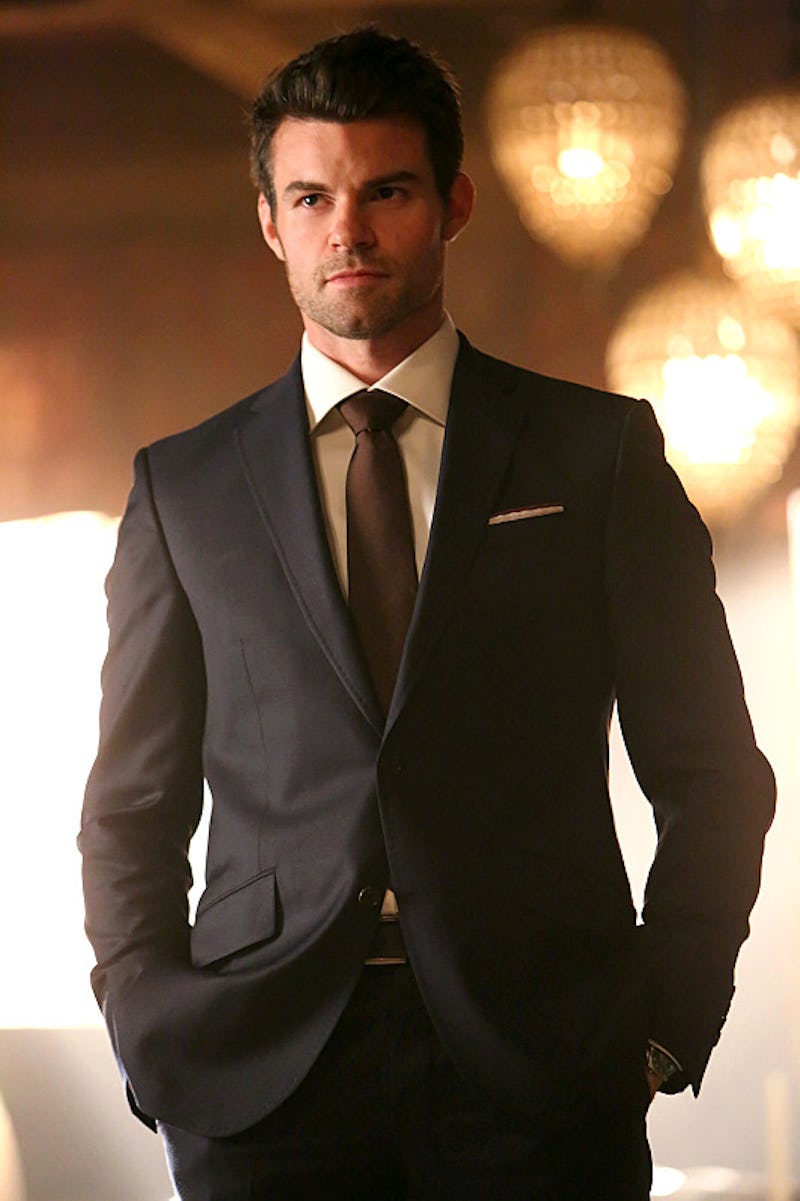 OK, everyone, The Originals is officially a series after our own hearts and Elijah Mikaelson might very well be the man of our modern-day dreams. I guess living for centuries teaches a guy a thing or two about gender equality. We already knew that The Originals' Elijah Mikaelson liked strong, independent women and I really loved him for that — yes, more than I love Daniel Gillies' perfect eyebrow raise. But I was starting to worry a bit about him as Elijah quit on Hayley early on The Originals Season 2. Well, on Monday night, The Originals Elijah identified himself as a "devout feminist" while training new vampire Gia. And my heart was all aflutter over it.
There have been plenty of times where I've appreciated Elijah Mikaelson — for his ruthlessness, for his quick and dry humor, and for how well he treated Hayley (up until Season 2, of course). And, I mean, he's not really terrible to look at either. But, while it occurred to me that he clearly had a taste for women that challenged him, it never occurred to me that Elijah was a vampire that would be all about equal rights and treatment for the sexes. Nor did I think I'd ever hear him identify himself straight-up that he's a feminist. Look at you, Julie Plec, bringing the present-day conversation into supernatural politics.
But, the reality of Elijah Mikaelson's time on The Vampire Diaries and now The Originals is that he's been feminist all along. Take these five instances, for example:
When He Supported Hayley's Leadership
It killed Elijah to let Hayley go to the Bayou and take over as queen of her pack of werewolves. I mean, he couldn't protect her there and it certainly was more dangerous than anything else for her to be there. But, even though he felt so strongly against it, Elijah supported her through the entire ordeal, even when she challenged him.
When He Dated Powerful Women
There's a big issue on The Originals and The Vampire Diaries on occasion where vampires compelled the women they're with (we're looking at you, Damon and Klaus) to forget certain transgressions or details about these relationships. But Elijah never went there — instead Elijah went for Tatia, Katherine, Celeste, and Hayley, all women that were beyond his control because he didn't want them to be. Elijah doesn't want a puppet, he wants a real woman who's an ally and it's dreamy.
When He Stood Up To Klaus For Treating Hayley Like Crap
Look, Klaus might've changed since Season 1, but the fact of the matter is that, when he first learned of Hayley's pregnancy, he treated her as nothing more than the vessel to bear his heir. Which is really just so archaic, I can't even stand. But, thankfully, Elijah exists and it was a shining moment for him when he called out Klaus for treating Hayley like she was nothing and marking her pregnancy with his selfishness. Just because werewolf women can get pregnant, doesn't make them any less supernaturally powerful and it certainly doesn't reduce them to just being a producer of heirs. You tell 'em, Elijah.
Images: Quantrell Colbert (2), Bob Mahoney, Guy D'Alema/The CW