Mona Made an Appearance on 'DWTS'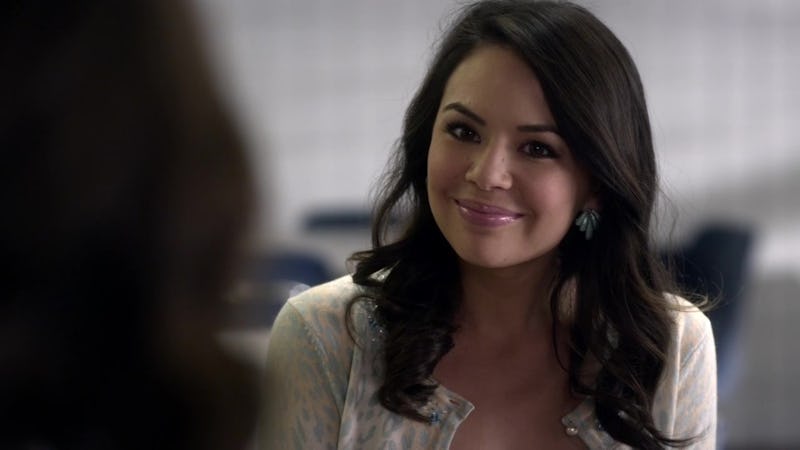 Mona Vanderwaal is back! On Monday it was Dancing With the Stars Halloween night, so it only made sense for Janel Parrish and Val Chmerkovskiy to pay homage to Pretty Little Liars. The ABC Family show is well-known for their Halloween-themed specials. Fans look forward to them every season because they always reveal some huge secret and scare us all a lot in the process. Remember when Aria got locked in the trunk with a dead body on the ghost train? I still remember how terrifying that episode was, and [spoiler] even though alive Mona may be gone from the series, she's not gone from our hearts.
Because of this, Parrish wanted to pay homage to the show and her fans. The resulting dance was classic Mona and classic A. She and Chmerkovskiy danced to the Pretty Little Liars' chilling theme song in front of a crowd full of her cast members from the show including the actors who play Noel Kahn and Lucas Grottesman.
The number was rife with fun PLL references. Parrish started out the dance with a doll version of Val Chmerkovskiy, just like she had of Spencer, Emily, Hanna, and Aria in the show. At the end of the dance Parrish pulled out a scary "shhh" motion like Lucy Hale does in the show's intro.
The whole routine was rightfully creepy and she even killed Val Chmerovskiy at the end of the number. After all, it's not PLL if someone doesn't die.
It wasn't as good as having Mona still be alive, but the dance was a nice tribute to the show that launched Parrish's career. Plus, it was a fun nod to a character that fans loved, hated, and loved again.
Images: ABC Family; pretty-little-liars/Wikia