Beards of the World, Unite!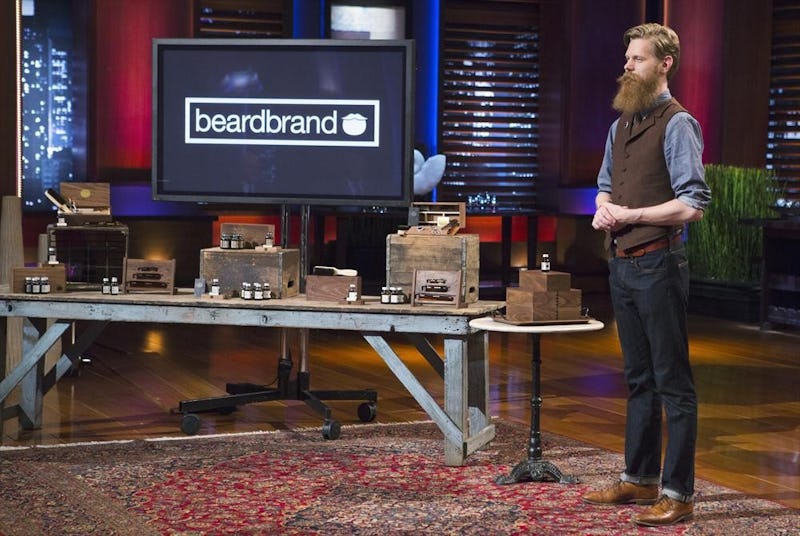 I truly adore facial hair — and if I had the right genes for it I would probably have my own beard. For fellow beard-lovers and beard-havers, the company Beardbrand will be on Shark Tank this Friday and they are out to prove that facial hair is not just a fad — it's a lifestyle. Founder Eric Bandholz wants to show that having a beard doesn't mean you have to be unkempt. It's common for people to style the hair on their heads, so why not style your facial hair if you've got it? They have their own website where you can purchase their gear — items like mustache wax go for $6.99, while grooming kits can cost upwards of $100.
Yet, the Sharks all have clean-cut looks. Although beards are not exclusive to hipsters, the trend still doesn't seem to have made its way to the business world. Bandholz is trying to change that by making the "Urban Beardsman" (a term he coined) an acceptable and embraced lifestyle choice during this beard renaissance. That's why, beyond just grooming products, Beardbrand has an online magazine about the beard "movement." But, will the Sharks be convinced enough to fund this product? Especially if they are strangers to the facial hair cause and consider this to be more of a niche market?
Regardless of how the Sharks respond, and whether you, a family member, or a friend is rocking the beard, here's how Beardbrand can benefit the members of the hairy brethren.
It Keeps Beards out of Beer
Whiskers getting into you or your loved one's PBR? Beardbrand has the products to tame that wily hair. You can even sculpt your beard around your PBR! And of course, it doesn't have to just be PBR if you prefer a different beer. (And for those of us sans facial hair feeling left out, you can just get a bearded beer cozy.)
It Brings Facial Hair to the Next Level
The IFC show Whisker Wars may be canceled, but Bandholz created Beardbrand after competing in the West Coast Beard & Mustache Championships. Beardbrand has all the goods to help bring a beard from just an untamed accessory to a competition-attending thing of beauty. Beardbrand's retailers page says, "We are looking to grow our footprint dramatically this year" (thus, the Shark Tank appearance), but there are still many stores where Beardbrand products are sold throughout the U.S. and beyond.
It Prepares Participants of Movember
November is pretty much here now, which means Movember — where men grow mustaches to raise money (and awareness) for men's health — is also here. The company may be called Beardbrand, but they seem to be equal opportunity in wanting all types of facial hair to be well-maintained and majestic. And they have the products to keep the 'staches styling this Movember. Movember does explicitly state that no beards are allowed, but no worries since Beardbrand's Urban Beardsman magazine broke down whether someone should choose going with Movember or No-Shave November. (For the record, I'm feeling pretty left out again, so I may need to my own No-Shave November, if-you-know-what-I-mean. And if you don't know what I mean: hairy armpits, here I come!)
It Helps Make "the Dream of the 1890s" Come True
As Fred Armisen and Carrie Brownstein sang on Portlandia, "It's the dream of the 1890s in Portland." And founder Bandholz, who hails from Spokane, Wash., knows all too well how that dream of rugged bearded men who pickle their own food spread beyond the Pacific Northwest. Bandholz wants to deliver that sometimes outrageous, always amazing groomed beard look right to your door. Let's hope that the Sharks help him in his righteous endeavor on ABC on Oct. 31.
Images: Adam Rose/ABC; Getty Images; cthulove, lifeasrachseesit/Tumblr; IFC