9 Scary Stories To Read for Halloween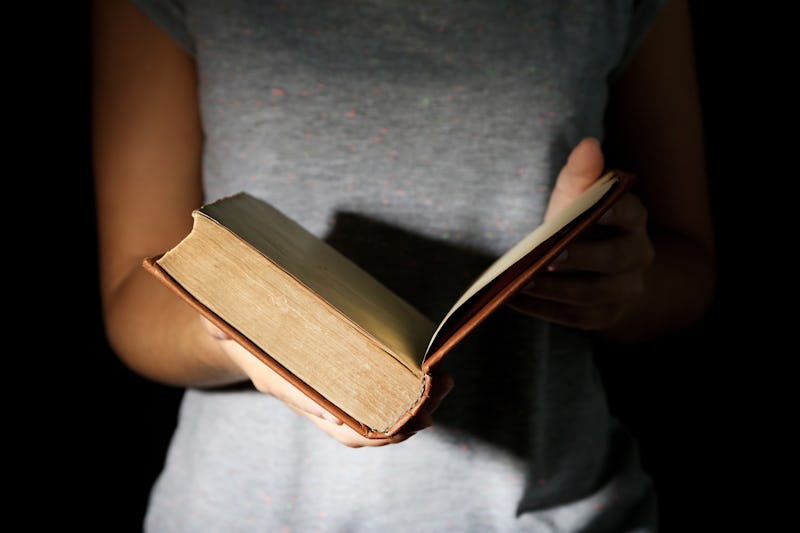 As much as revisionist history would have you think otherwise, women writers were pioneers in the horror genre. Ann Radcliffe's Gothic story The Mysteries of Udolpho was published in 1794, and it was borrowed from by both female and male writers for centuries after that. Mary Shelley wrote her iconic horror novel Frankenstein; or, the Modern Prometheus and another short story the same year H.P. Lovecraft had his first short story published, in 1817. Shelley was supposedly inspired when she was challenged by her husband Percy Shelley and Lord Byron, while on drugs, to write a ghost story. The three are often credited as inventing the science fiction and vampire sub-genres.
Edgar Allan Poe didn't have his first horror story published until 1833. For every Poe, Stoker, and King there's a Gilman, Jackson, and Rice who have been hiding in the shadows, undeservedly.
Too often women are seen as the victims in and not the creators of the horror story. But these nine short stories by women writers should put that argument to rest. Each is available to read or listen to online, just in time for your Halloween celebrations.
"Onion" by Caitlin R. Kiernan
Caitlin R. Kiernan is a self-proclaimed "weird fiction" writer, not a horror writer. Still she's well decorated by horror awards because of her storytelling skills. Her short stories have a way of creeping down into your bones and scaring you into seeing the world through a completely different, stranger lens.
Her short story and 2001 International Horror Guild Award Winner "Onion" is a perfect example of this effect she has. Like in many of her stories, plot plays a secondary role to atmosphere and mood, often displayed through the fully human characters she depicts — in this case, Frank and Willa. To say too much would be to give away the essence of the story as it unfolds.
"The Lottery" by Shirley Jackson
Shirley Jackon's "The Lottery" is an iconic piece of horror fiction. If by some chance this story bypassed you in high school or college, open up a new tab and read it immediately.
Great, now we're all on the same page.
What's so haunting about "The Lottery" is its pervasive sense of unease. Each sentence, each word even, the passes, builds up tension until all of the secrets come bursting into the light light and you see what the titular lottery really is. And in that genius moment when all is revealed, it's truly terrifying.
It's the kind of story, like many of Jackson's horror fiction, that will stick with you long after you're done.
"Where Are You Going, Where Have You Been?" by Joyce Carol Oates
It's impossible for a woman to read "Where Are You Going, Where Have You Been?" without getting that sick feeling deep in your stomach that something is horribly, horribly wrong. The short story was inspired by three murders commited in Tuscon, Arizona by Charles Schmid, who was known as the Pied Piper of Tuscon. Oates brings the whole terrifying scene to life so well that when things begin to escalate, slowly as in Oates' style, you can't help but yell out loud to the main character, a 15-year-old girl named Connie, to run, to turn around, to do anything.
"The Birds" by Daphne du Maurier
"The Birds" by du Maurier inspired the Alfred Hitchcock classic of the same title. But there are some elements you get when sitting down to read the printed words that even Hitchcock can't being to life on the screen.
What he had thought at first to be the white caps of the waves were gulls. Hundreds, thousands, tens of thousands… They rose and fell in the trough of the seas, heads to the wind, like a mighty fleet at anchor, waiting on the tide. To eastward and to the west, the gulls were there. They stretched as far as his eye could reach, in close formation, line upon line. Had the sea been still they would have covered the bay like a white cloud, head to head, body packed to body.
Du Maurier is a master of suspense, but she also manages to amplify the threat of these birds by seemingly decorating them with signifies of threatening wars, armies, and battles — which resonated so soon after World War II and today, amid other altercations overseas.
"The Yellow Wallpaper" by Charlotte Perkins Gilman
Gilman is highly regarded in the literature community as an early feminist. "The Yellow Wallpaper" is a horrifying first-person account of a woman named Jane, whose husband has confined her to a bedroom in the house. As she descends into madness, she becomes enraptured by the yellow wallpaper on the bedroom walls. Not only is the story truly scary, it's a crucial work of feminist literature that spoke out against the patriarchy, and it paved the way for the likes of Sylvia Plath and Alice Walker after her.
"The Pelican Bar" by Karen Joy Fowler
While not a ghost story, Fowler's short story "The Pelican Bar" is all kinds of creepy. It has hints of the American Horror Story: Asylum vibe, as the main character is shipped off to a boarding house for misbehaved teenagers.
Fowler, of course, has the chops to make this a truly unique and interesting story. "The Pelican Bar" won the 2009 Shirley Jackson Award and the 2010 World Fantasy Award. Her most recent novel We Are All Completely Beside Ourselves won the 2014 Pen/Faulkner Award and was shortlisted for the 2014 Man Booker Prize.
"The Striding Place" by Gertrude Atherton
Atherton's story "The Striding Place" was originally titled The Twins, an allusion to this line in the text:
Absolutely. The body and soul are twins, life comrades — sometimes friends, sometimes enemies, but always loyal in the last instance.
After a man's friend goes missing, he walks out in search of him. But what he finds isn't anything he expects. Again, to reveal too much is to give away the heart of the story, but that final line will definitely make you catch your breath.
"The Shadows On The Wall" by Mary E. Wilkins Freeman
"The Shadows on the Wall" is an honest-to-goodness ghost story, about three siblings who are coping with the mysterious death of their family member, when a strange shadow appears (yes) on the wall. Wilkins Freeman's work is reminiscent of the stories of H.P. Lovecraft — traditional horror ghost stories with a twist of the supernatural.
"The Graveless Doll of Eric Mutis" by Karen Russell
Russell, author of Vampires in the Lemon Grove, is a rollercoaster ride of a read. Her short story "The Graveless Doll of Eric Mutis" is totally bizarre and completely one of a kind — and I mean that in the best possible way. Take, for example, the opening line:
The scarecrow that we found lashed to the pin oak in Friendship Park, New Jersey, was thousands of miles away from the yellow atolls of corn where you might expect to find a farmer's doll.
When you think the story is going to be a creepy scarecrow story, like The Scarecrow Walks At Midnight by R.L. Stine, Russell twists your emotions and revels something else. A group of boys finds this scarecrow, and it has the same face as a boy they used to bully.
Russell proves that just because something is haunting and eerie, it doesn't mean it can't make you think.
Images: Fotolia; Giphy (5)