What's on TV on Halloween? Trick or Treating Is So Overrated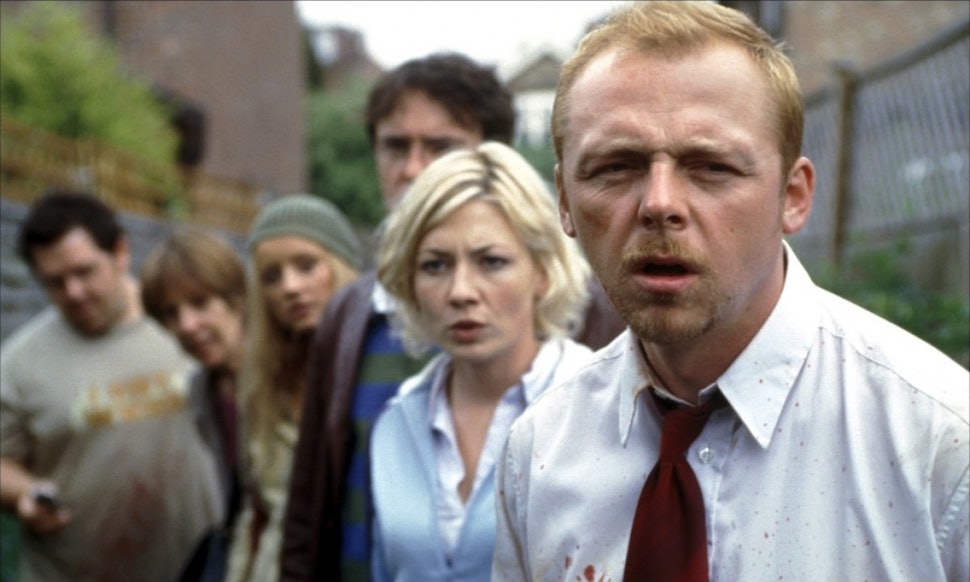 I am an adult who has absolutely no shame in dressing up in ridiculous costumes anytime of the year, which is why Halloween is one of the best holidays for me. But if you'd rather avoid the ghouls of the outside world, you may be wondering what's on TV on Halloween night. Well, this guide has got you covered.
Now, I'd like to emphasize that as much as I love TV, I strongly encourage all people to get your Halloween party and costume on. (C'mon, people! Halloween falls on Friday this year. It's a gift from the mystical world!) But if you are wallowing in the fact that you left work early to hand out candy and no one even rang your doorbell, or if you took your own little pumpkins out trick-or-treating, or if you just had a long end-of-the-month week at work, sit back and relax. Curl up on the couch, grab some of that Halloween candy, pour yourself a spirit, and enjoy the eerie glow of your TV.
Please note that all times listed are ET, so make sure you check your local listings for any spooky deviations.
Image: Universal Pictures
'Halloween' Marathon on AMC
As part of AMC's Fearfest, they will be playing six (six!) Halloween movies throughout Halloween day — taking a The Walking Dead break at 11 p.m. — and then picking back up at 1 a.m. on Saturday morning.
Image: Falcon International Productions
'Single White Female' and 'Candyman' on TVGN
The TV Guide Network is embracing the holiday spirit with two freaky movies from the '90s. The roommate-gone-horribly-wrong Single White Female airs at 8 p.m. and the don't-say-his-name-five-times-in-a-mirror Candyman airs at 10 p.m.
Image: Columbia Pictures
Lifetime Original Movies on... Lifetime
Lifetime is going with the scary theme, but with a back-to-back feature of their original movies. Flowers in the Attic, starring Heather Graham, airs at 8 p.m. and Lizzie Borden Took an Ax, starring Christina Ricci, airs at 10 p.m. Flowers in the Attic may not sound like a spooky story, but those who are familiar with the book know it's one of the most messed up tales of all time.
Image: James Dittiger/Lifetime
Christmas & Hanukkah Movies on Hallmark Channel
Ready to skip Halloween altogether and move onto Christmas and Hanukkah? Apparently, so is the Hallmark Channel. A Princess for Christmas (pictured) will be on at 8 p.m and Hitched for the Holidays (starring Joey Lawrence — woah!) will be on at 10 p.m.
Image: Hallmark Channel
'The Silence of the Lambs' & 'Hannibal' on BBC America
If you're looking for something truly terrifying, BBC America is airing The Silence of the Lambs at 8 p.m., followed by Hannibal at 10:30 p.m (but I suggest skipping the sequel). The scene where Dr. Lecter escapes his special cell in The Silence of the Lambs used to literally haunt my dreams.
Image: Orion Pictures
'The Real Housewives of Atlanta' on Bravo
For me, Bravo's entire Real Housewives franchise is more frightening than any scary movie. If you feel the same way, RHOA has taken care of you with nine episodes of the show — starting in the afternoon and ending at 10 p.m. (gearing up for the season premiere on Nov. 9). But if that's too scary for you, don't fret. They'll be showing Scary Movie 2 at 10 p.m.
Image: Laura Magruder/Bravo
'Shaun of the Dead' on Comedy Central
Comedy Central is staying true to its name by showing one of the funniest zombie movies out there — Shaun of the Dead — at 9 p.m. Enjoy the shenanigans of some of your favorite Brits as they deal with zombies. And the ending won't make you as depressed as the end of a Walking Dead episode.
Image: Universal Pictures
'Zombieland' on TBS
My other favorite comedic zombie film is Zombieland. The combination of Jesse Eisenberg, Woody Harrelson, Emma Stone, and Abigail Breslin (plus the Bill Murray cameo!) is absolute bliss. TBS will show this lighter Halloweenish movie at 9:30 p.m.
Image: Columbia Pictures
'Beetlejuice' & 'Casper' on ABC Family
ABC Family has been giving us the Halloween hookup for weeks, but Halloween night is what they've been leading up to. So enjoy the return of Michael Keaton (thanks to Birdman) by watching him in Beetlejuice at 7 p.m, followed by Casper at 9 p.m. (For what it's worth, I would prefer to see Hocus Pocus in that lineup, but I'll let the network slide this time.)
Image: Warner Bros.
'Men in Black 3' on FX
FX is celebrating Halloween with aliens by showing the relatively newish, Will Smith-led Men in Black 3 at 8 p.m and again at 10:30 p.m.
Image: Columbia Pictures
'The Twilight Saga: Breaking Dawn — Part 1' on FXX
Guys. Guys. There is a Twilight marathon on FXX. Starting at noon, they are playing the first three Twilight movies, all culminating with The Twilight Saga: Breaking Dawn — Part 1 (sorry, no part 2 just yet) at 5 p.m and again at 7:30 p.m. Vampires and werewolves do make for good Halloween fodder — and if Bella's vampire-baby pregnancy doesn't scare you, nothing will.
Image: Summit Entertainment
'Sex and the City' on E!
Now some people may find Sex and the City horrifying (like my feelings towards The Real Housewives). I love the ladies, but E! will be showing them at their worst in the Sex and the City movie at 8 p.m. (And yes, I somehow think the first movie is even worse than the second.)
Image: New Line Cinema
'Ghost Hunters' on CMT
Country Music Television will be focusing on the paranormal with a marathon of the Syfy show Ghost Hunters. CMT also loves showing some classic '80s movies, so it would have been awesome if they wrapped up the marathon with Peter Venkman, Egon, and Ray in Ghostbusters. A girl can dream.
Image: Sheryl Nields/SyFy
'Panic Room' & 'Snapped' on Oxygen
Do you want your Kristen Stewart fix, but aren't prepared for a vampire birth? It's cool, I get it. Then turn to Oxygen, who will be airing Panic Room at 6 p.m., followed by Snapped episodes. They'll be kicking off the mini-binge of Snapped with a two-part episode about Jodi Arias. Truly chilling.
Image: Columbia Pictures
'Freddy vs. Jason,' 'The Dorm,' & 'Jeepers Creepers' on MTV
MTV will be airing their original psychological horror movie The Dorm at 7:21 p.m. (yes, a truly bizarre time slot), sandwiched between more modern-day "classics" — Freddy vs. Jason and Jeepers Creepers (pictured).
Image: United Artists
'Nightmare on Elm Street' on IFC
IFC will be running a Jaws marathon earlier in the day starting at 8:30 a.m. (I guess that's one way to start your Halloween), but later they will air Nightmare on Elm Street at 6:30 p.m. Freddy Krueger freaks me the hell out (just look at that photo!), but hey, there's a young Johnny Depp in the movie.
Image: New Line Cinema
'Shark Tank' on ABC
If you're into routine on Friday nights, ABC will not break with its normal scheduling by airing a new Shark Tank episode at 9 p.m. There are bound to be some Halloween shenanigans, but overall, the show will be it's normal, dependable self.
Image: Tony Rivetti/ABC