Who Will Play Captain Marvel?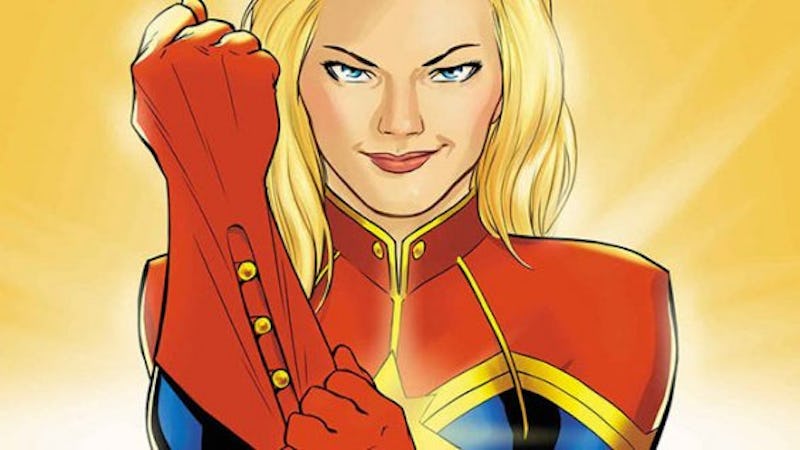 Today, Marvel Entertainment broke the Internet by revealing their movie plans through 2019. 2019! I don't know what I'm doing this weekend, let alone what I'll be up to through 2019. One thing I do know I will be doing, though, is catching the midnight premiere of one of the ten superhero movies in 2018. Which one? That would be Captain Marvel , which will feature the first female superhero, premiering July 6, 2018. That's right, Marvel's long-awaited superhero, a.k.a., Carol Danvers will finally hit the big screen, so now, the question is, who is going to be cast to play Captain Marvel?
Here's a little background information on Captain Marvel. Carol Danvers started as a U.S. Air Force pilot (you go, girl!) when she was initially introduced. She was also expected to be a love interest to the hero at the time, but ended up gaining superpowers in an accident, making her "Ms. Marvel" (which is a really outdated name, but as THR says, it was 1977). It wasn't until 2012 that she was debuted as Captain Marvel in Captain Marvel No. 1.
Obviously, a lot can change in four years. There could be some perfect, undiscovered actress born to play Captain Marvel that isn't yet on the studio's radar. But the casting for the film is going to have to happen soon — with the amount of work that goes into superhero movies — so I figure I'd give Marvel's casting studio a little help in potential leading ladies for the film.
Margot Robbie
She came in like a bat out of hell in 2013 when she starred opposite Leonardo DiCaprio in The Wolf of Wall Street, and she needs that next role that is going to kick some serious ass. It doesn't hurt that she looks almost exactly like the comic version.
Katee Sackhoff
This one is for the Internet, as she is definitely one name that is buzzing around to play Captain Marvel. You might recognize her from Battlestar Galactica and 24, or you might just consider her as Carol Danvers now, if the Twittersphere has anything to say about it.
Jessica Chastain
How has Chastain not been in a superhero movie yet? In September, she told The Guardian, "... If I do a superhero movie, I don't want to be the girlfriend. I don't want to be the daughter. I want to wear a fucking cool costume with a scar on my face, with fight scenes. That's what I'd love." This is the perfect opportunity! It's PERFECT!
Charlize Theron
Sure, she was in Hancock, which is a "superhero movie," but the 2018 Captain Marvel is a completely different playing field. And even though hair and makeup can make anyone look like Captain Marvel — and nothing is to say that the film's Captain Marvel will even look like the comic Captain Marvel — Theron has the look.
Images: David Lopez/Marvel Entertainment; Getty (4)