Amy Had A Boat Crush On A Crewmate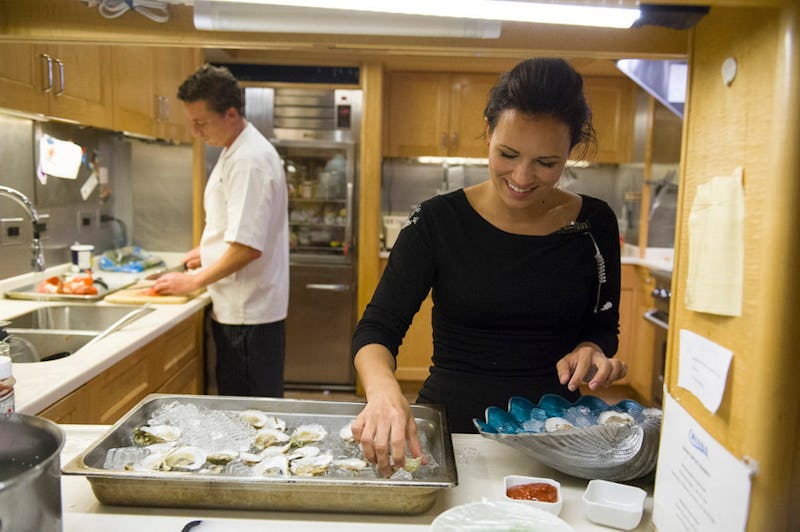 We're in Below Deck postseason, y'all. We did it. Tuesday night's episode was the hour-long Crew Tells All special, and unlike some Bravo reality programs (I will not fire shots. I will not fire shots. I will not fire shots), the BD tell-all actually dropped some hefty envelopes stuffed with tip money, er, show gossip on the crew mess table. It was a great hour of television. Would recommend.
I rounded up my favorite morsels from the Crew Tells All episode AND! I added my "Captain's Log" notes. That's right. I'm the captain now. Sorry, Captain Lee.
The boat fell apart on multiple occasions: An enormous piece of ceiling almost clobbered Kate, a ceiling tile fell in front of a door and locked Kat in the bathroom, and a railing snapped off of the side of the boat. Captain's Log: The crew's attitude was very "boats will be boats!" and I admired their relative chill. Too bad Andrew didn't use this excuse to defend himself during the porthole debacle. "I didn't leave the porthole open. It must be the Ohana's fault," he could've said. And then, with a smile and a shrug: "Boats will be boats!" It could've bought him at least a few more days with the crew.
Kate doesn't shower regularly. Amy said Kate rarely eats or sleeps. Amy and and Eddie concluded Kate is a robot.Captain's Log: Eddie's and Amy's Chief Stew 3000 robot impressions made me so happy.
Kate was born without a sense of smell. Captain's Log: I was very proud of Eddie and Amy for not missing the opportunity to tie it back to the Chief Stew 3000 theory.
Kate called anyone who orders fajitas when dining with a large group an "attention hog." Captain's Log: I had a friend in college who once said, and I quote, "Fajitas are the most pretentious meal you can order." This was moments before a steaming plate of fajita fixins was set in front of him at a Chili's. People who order fajitas know exactly what they're doing.
Logan knows how to fire dance.Captain's Log: WHY DIDN'T WE GET TO SEE THIS.
Kat and Kate shared a Stewmance; Kelley and Jennice shared a romance; Kelley, Eddie, and Logan shared a Bromance; and Andrew really wanted to be a part of the Bromance.Captain's Log: I originally wrote "Andrew and a fork shared a Forkmance," but that didn't sound right. Anyway, I could've watched Andrew drum on shirt buttons with that fork for another 40 minutes.
Kelley and Jennice's boat romance is over, but they're on good enough terms that they'll film talking heads together.Captain's Log: I almost screamed at my Internet connection when it started to cut out right as Kelley said, "The boat romance may be over, but the bromance is still there." And then! The 'net went all spotty again when Jennice reacted to this with A Look. Way to be a punk, the 'net. Didn't the 'net know this was the moment I'd been waiting for?!?!?!?!
Everyone loves Eddie.Captain's Log: Ugh, just the best. I fully endorse the "EDDIE IS NUMBER 1" montage. And yes, the all caps was intentional.
The Chief Stew/Chef battle wasn't as bad as it seemed; Kate and Ben actually got along and continue to get along very well.Captain's Log: During next week's reunion, we will find out whether or not Kate and Ben hooked up. ORLY?!?!?! Well, that's what promo hinted at. It could've been a misdirect. Who knows. Eh, whatever. I look forward to the reunion either way.
Kat and Amy are totes fine.Captain's Log: The true sign of "totes fine" is reciting a toast together.
Amy had a crush on Eddie. She told him on the last day of the season. Eddie smiled and said she's "wonderful." In their joint talking head, they laughed about it.Captain's Log: WAIT, WHAT?! WHAT?!?!??!?! AMY HAD A CRUSH ON EDDIE THE WHOLE TIME?!?! AND WE'RE ONLY HEARING ABOUT IT NOW?!?!?! I sincerely had no idea. Did I miss any clues? Way to throw us off of the scent with the Logan/Amy/Kat thing, producers. I doff my captain's cap to you.
If you'll excuse me, I must go swab the deck and make sure the seahorse throw pillows are A-OK. Because we viewers still have one more charter to go. And the primary charter guest is, but of course, Andy Cohen. I'll ready for you reunion. I'll. Be. Ready.
Image: Virginia Sherwood/Bravo