Want Taylor Swift's Red Lipstick? Try Any Of These 10 Lip Products To Copy The Music Industry Savior's Pout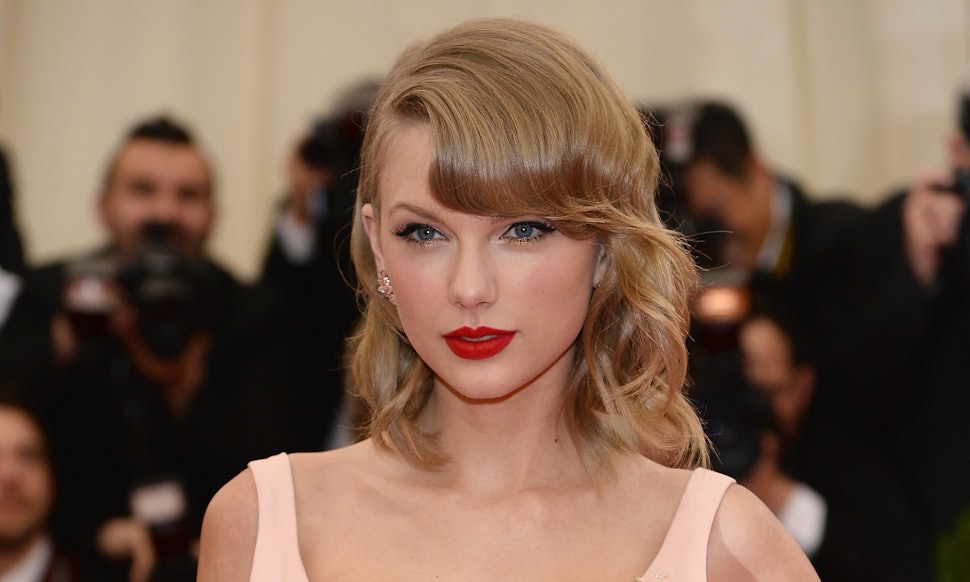 Dimitrios Kambouris/Getty Images Entertainment/Getty Images
It's all about Taylor Swift, her new, non-country album 1989, and her red lips this week. Taylor Swift's red lips are her signature as much as her ability to write a pop song hook that embeds itself in your brain.
Sure, the singer, who is on track sell a million copies of 1989, has been seen with other colors on her lips. Yes, she looks amaze no matter what shade with which she paints her pout, but a red pucker really is her thing.
Swift has admitted that she doesn't have a drawer containing every red shade in existence and that she has been partial to NARS' Dragon Girl lately, saying, "I never really get too far from red lipstick, do I? I guess I just think my face looks worse without it. That's pretty much the only rationale behind it."
Well, though I think T. Swizzle's face aways looks good, here are 10 red lip products that allow you to copy her rich, crimson pout.
NARS Velvet Matte Lip Pencil in Dragon Girl
This creamy, velvet-y red crayon, namechecked by T. Swizzle as a personal fave, is the perfect formula and shade for fall. It's pretty universal but it's hard to find, so you may have to do some web or eBay scouring.
Velvet Matte Lip Pencil, $25, NARS Cosmetics
Image: NARS Cosmetics
MAC Lipstick in Russian Red
MAC's Russian Red lipstick is a classic red with blue undertones that looks good on pretty much anyone. Go ahead and be bold with this shade.
Mac Lipstick in Russian Red, $17, MAC Cosmetics
Image: MAC Cosmetics
Chanel Rouge Allure Lipstick in Passion
This orange-red shade will drench lips with satin-y softness. It's a true red, but it's also a nice starter for those of you that may be hesitant when it comes to rocking scarlet.
Chanel Rouge Allure Lipstick in Passion, $37, Chanel
Image: Chanel
Urban Decay Revolution Lipstick in F Bomb
F Bomb is a classic, creamy, and edgy red for punk rock girls and rock 'n' roll chicks. While Swift is pretty clean cut, her red lips show us her inner badass.
Urban Decay Revolution Lipstick in F Bomb, $10, Urban Decay
Image: Urban Decay
MAC Lipstick in Cockney
This is a bright, Hollywood siren red with yellow undertones. Swipe it on for an instant Marilyn Monroe bombshell effect.
Image: MAC Cosmetics
Rouge Dior in 999
You can vamp it up with this look-at-me-and-my-lips red by Dior, a classic brand. The formula is long-lasting, plus goes on super smooth.
Image: Dior
Revlon Super Lustrous Lipstick in Fire & Ice
If you're just experimenting with reds and don't want to shell out big bucks for a prestige brand, an affordable test option is this classic from Revlon. It's got a bit of an orange tone to it, so do a quick bit of research to make sure that this tone suits your skin.
Revlon Super Lustrous Lipstick in Fire and Ice, $9, Walgreens
Image: Revlon
Stila Stay All Day Vinyl Lip Gloss in Poppy Vinyl
If you crave a little more shine, as opposed to a matte, creamy texture, try this high pigment gloss, which is an orange-red shade. Girls who are seriously experienced with reds will love this formula.
Image: Stila Cosmetics
NARS Semi Matte Lipstick in Jungle Red
Bold. Stays put. Perfectly matte.That's all. NARS' wowza Jungle Red is another version of scarlet that is recommended for experienced-with-red-lipstick users.
NARS Semi Matte Lipstick in jungle Red, $26, NARS
Image: NARS Cosmetics
L'Oreal Paris Colour Riche Lipstick in True Red