Dressing Up as Daryl Dixon? Easier Than You Think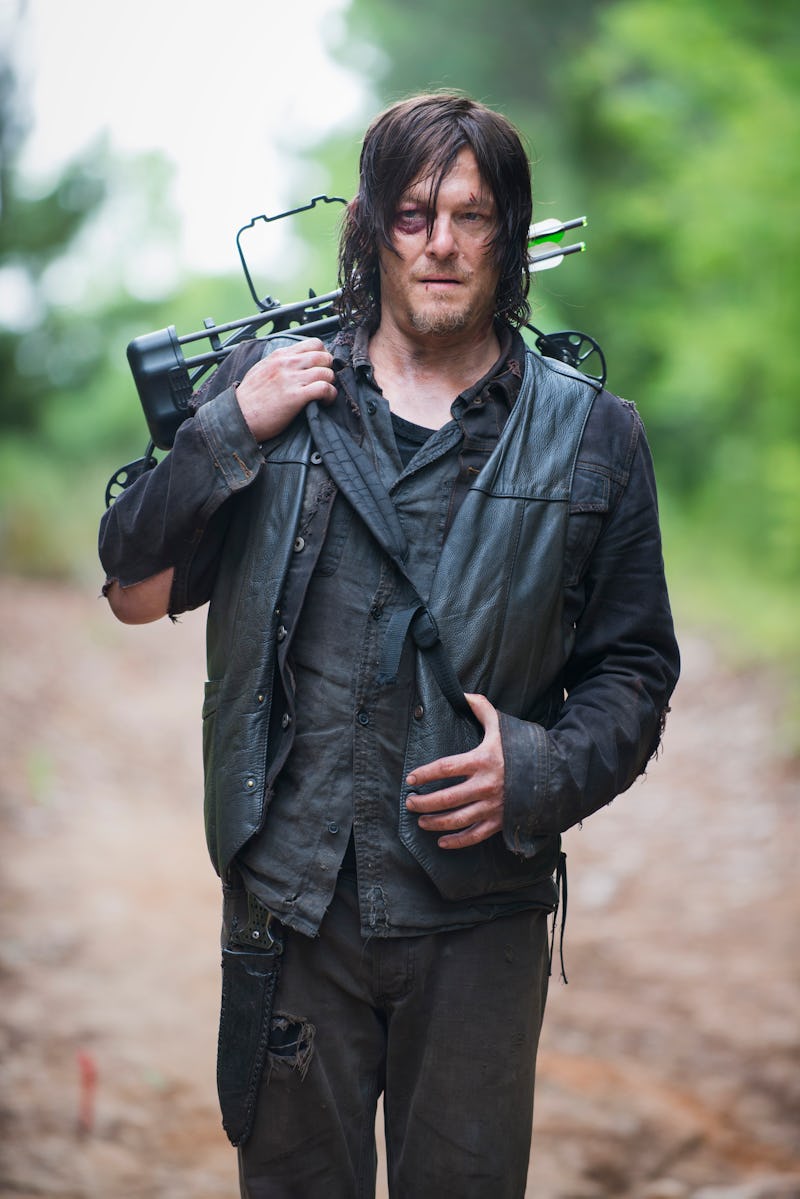 I'm still in denial that summer is over, so the idea that Halloween is only a few days away is pretty hard to swallow. It seems to have snuck up on me this year, so if you don't have the perfect costume lined up, that's totally OK. There's plenty of time to come up with something awesome to wear, so don't feel like you have to settle for whatever Party City has left in stock. Besides, putting together your own costume looks a lot cooler and more authentic — and it's easier than you think. And if you're a huge fan of The Walking Dead ? I have a pretty awesome idea for you. You should totally consider a Daryl Dixon Halloween costume.
The Walking Dead is one of those shows that lends itself perfectly to Halloween. What's spookier than zombies? Nothing. But if you're not in the mood to don a cop costume as Rick Grimes or cover yourself in guts and stage makeup as a walker, why not go as Daryl? Yep, a girl version of Daryl — which, in my opinion, is way cuter than the regular Daryl, who I really wouldn't describe as cute at all.
Ready to dress as TWD's tactless tough guy? You're going to need to pick up a few essentials.
A leather vest
Leather Vest, $22, Forever 21
Being that leather is everywhere right now, this should be a pretty easy item to snag. This jazzier, studded vest is on sale at Forever 21, and $22 is a pretty good price for something that you could easily wear again on a day that isn't Halloween. Feeling extra ambitious? Paint Daryl's signature wings on the back for a dash of extra authenticity.
Jeans
Gap 1969 Straight Leg Jeans, $30, Amazon
But you probably already have these, right? In case you want to rip them up like Daryl's, though, I'd invest in some cheaper ones at Target or Wal-Mart that you can throw away after the fact.
If you want to go girlier? Wear a denim or black skirt instead, and pair it with some black pumps or boots with heels. Adorable.
A tank top or a plaid button down shirt
Plaid Buttown Down, $24, Target
One like this from Target would be perfect. Rip off the sleeves or maybe even attack it with a seam ripper. You want it to to look like you're too busy fighting zombies in a crumbling society to worry about things like doing laundry and staying clean.
Fake blood
Rubies Fake Blood, $10, Amazon
You can pick this up for pretty cheap at basically any party store. Smear some on your jeans and shirt, and maybe even a little on your skin. Remember: You've spent the last few years of your life fighting zombies, which is obviously a super messy experience. Making sure your stains are random (yet plentiful) is key. If you get the kind like this in a spray bottle, you can easily create the perfect blood spatter. Which, you know, would happen when you're doing stuff like removing walkers' heads.
And, of course, accessories.
Daryl's Ear Necklace, $10, Spirit Halloween
You can't be Daryl without carrying around a crossbow. If you're the creative type — and you have time to spend on it — you could follow this tutorial to make your own. For the less DIY inclined, you can just pick up a cheap toy cross bow like this one. And if you're looking for an extra dash of charm, hit Spirit Halloween up for Daryl's trademark ear necklace. $9.99 is a bargain for a chain of severed ears, don't you think?
Daryl Dixon would be proud.
Images: AMC, Forever 21, Target, Party City, Spirit Halloween, Giphy