Meredith & Olivia are the cutest cats ever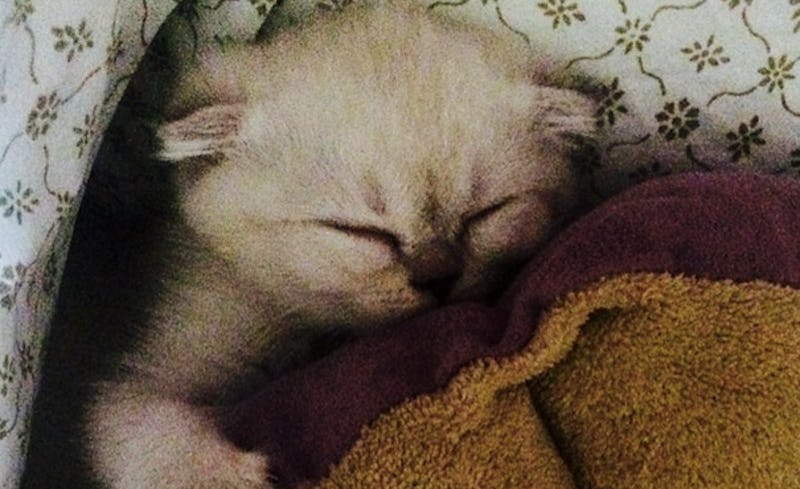 In case you weren't aware, today is National Cat Day — also known as the day we get to celebrate the existence of the cutest creatures on earth. And of course, as soon as I found out that our great nation has a holiday for cats, my thoughts went immediately to Taylor Swift. The only person I know who adores felines as much as I do is T Swift, and if I didn't have two of my own, her cats, Meredith Grey and Olivia Benson, would be my all time favorites.
Although they've been deemed "weird" during Swift's recent visit to The Graham Norton Show, the two Scottish Folds are basically the best celebrity pets in the history of the world. Olivia brings the cuddles while Meredith brings the sass. Of course, they're blissfully unaware of how famous they are — or are they? Olivia did, after all, make her official acting debut in her mom's new Diet Coke commercial. And it was a beautiful thing.
To commemorate National Cat Day, let's admire Meredith and Olivia's most adorable moments, shall we? And for the record, it was nearly impossible to choose just five.
They're cuddling!
In Swift's official contribution to National Cat Day, she shared this photo of a rare moment when Olivia and Meredith were actually getting along. Hey, it's hard getting two cats acclimated to each other, and when they finally make peace? It's the cutest thing in the world and worth all that effort.
When Olivia tried ripping apart lithographs for fun
I have yet to meet a single cat who doesn't take any opportunity to get into a box that comes along, and Olivia is no exception — despite the fact that her mom obviously tries to admonish her for her behavior.
That time Meredith was able to distinguish that Swift was playing on the radio
I know dog people will act like cats aren't that smart, but trust me: They are. In Mer's case, she can totally tell that "I Knew You Were Trouble" is on the radio, and that it's her mom's voice. She's absolutely brilliant.
And when she was unable to properly scale a pillow
Meredith starts out so confident and so strong — she's going to climb over this pillow if it's the last thing she does. Unfortunately, it actually is almost the last thing she does, because the pillow takes her out and they both end up tumbling to the floor. This video is made even more perfect by Swift's laughter at the end.
Olivia, when Swift first brought her home
She actually has the face of an angel. Can you handle it? I cannot.
And because who can resist cat pictures, my two angels
Rapunzel and her little brother, Flynn Rider, are both happy to celebrate National Cat Day, and I have a feeling they'd get along with Meredith and Olivia just fine. Um, hey Swift? Let's arrange a playdate ASAP.