Dying To Eat Like a Manzo? You're in Luck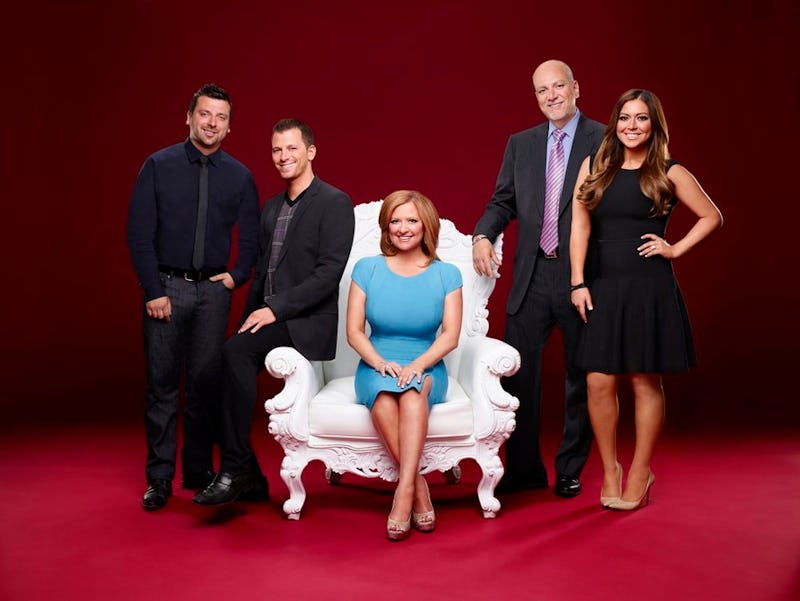 If you're on a reality show these days, chances are you've got at least one product to plug. If not, I don't know what you're doing on a reality show in the first place, but I digress. The Manzos know what's up, and they promote many of their business ventures on their Real Housewives of New Jersey spinoff Manzo'd with Children . Albert owned The Brownstone, a Paterson, N.J. event venue, long before RHONJ even existed. Then came blk., Albie and Chris' black mineral water brand; Cafface, Lauren's beauty bar; and Little Town NJ, Albie and Chris' restaurant and bar. But it's really been all about the sauce on Manzo'd with Children .
This season, Caroline and Albert have been discussing bottling up Mama Manzo's sauce recipes and allowing everyone in the country to get a taste of New Jersey. Caroline has been kind of hesitant to put herself and her recipes out there. She and her family traveled to Austin, Texas in the Oct. 26 episode of Manzo'd with Children to see if she could steal, I mean, be inspired by, the sauces of famous Texas barbecue joints. In the upcoming Nov. 2 episode of Manzo'd with Children, Caroline will do a photo shoot for her packaging label and try her best to not look like her brother Anthony — Lauren's words, not mine.
Unfortunately, there was all this build-up this season and possibly no pay-off. It doesn't look like any of Caroline's sauces are available for purchase just yet. We'll just have to eat our barbecue ribs dry.
However, if you're really dying to lather on some sauce of the Manzo variety, you can always pour on some Brownstone sauce, which takes its name from that Brownstone. I love it when things come full circle, don't you?
The Brownstone sauce has been in stores for at least a couple of years now, and it's supposedly the same sauce that Albert's business serves. It comes in three flavors: marinara, vodka, and tomato basil. You can currently get Brownstone sauce on The Brownstone's official website, Amazon, and at some grocery stores. The price of a jar varies depending on its size and where you buy it.
So is this stuff any good? As with most products featured on reality shows, the reviews are mixed. The Brownstone's sauce only has two reviews on Amazon. One gave the product five stars and said, "After you've tasted this sauce you won't want anything else." However, the other reviewer hated the sauce and said it didn't taste like the kind you get at The Brownstone. Another comment on a blog about the sauce called it "delicious." However, it appears that neither RHONJ tomato sauce (The Brownstone and Teresa Giudice's Skinny Italian marinara) could top Bongiovi brand pasta sauce, based on the recipe of John Bon Jovi's father. Oh, OH, we're livin' on a marinara.
So will eating The Brownstone sauce fill the void left by the Manzos not appearing on our TV screens every week after their show's season finale on Nov. 2? Probably not, but it looks like it's all we've got.
Images: Robert Ascroft/Bravo; wills-and-kate/Tumblr