They're Not the Only Manzos You'll See on TV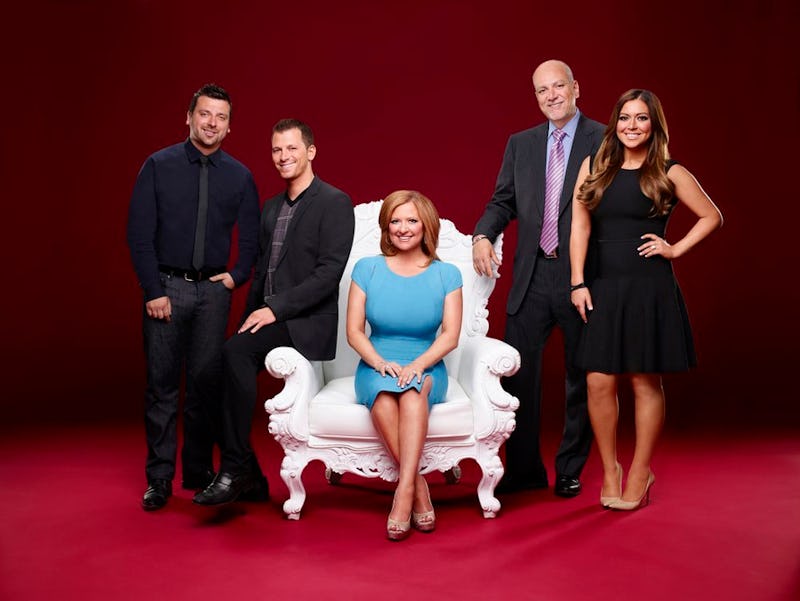 Each incarnation of The Real Housewives has its own flavor, which can be summed up in a word or a phrase. For The Real Housewives of New Jersey, that word is most definitely "family." On RHONJ, relatives were often involved in the drama almost as much as the Housewives. And this also gave us an opportunity to get to know and fall in love with the Manzos, who now have their own Bravo spinoff Manzo'd with Children . Well, some of the Manzos have their own spinoff, others will probably stick to RHONJ for now.
Manzo'd with Children premiered last Sunday night, and we're already getting to know the Manzos better beyond its matriarch Caroline, who was a cast member on RHONJ for five seasons. Daughter Lauren is getting married, sons Albie and Chris are leaving junk food all over the house, and husband Albert is still too busy to be on camera much. But now that we have a whole half hour solely devoted to the Manzos, it begs the question: Are there any more Manzos that will grace our TV screens?
In case you didn't have the pleasure of watching RHONJ, Caroline comes from a huge family. She's the sixth child out of 11 siblings. Her sister Dina is also one of the original RHONJ cast members, who is currently on Season 6 of the show. Dina was married to Albert's brother Tommy, so she and Caroline were technically sisters and sisters-in-law. Caroline and Dina's brother Chris Laurita is also on RHONJ as the husband to their fellow RHONJ cast member Jacqueline. Got all that?
With so many Manzo-Lauritas out there and with family being so important to this tight-knit clan, it would only be fitting for us to get to know more family members beyond the show's core group of five. So far, we've actually met one of Caroline's siblings, Fran D'Annunzio. She was present for Lauren's cheesy wedding dress fitting/Glamour photo shoot and also helped Caroline and Lauren rid their kitchen of the boys' junk food. (You toss those cheese balls, Fran.) Many of the early descriptions of the show mention Fran having a slightly prominent guest spot on the show, so we should expect to see more of her as the season goes on.
Of course, we'll also get to see a lot of Lauren's fiance Vito, who is soon to be a part of the Manzo family. We've already seen Lauren shoot down Vito's suggestions for the wedding, so he will probably be back to bring out the Bridezilla in Lauren, if nothing else. Jacqueline has also been on the show and will probably pop up in each episode just to appease the Housewives fans.
Other than that, it's unclear what other Manzos will make their way to Manzo'd with Children, if any. Caroline told the blog TBB Reality that she's not sure who else will make it into the show, since there will only be eight episodes this season and each is only 30 minutes long.
One thing is for sure: Manzo'd with Children is one reality show Dina will not be on. She and Caroline are still estranged, and they won't even talk about their relationship in public. An appearance from her to support Caroline on her new show is totally out of the question. And so is a cameo from Tommy Manzo, since he's never even appeared on RHONJ.
But no matter who ends up on Manzo'd with Children, Caroline, Albert, Albie, Chris, and Lauren will provide more than enough entertainment.
Images: Robert Ascroft/Bravo; realitytvgifs, wendyrunawaywithalex/Tumblr