11 'OUAT' Season 4 Secrets Revealed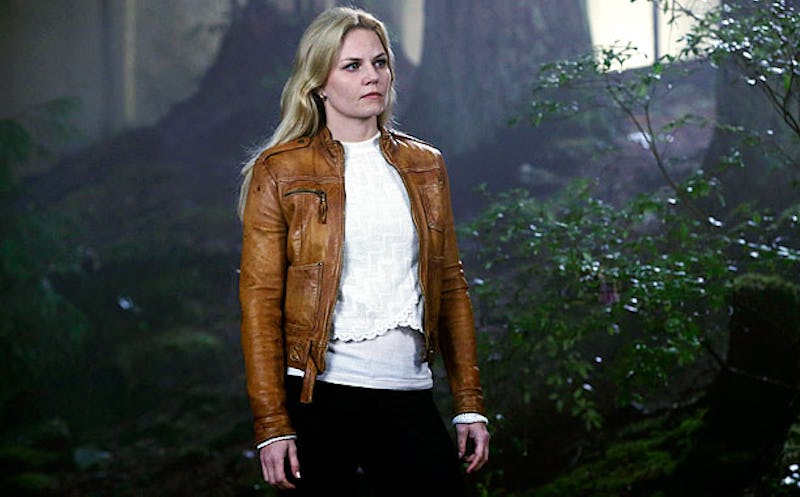 This season of Once Upon a Time is barely underway and it's already tangled up with so many questions. Who is the Snow Queen's family? Why was she one of Emma's foster parents? Where's Anna? Who wrote Henry's book? And while those questions might not be solved for a long time, thanks to a Twitter Q & A with the show's creators we do know some Once Upon a Time Season 4 secrets.
Entertainment Weekly hosted the "Hot Seat" session with executive producers Adam Horowitz and Edward Kitsis who were required to answer everything thrown at them with a "yes" or "no" or, if they had to, they could answer "can't say." But the two were actually way more forthcoming with their responses and gave much longer than one-word answers to most of the questions. The result is that we actually have a pretty good idea of where the season is heading and even solved some burning questions like will Tinkerbell ever return? What's the deal with Rumple's hat? And is Henry the author of the book?
Here's everything we learned about this Frozen-filled season (although sadly, we still don't know if Olaf will make an appearance this time around.)
EMMA WILL MOVE OUT
About time too. I mean she has her own boyfriend and her parents have a new baby. I wouldn't want to live in that loft any more either. Though they didn't spill on where she would be moving, I'd like to think perhaps she and Hook will shack up together.
EMMA STILL DOESN'T KNOW THAT REGINA KILLED GRAHAM
But to be honest, it doesn't really matter. Kitsis and Horowitz said if they ever felt it needed to be addressed it would. But for now they say the autopsy revealed it was an aneurism and "[Emma] still believes that." As sad as Jamie Dornan's death was in Season 1, she's with Hook now. I think the creators should leave that door closed.
CHARACTERS WILL LEAVE STORYBROOKE
The Q & A revealed that Operation Mongoose, (which is dedicated to finding the author of Henry's book) will lead them out of Storybrooke. Will it just be Henry and Regina who leave, or will others join? We don't know yet, but maybe in searching outside Storybrooke for the author, they might uncover some things about Emma's foster family past.
FUTURE HENRY IS NOT THE AUTHOR OF THE BOOK (MAYBE)
When asked if future Henry could have been the author, Kitsis responded, "Not today." So perhaps they have someone else in mind, or maybe he was just teasing us with some time travel lingo. Yes, perhaps today's Henry isn't the author because today's Henry is like 13. Tricky, tricky.
RUMPLE MIGHT CHOOSE POWER OVER LOVE AGAIN
Although he is married to Belle now, Rumple is still drawn by power which is probably why he didn't let Belle have the dagger and thus control over him. Plus Kitsis says the sorcerer's hat plays a big role in Rumple's decision-making process this season.
"This hat is a tantalizing thing for him that he never thought he would be able to achieve. When he finds the hat in the premiere, you realize why he had to wake up in the middle of the night and do it, even though he just made a big declaration to be on the straight and narrow. For us, it was: What is this object? What is so important that would make him break that code literally the same night?
Hopefully Rumple will choose Belle in the end, because I can't see her being OK with him choosing a powerful object over her, again.
THE HONEYMOON HOUSE BELLE FOUND IS SIGNIFICANT
We don't know why, but we will find out in due time.
THERE'S A DOWNSIDE TO SNOW AND CHARMING SHARING A HEART
Kitsis and Horowitz said that we will find out "the repercussions" of this. The gravity of which is still up in the air. Will they both cry when Snow watches a sad rom-com? Will one die if the other does? There's a pretty wide range for consequences here, so I just hope it's on the less significant side.
BABY NEAL MIGHT HAVE POWERS TOO
Although the creators didn't reveal if Neal had powers or not, they did say we'd find out one way or the other. I'm betting he does, because if Snow and Charming's true love created a magical child the first time, it probably did the second time. Plus, I just really want to see Emma teaching her younger brother to harness his abilities.
THEY REALLY WANT TO GET TINKERBELL BACK ON THE SHOW
The only thing stopping Tink from coming back is the actress' filming schedule on her CW show iZombie. Kitsis says, "It's very hard for her to have free time, but as soon as she does, we'll put her back in her green outfit." Good, because she's the best.
THIS SEASON WILL LIKELY HAVE MULTPLE VILLAINS
Right now Storybrooke is up against the Snow Queen and later in the season Maleficent will make her reappearance. But those might not be the only villains of Season 4. When asked if there would be any other bad guys in the second half of the season and Horowitz said, "I sure hope so." Who will those villains be? Maybe the owner of Rumple's hat? I HAVE SO MANY MORE QUESTIONS.
SOMEONE MAJOR IS GOING TO DIE
In the scariest question of the Q & A, Kitsis was asked, "Is there going to be a major character death this season?" and he responded, "I hope so." WELL I DON'T. I just got over Neal's death, I can't accept another "major character death." I'm too attached to Storybrooke's citizens to even contemplate which one it could be. I just have to hope by "major" that could include a villain too, and not someone we love.
OK, to be fair most of Horowitz and Kitsis' answers just raised more questions, but at least we got some things straightened out. The rest we'll just have to wait to be solved as the season progresses.
Images: ABC (3); leaveatrail, storybrooketales, riinakwaad, kffon, ask-tinkerbell-ouat, bobbimorse/Tumblr, hypable; perezhilton