Where To Buy 'Shark Tank's Bottle Breacher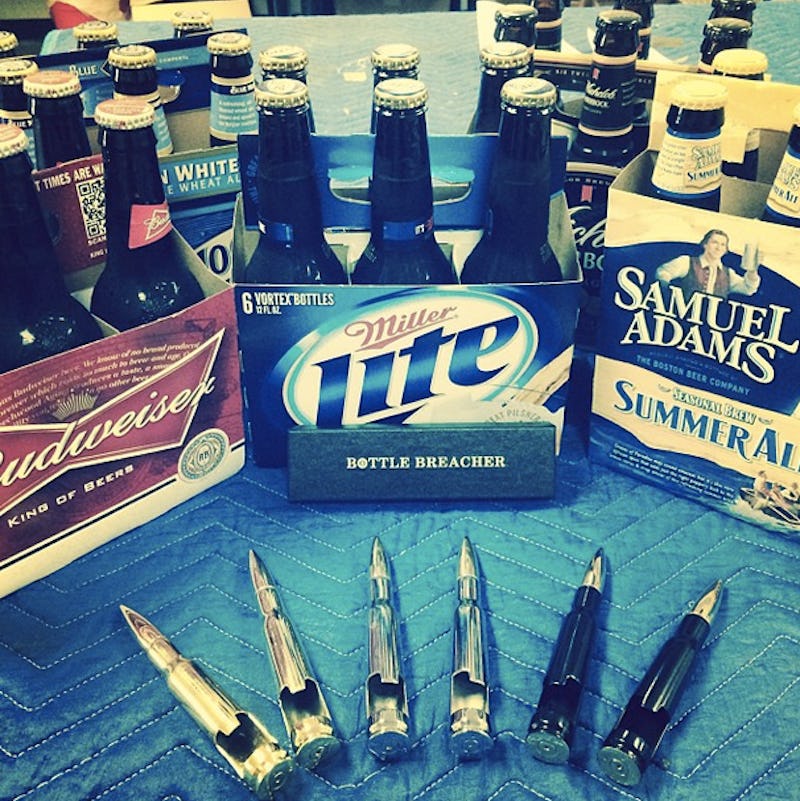 Finally, a really good excuse to open up bottle of beer (or three) the next time you're kicking back after a hard day. This Friday, Nov. 7, the makers of Bottle Breacher will appear on Shark Tank to try and convince the sharks to invest in their company. Their product seems like a sure thing: sleek-looking bottle openers made out of the shell casings of .50 caliber bullets. Normally, these casings are treated as waste material and just thrown out after the ammunition is used. But Bottle Breacher's founder, Elijah Crane — a former Navy SEAL — came up with an alternative to tossing the casings in the trash, and built his own business along the way. And beyond making a cool product, the company has another, higher mission in mind as well. Bottle Breacher only employs active duty service members, reservists, and veterans, providing jobs and support for the military community.
If you like the idea of a bullet that opens your beers, but you're anxious about having a dangerous piece of weaponry lying around your house, don't worry. The shells don't contain live ammunition, and they can't be fired, even if you did try to use them for their original purpose. The video below explains how Bottle Breachers are made.
No matter how the Sharks respond to Bottle Breachers' presentation, the openers are already available for purchase, so you don't have to wait to get your very own.
Where Can You Buy It?
Right now, you can purchase this nifty product on Bottle Breacher's own website, as well as Etsy and Amazon. They're not yet available in stores, but with the Sharks' help it's possible that the business will expand soon.
How Much Does it Cost?
If you buy your opener from Bottle Breacher's website, the most minimal option will set you back about $20. However, there are a lot of ways to customize your personal opener (for a little extra cash). If you want an engraved design — like a police badge, state flag, military insignia, company logo, name, etc. — the price rises to $26 and up. Special pink breast cancer awareness bullet openers cost $30 (though the site doesn't say if that extra cost is donated to a cancer charity or not). If you buy in bulk from Etsy, you can also get cheaper deals.
Who's it For?
According to the Bottle Breacher site, their product makes great "groomsmen gifts, corporate gifts, and one of a kind bottle openers to complete the perfect Man Cave." Hey Elijah Crane, ladies serve in the armed forces too! And even us civilians like badass knick knacks and cracking open a cold one. Really, if you enjoy drinking and you own a credit card, then this product could be for you. Or it could make a great gift for that person in your life who does own a Man Cave.
Images: Michael Desmond/ABC; Giphy (3)