Kristen Insta-Investigates Tom On 'Vanderpump'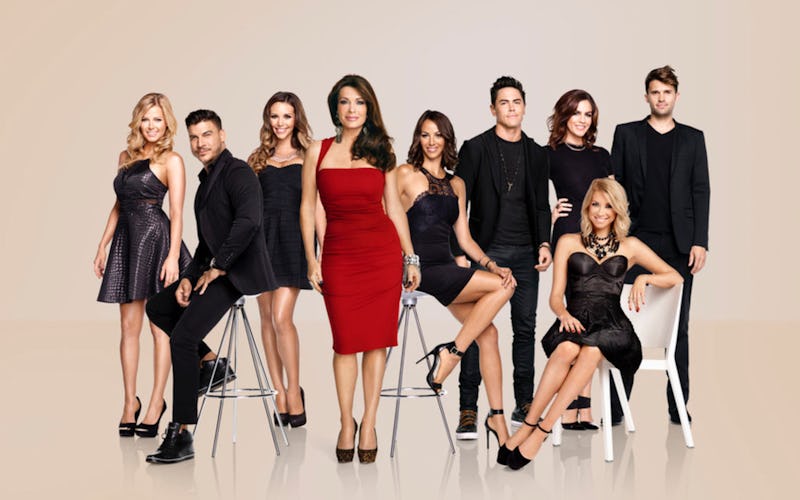 It's Christmas a month early for this gal! Vanderpump Rules returned Monday night, and after it ended, I felt like I'd wolfed down an entire HoneyBaked Ham in an hour. So full, so happy, and so unable to get off of my couch. I am delighted all of my friends are back on my TV set. And by "my friends," I mean the group of people I do not know personally that make up the Vanderpump cast. Oh my Giggy, was the Season 3 premiere terrific. As if I needed a reminder as to why I love the show as much as I do, the first ep of the new seas hit me with an Instagram war. AN INSTAGRAM WAR! And, ya know, only the hottest of goss. Right out the gate, Kristen told Scheana that she found out via some rando on Instagram (SO MUCH INSTAGRAM!!!!) that Tom Sandoval cheated on Ariana while he was in Miami. UH OH. PLEASE GO ON, DOUTE.
Kristen told Scheana about Tom Sandoval's maybe-hookup (if I had the power to unhear the the alleged detail that Tom Sandoval asked the maybe-hookup to prove that she was on her period, I probably would). Scheana told Ariana. Tom Sandoval and Ariana were like, "Meh, it's B.S., don't wanna hear it, get outta our hair." Ariana said she trusts Tom Sandoval and thinks Kristen only did hella social media sleuthing because she wanted to find anything could possibly muck up their relationship. Which, yeah, that's exactly why Kristen did it. (I mean, hats off to Kristen for flat-out admitting she wouldn't investigate this if Tom Sandoval was dating anyone other than Golden Nugget hookup Ariana. That "yeah, what of it?" shrug she hit the camera with during a talking head did not go unnoticed.) Kristen was out for blood and she was ready to make the alleged dirty deets of her Insta-convo with the aforementioned random public knowledge.
The "Did Tom Sandoval actually cheat on Ariana?" could be Season 3's Kristen/Jax mystery. I mean, in the season trailer, we see a woman and Tom Sandoval argue about whether or not they slept together, so... I'm guessing whatever may or may not have happened in Miami is going to be a part of the Vanderpump Rules storyline for some time. And I am not mad at it. I LOVE A VANDER-MYSTERY!
(Hey, shout-out to the Season 3 premiere ending the same way the Season 2 finale did: TOM SANDOVAL THROWIN' PUNCHES. Solid callback. I'm not one to condone violence, but I'd be lying if I said I didn't yell "HE JUST SOCKED HIM IN THE FACETHROAT!!!!!" when Tom Sandoval went after James as the episode ended. Man, I've missed this show dearly.)
Image: Tommy Garcia/Bravo