15 Gifts for Frozen Fans, Because the Elsa in Your Life Won't Let It Go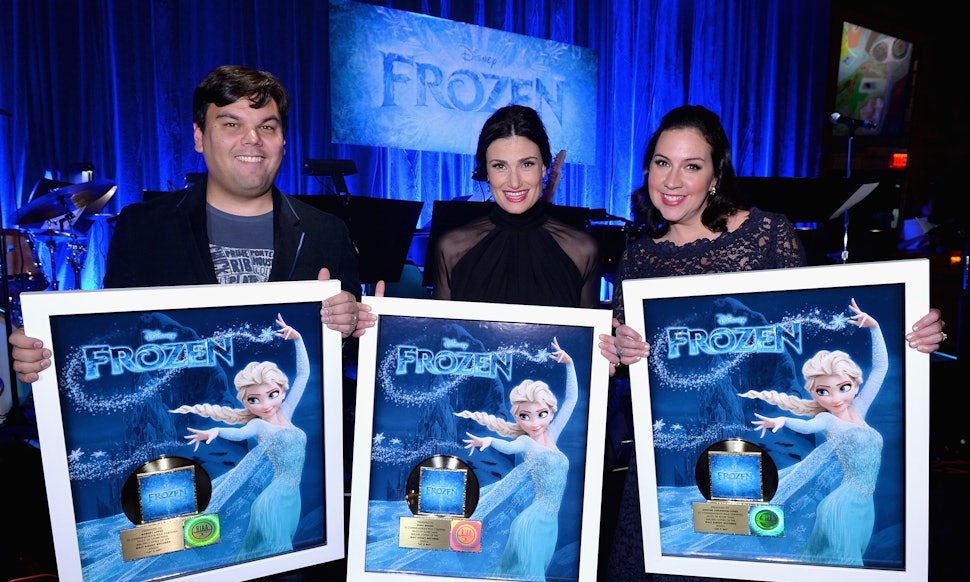 Alberto E. Rodriguez/Getty Images Entertainment/Getty Images
From little cousins to young-at-heart roommates, there's a decent chance someone on your holiday shopping list harbors wishes for a Frozen-themed bit or bauble. Even though this Disney film was released back in 2013, it continues to gain momentum, inspiring spin-off products, parody videos, sexy Halloween costumes, and more. When will the madness end? Perhaps never.
So you may question the phenomenon that is Frozen (it's no Lion King, amiright?), don't fight it. You have the power to make someone very happy this holiday season with merchandise both directly tied to the franchise and merely inspired by it.
To ensure you don't fall down a glittery, snow-filled Internet rabbit hole, I've made your job easier by putting together a list of the choicest items. (You're welcome.) If the beauty and cleverness present in the following items don't melt your cold, cold heart, and if your skepticism over Frozen's awesomeness remains, I can only give one piece of advice: Let it go.
Written by Steph Auteri
Image: ClaraMaesDaughter/etsy.com
Anna and Elsa Headbands
Sven and Olaf Plushes
These snuggly Sven and Olaf dolls bring Frozen's most lovable characters to life.
Disney Frozen Plush Set - 16" Sven Reindeer & 9" Olaf Snowman, $70, Amazon.com
Olaf Outfit
Favorite Frozen character? Olaf, hands down. But I'm not about to wear a sexy Olaf costume. That's just creepy. The adorableness of this outfit for your wee one, however, makes me squee.
Frozen Olaf Embroidered Tee and Polka-Dot Circle Skirt, $38+, etsy.com
Hide-and-Hug Olaf
And the Olaf love continues. Instead of doing the Elf on the Shelf (so played out), consider this alternative that allows kids to play hide-and-seek with everyone's favorite snowman.
Anna and Elsa Knitted Hats
Do the little munchkins in your life want to dress up like Anna and Elsa, but you're hesitant to shell out for a full-on princess gown? These hand-knit hats will help transform them into royalty … and also ensure they avoid becoming frozen (I'm so, so sorry) this winter.
Princess Anna and Queen Elsa Hand-Knit Hats, $54, Etsy
Disney's 'Frozen' Snow Globe
Disney's Frozen merchandise has been quick to sell out, but there are some sellers who've still got the goods. And what Frozen fan wouldn't be utterly charmed by this official snow globe?
Snowflake Snow Globe
If a black market Disney snow globe is too rich for your blood, any wintry snow globe will do. They're all magical.
Small Snowflake Snow Globe, $14, West Elm
Elsa and Anna Pillow Dolls
These handmade Elsa and Anna pillows also double as plush toys. Soft enough for snuggling. Chic enough for even an older girl's bedroom.
Elsa & Anna Pillow Dolls, $20, etsy.com
Tulip Motif Throw Pillow
If you think the Anna and Elsa pillows skew a bit too young, this throw pillow featuring the traditional tulip embellishment of the Royal Family of Arendelle might win over your teenage girl's heart.
Love Will Thaw Throw Pillow, $20, Society6
Quotable 'Frozen' Poster
Another item that will appeal to both the young and the not-so-young, this printable poster features some of your favorite Frozen quotes.
Disney Frozen Quote Art Printable Poster, $5+, etsy.com
Anna Smartphone Case
Show your loyalty to Arendelle royalty by carrying their tulip motif around with you with this phone case. Perfect for slightly older Frozen fans.
Oaken's Hand-Knit Hat
Available for men and women, young and old, this hand-knit hat is modeled after the one worn by Frozen's Oaken.
Sisters Before Misters Tank Top
Putting aside all pretense that Frozen is a kids-only affair (meaning: someone please buy this for me), this tank top will allow you to show everyone where your loyalties lie, whether your sister is a blood relative or otherwise.
Snow Much Fun Nail Polish
If you'd like a Frozen-inspired gift that's even less literal, buy the beauty queen in your life nail polish filled with snowflake glitter.
Disney's 'Frozen' on Ice
Disney on Ice has always been a thing. But never has there been a more perfect Disney film for the ice rink than Frozen. Experience gifts are the best and, if a Frozen -themed cruise is out of your budget, this is obviously the next best thing.