17 Times Benedict Cumberbatch Wanted a Family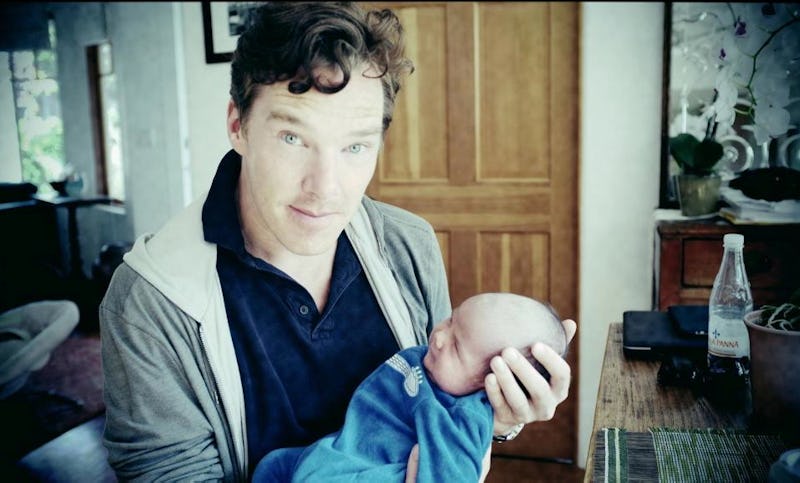 The news of the day is that Benedict Cumberbatch is engaged. As soon as it was discovered, many articles were written about the devastation this was sure to cause the Internet. But in actuality, his fandom the Cumbercollective is reacting with genuine happiness for the actor. A big reason why they're so happy for him is because Benedict Cumberbatch has always wanted a family, and now he's one step closer to having one.
Growing up as an only child has made Cumberbatch long for a large family full of children. Meanwhile the strong bond his parents still have after 38 years of marriage has instilled in the actor a desire to find his own wife and start that family of his.
It's no secret that Cumberbatch, though world-famous, has always placed family highest on the list of his priorities. Not long ago, his half-sister Tracy Peacock mentioned that "One of [Benedict's] regrets is that he hasn't found someone to settle down with." Now that he's found fiancee Sophie Hunter, he's fulfilled one of his greatest desires. And knowing how much he wants children, I'm sure we can expect a tiny Cumberbatch soon. These 17 quotes prove he wants nothing more than to be a father and have a large, loving family.
"I WAS HAPPY AS AN ONLY CHILD, BUT I'VE ALWAYS WANTED TO BE PART OF A BIGGER FAMILY. I WOULD LOVE TO HAVE CHILDREN."
And now he can!
"I CAN'T WAIT TO DO AN INTERVIEW LIKE THIS AND JUST TALK ABOUT MY CHILD."
We can't wait either, Benedict.
"MY STEPSISTER HAD A KID WHEN I WAS ABOUT 11 ... I THOUGHT, 'WOW, THIS IS INCREDIBLE, THEY COME IN MUCH SMALLER SIZES!'"
11-year-old Benedict Cumberbatch sounds adorable.
"I WAS ALWAYS THE ONE AT PARTIES WHO LOOKED AFTER THE YOUNGER CHILDREN. I REALLY ENJOYED IT."
Too precious.
IT IS A WONDERFUL THING TO GET MARRIED YOUNG AND BECOME A FATHER.
Almost as wonderful as it would be to have Benedict Cumberbatch as your dad.
"I HAVE A SORT OF CLOCK TICKING. I'D REALLY LIKE TO BE A DAD BEFORE I'M 40."
Since he's just 38 years old, he has a real shot to make this wish come true.
"I HAVE BEEN BROODY FOR THE LAST FIVE YEARS BECAUSE I HAVE TWO GODCHILDREN ... THAT IS JUST WHERE MY HEAD IS AT AT THE MOMENT."
Fun fact: "broody" means you have a strong desire to have a baby, as in raising your own brood.
"I WOULD LOVE TO HAVE THE ABILITY TO JUGGLE A CAREER AND HAVE A YOUNG CHILD."
His career is showing no signs of slowing so I can totally see this happening. I bet father Benedict would even bring his kid to the set of his films.
"CHILDREN ARE EXPENSIVE, BUT ... EVERYONE I KNOW WHO HAS DONE IT SAYS YOU WILL NEVER REGRET IT."
Cumberbatch talked extensively about how much he wanted kids with The Telegraph back in 2010 and now it's so close for him!
"[THE PERSON I'D MOST LIKE TO MEET IS] THE MOTHER OF MY CHILDREN AND I'D ASK THEM TO TAKE A DEEP BREATH AND IF THEY FANCIED A DRINK."
Very Ted Mosby from How I Met Your Mother of him, isn't it?
"HOPEFULLY."
That's the first thing he thinks of when he hears the word "babies." Say it with me, "Awww."
THE GUARDIAN: WHAT DO YOU CONSIDER YOUR GREATEST ACHIEVEMENT?"BENEDICT CUMBERBATCH: I WISH I COULD SAY CHILDREN"TG: "WHAT HAS BEEN YOUR BIGGEST DISAPPOINTMENT? BC: "NOT BEING A DAD BY THE AGE OF 32."
I just want him to have kids so badly! He's so torn up about it.
"I CAN'T WAIT TO ONE DAY READ [THE HOBBIT] TO MY CHILDREN."
He just wants to create some memories.
"ALL THE STUFF THAT'S HAPPENING TO ME IS USELESS UNLESS YOU CAN SHARE IT WITH SOMEONE YOU KNOW? AND WHO BETTER TO HAVE BY YOUR SIDE THAN FAMILY?"
Truer words have never been spoken. I'm glad he has Sophie Hunter by his side now.
"[IN 30 YEARS] I HOPE I'M SURROUNDED BY FAMILY."
Fortunately such simple desires are easily fulfilled.
"THE REALITY OF CHILDREN IS YOU HAVE TO BE IN THE RIGHT PLACE WITH THE RIGHT PERSON."
And now he's found that right person.
"GENUINELY THE ONLY THING I NEED ON MY BIRTHDAY IS TO BE WITH THE ONES I LOVE, MY CLOSEST AND DEAREST FRIENDS AND FAMILY."
Well said, Benedict. I wish you and Sophie all the best, and I hope you get that large family you've always wanted.
Images: paul_mcguigan/Twitter; benedict--cumberbatch, reactiongifspantry, spooks-and-stuff, mrs-zefron, sherlockspeare, gottaspendapenny, luciawestwick, sherlock-hannibal, girlsinkhearts, iamsherloki/Tumblr; crushable; britsunited; giphy; weheartit;