This Will Soften the Blow of 'PLL' Ending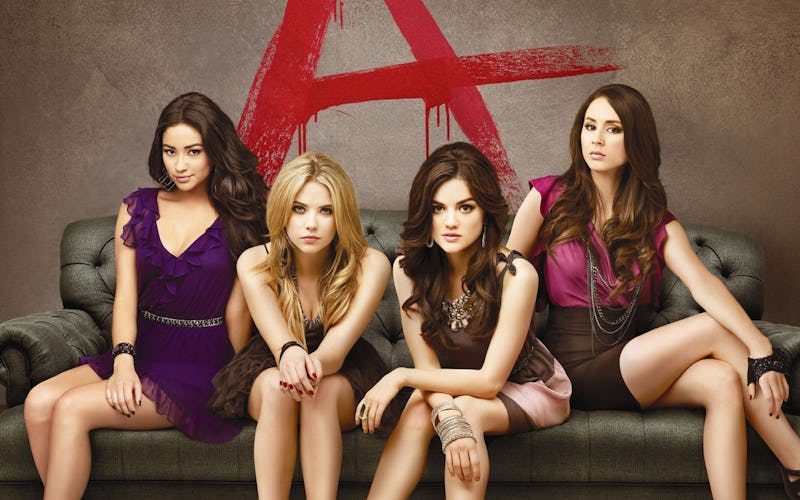 I have to say, I never really believed that Pretty Little Liars was ever going to end. I thought that it would be like How I Met Your Mother and drag us through season after long season, entirely forgetting its original premise as it gleefully develops characters that we've all fallen in love with at the expense of the plot. Not that I'm bitter about the How I Met Your Mother series finale or anything. However, those who are still reeling from the news that Pretty Little Liars will end after Season 7 can now rejoice. Showrunner Marlene King is bringing The Perfectionists to ABC as a TV series, a book that was written by Sara Shepherd, the same author of Pretty Little Liars. So, basically, the creator of PLL is bringing a PLL-like book to the same channel that PLL will soon disappear from. Are you excited yet?
According to Deadline, "The Perfectionists is a murder mystery. After their lives are ruined by a handsome womanizer, five girls plot the perfect revenge. Then he dies… exactly how they planned — but they didn't do it. So who did?" Basically, it sounds like what would happen if John Tucker Must Die and Pretty Little Liars had a baby. A group of female friends with a dark secret? Check. Murder and intrigue? Check. A shadowy figure (or figures) who knows more about the girls than any of them realize? Check.
The first book in The Perfectionists series came out on October 7th and the new ABC series is still lacking a writer, but news like this is exactly the soothing balm to the wound the Pretty Little Liars fandom is currently suffering through. The Goodreads summary of the novel ends with, "from Sara Shepard, author of the #1 New York Times bestselling Pretty Little Liars series, comes another story of dark secrets, shocking twists, and what happens when five beautiful girls will do anything to hide the ugly truth" and if that doesn't sound like PLL in a nutshell then we must not have been watching the same show.
I'm not saying that The Perfectionists and Pretty Little Liars are the exact same thing. I would never put that kind of pressure on The Perfectionists to fill the void. I'd be happy just to get a cast that dresses in the same kind of fabulous outfits that we all want to go home and emulate. However, it's clear that King and ABC recognize a cash cow when they see one and turning another one of Shepard's books into a hot new TV series can only end well for the network — and launch the careers of five more actresses. In addition, I am never going to complain about having more television shows starring fierce ladies with fierce lady friendships on the air.
Besides, The Perfectionists sounds like it's going to be a little bit more proactive than Pretty Little Liars was. For how hard the girls work to discover who A is and who the members of the A Team are, they really spend most of their time being victimized until it's almost too late for one of them to escape with their lives. With The Perfectionists having to work to clear their own names from the start, there's a good chance there might be a bit of Sherlock Holmesing going on to solve the crime before the police do. Or maybe that's just wishful thinking on my part. I suppose we'll see.
Image: ABC; WeHeartIt (2)