Here's Your Ultimate Thanksgiving Shopping List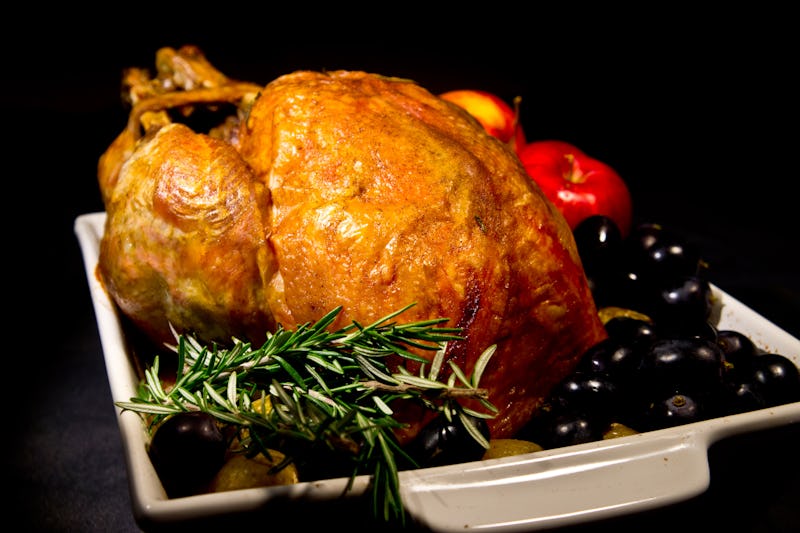 Thanksgiving is just a few weeks away which means it's time to look at pictures of dogs dressed up as turkeys, and then get that Thanksgiving shopping list together. You want to make sure the trip to the grocery store is a one-time thing. No one likes heading back to the store again and again after swearing it was the last time. This is Thanksgiving, not a bad breakup.
First, take stock of your pantry, and make sure you have enough of all the kitchen essentials you're going to need (olive oil, salt, butter, etc.). If you're missing anything, add it to the list. Then, take stock of your party. How many guests are coming? Are any vegetarian? Will there be children? Any allergies to be aware of? Once you have the answers to all of these questions, it's time to hit the store.
Grocery shopping is far from a pleasant task, but it's even harder without a well-constructed list. Aimless shopping only leads to overbuying and the occasional yet wonderful impulsively purchased chocolate bar. If you really want to get crazy this holiday, you can clip coupons and map out the store for maximum efficiency, but I won't force you.
From all the makings for your appetizers to your ultimate checklist for dessert, here's everything you're going to need to make sure this year's Thanksgiving menu is one for the record books.
Appetizer
Cheese (Make sure you pick up a variety — fresh goat cheese, sharp cheddar, and creamy brie are all no-fail options)
Crackers (So your cheese doesn't get lonely)
Baby carrots and a fresh stalk of celery for a light veggie plate
Hummus
Pita chips
Sour cream and French onion soup packets to make onion dip in a pinch
Potato chips
Olives (A party classic.)
Main Course
Turkey (If you're buying one frozen, it's best to do this one week in advance. A 16-pound turkey takes approximately four days to thaw.)
Onions, carrots, apples, herbs, and butter for this unbelievably easy turkey recipe here.
Bell peppers (to stuff with brown rice, onions, cheese, black beans and tomato sauce, for the vegetarians. See the full recipe here.)
Sides
Potatoes (Want to mash them? Be sure to also pick up milk and butter, and check out this super simple recipe here.)
Cranberry sauce, served in canned form because, duh.
Boxed stuffing (Of course, it would just be healthier to make it from scratch but hello, nobody has time for that.)
Chicken broth (Trust me, this will come in handy.)
Crescent rolls or biscuits, but you've got to choose one (or both!)
Corn (At least one bag of the frozen stuff to meet all your last minute veggie needs)
Fresh green beans, cream of mushroom soup, and bacon bits to make a classic green bean casserole (I know, I know, but like I said, it's a CLASSIC.)
Yams for a casserole (and marshmallows to top them with!!)
Dessert
If you're going store bought (and no shame if you are), at least one apple pie and one pumpkin pie
Vanilla ice cream
Whipped Cream
Coffee (!!)
Drinks
Apple cider (for the kids)
Apple cider plus rum (for the adults)
Wine (Pairing wine with food is mostly personal preference, but you can't go wrong with a good bottle of Sauvignon Blanc, or you know, whatever Trader Joe's has.)
Miscellaneous
Milk, butter, salt and pepper, olive oil (make sure you have enough of these kitchen essentials)
Brown sugar and cinnamon
Disposable cameras (for the memories!)
Turkey baster
Napkins, plates, or any serving equipment you may need
Your favorite sandwich bread for all of those leftovers tomorrow
Images: Ruocaled, Kevin Chin, Tim Sackton, Justin Snow, Invisible Helicopter/Flickr; A Beautiful Mess