Selena Gomez Just Broke Your Heart With This Vid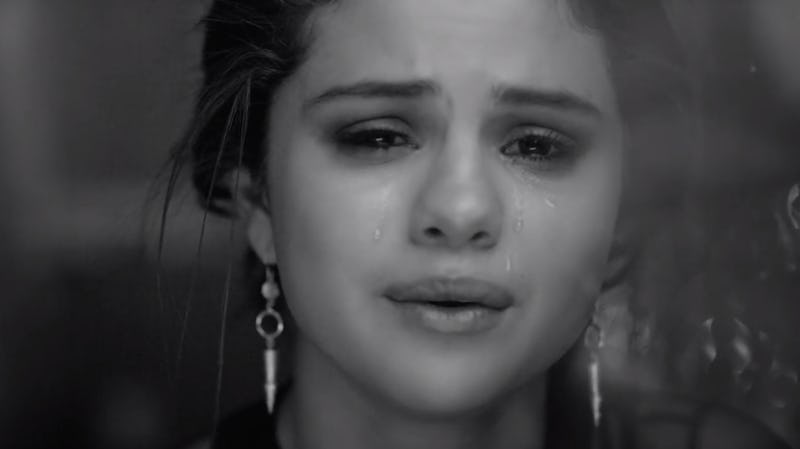 If there was anyone still left wondering whether or not Selena Gomez's new single, "The Heart Wants What It Wants", was about Justin Bieber or not, you can finally put that dilemma to rest. It is. It absolutely is. There is nothing in the world that will ever convince me that it isn't. When the rumors that Gomez's "The Heart Wants What It Wants" single was on its way first began to fly, Bustle writer Alex Kritselis theorized that this was the song that Ryan Seacrest had described as one that would get us talking about the annoyingly on-off coupling that was Jelena. Both were right. On Thursday morning, Gomez released "The Heart Wants What It Wants" music video and it's an absolutely heartbreaking look at exactly what keeps Jelena together. The answer? Nothing.
Among the lyrics of the song is the phrase, "This is a modern fairytale." And that's what makes it so heartbreaking. In storybooks, two people falling in love at first sight, love overcoming every obstacle and outside force, and that impossible pull that draws you to another human being is lauded as the zenith of breathless romance, as everything that we should strive for, as everything that we should be willing to sacrifice and fight for. But what happens when that love isn't happily ever after? What happens when that love is gritty and painful and stupid and you still can't walk away because you "only feel alive when [he] calls?" What happens then?
According to Gomez's music video, what happens then is a four minute black and white trip into a relationship of high highs and low lows, intercut with shots of Gomez literally crying as she declares that she doesn't care what advice people give her and that she already knows what everyone has to say, but, dammit, the heart wants what it wants. It's as clear as message about Jelena as any, a message we already should have gotten from her actions despite the fact that there are very few people who support them as a couple.
Naturally, as Gomez breaks down over the course of the video, so too do her fans.
When you watch the video and listen to the song yourself, it's not hard to see why Gomez has got a thousand hearts breaking along with hers. Even if you were a staunch anti-Jelena hater who had given up hope of either of them ever coming to their senses and staying away from each other, your heart is going to melt a little when you listen to this ode to those toxic relationships that you just can't stay away from. The song will appear on Gomez's greatest hits album For You, due out on November 24.
Check out the video below.
Image: YouTube