When Does The Last 'Parenthood' Episode Air?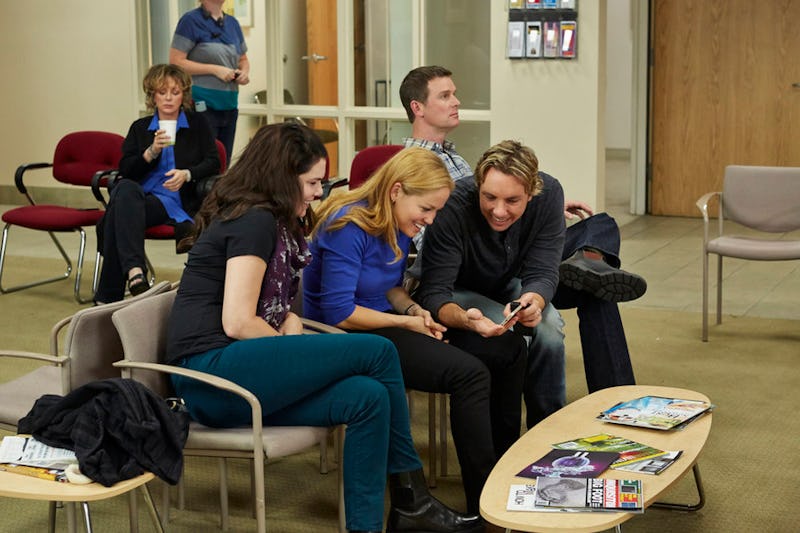 It's a hard concept to grasp, but we're getting closer and closer to the end of Parenthood. After Thursday night's episode, only six episodes remain of the show's final season — and one of them will be the finale. Since Parenthood has quickly become one of my favorite shows, it's a day I'm dreading. But, as of yet, the looming air date of last episode of Parenthood has yet to be announced.
This is both a good thing and a bad thing — after all, it's easier to pretend it's not happening if there's no concrete end date, right? I plan to stay in the land of denial for a bit longer (while also ignoring the fact that a death is happening sometime before Parenthood is done). Want to join the dark side? It's comfy here. We have snacks. We pretend TV shows never have to end. Except for the cold reality that they do, and when that inevitable day comes, we should probably be prepared.
Dreading that final episode of Parenthood? Saying goodbye to the Braverman family — who might as well be my own — isn't going to be easy, but these foolproof methods can make it a little bit easier.
Stock up on the essentials.
The essentials are as follows: Tissues, wine, chocolate, more wine.
Watch a lot of Gilmore Girls.
Lauren Graham was actually Lorelai Gilmore first — and her two characters are actually pretty similar. Seeing the artist formerly known as Sarah Braverman take on a different set of parenting troubles can be very therapeutic and is easier now than ever considering the fact that Gilmore Girls' entire series run has now found a home on Netflix. It's not betraying Sarah if you want to watch Lorelai fall in love with someone who isn't Ray Romano. Totally different universe, remember?
Don't be afraid to cry.
When sad things happen, tears are shed, and you know there's no way Parenthood is going to go out without tear-jerker moments in the double digits. I anticipate being a total mess by the time the final episode ends, and who doesn't love an opportunity for a good cry?
Take on a Braverman hobby.
Photography like Sarah? Memorizing facts about reptiles like Max? It's both a learning experience and a way to distract yourself from the end. And if you want to run for office like Kristina, there's never been a better time. Now that elections are over, you have a full year to prepare your campaign!
Re-watch Parenthood from the beginning.
Season 6 might be the show's last, but we can't forget about the five that came before. Relive your favorite moments from the past. Sure, there might not be any more new episodes being made, but there are dozens of old ones — and now, they're even more special.
Images: Colleen Hayes/NBC (5), Giphy