The 12 Most Anticipated Books of 2015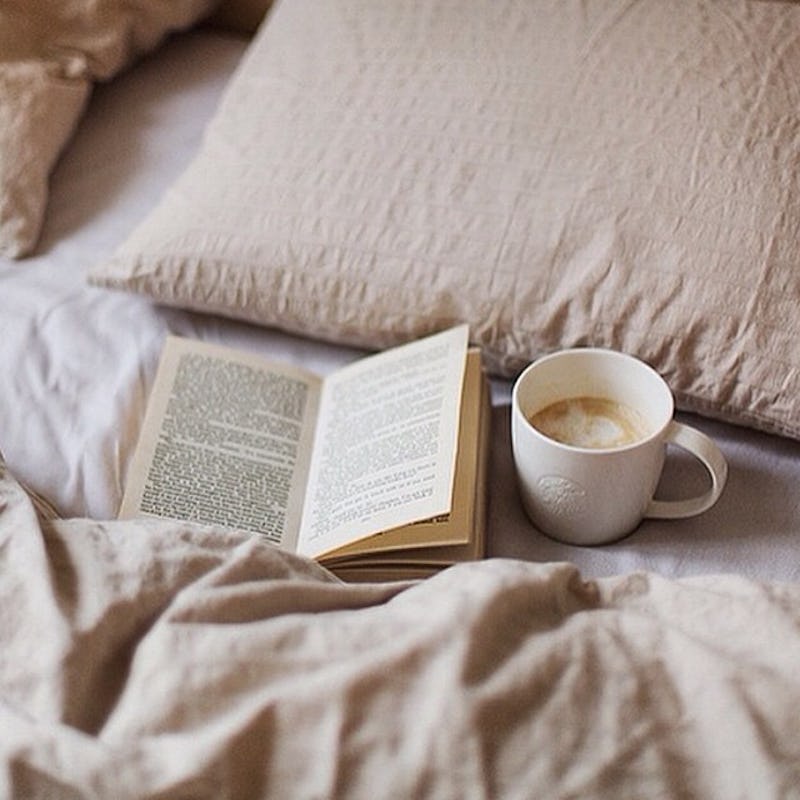 2014 was a solid year for reading. I'm sure you know that by now: you've blown through that huge TBR pile on your nightstand month after month; you've spent hours discussing with your friends the top titles you've read (a talk that lasted late, late into the night); you've read the myriad best books of 2014 lists all over the Internet; hell, you've even used the holidays as an opportunity to foist your favorite picks into the hands of friends and family.
This is all good. This is all great, in fact. But 2014 is old news already.
That's because there is a lot to look forward to in literature. In 2015, we're going to see releases from names whom we're already completely enamored with — Laura van den Berg, Kelly Link, and Anne Tyler for instance — and others who are poised to take fiction by storm. There are writers like Kirstin Valdez Quade and Sarah Gerard who may not be on your radar, but whose work will make waves. I'm calling it right now.
2015 is a long period of time — I'm well aware — and that means there are many, many books coming out. So, to keep this list from getting unwieldy, I'm going to focus on novels in the first quarter of the year: up through March 2015. (Planning longer-term than that makes me need to reach for the Xanax; I don't know about you.) So, with that in mind, here are some that should be making you very antsy for the calendar to change. I certainly know I am.
Almost Famous Women by Megan Mayhew Bergman (Jan 6; Scribner)
There's so much talk about this title, you'd think it's on shelves already — that's how excited people are about Almost Famous Women. And it's with good reason; Megan Mayhew Bergman's second collection, all about women on the fringes of history, is gutsy and expertly written. Sometimes books published in January fall off the radar when we think back on the year in reading: Mark my words that this beautiful collection won't be one of them.
Binary Star by Sarah Gerard (Jan 13; Two Dollar Radio)
Sarah Gerard's lyrical prose is like nothing you've ever read — and that's the case with the arresting Binary Star, too. If you listen to the murmur in the literary community, you'll hear Gerard's name everywhere: no one can get their hands on this book soon enough. Binary Star follows a young woman battling an eating disorder who takes a road trip with her alcoholic, long-distance boyfriend. Through their desperation, the very lost pair happen upon vegananarchism — what they think will give them some meaning. I've already read this one (shh, don't tell!), and had to go back to the ending, because it kind of blew apart my mind. Read an excerpt here.
It's about time for another great can't-put-'er-down thriller, right? All my marbles on are on The Girl on the Train, which is already so buzzy, I'd swear there's a swarm of bees attached to the book. Hawkins' book, which is already optioned for a film, follows a young girl who gets caught up in a murder mystery due to something she sees on her daily commute. It's the kind of page-turner you're glued to until the climax — and I can't wait.
Disgruntled by Asali Solomon (Feb 3; Farrar, Straus & Giroux)
How's this tweet from renowned critic Sarah Weinman to make you excited for a title:
The book she was talking about? Disgruntled. Solomon's coming-of-age novel follows 8-year-old Kenya Curtis in West Philadelphia, painting a portrait of the late '80s and early '90s. This debut explores race, love, family, and the pains of childhood with a deft hand that knows when to be funny and when to hit you right in the gut.
Making Nice by Matt Sumell (Feb 3; Henry Holt & Co.)
I got an early peek at Matt Sumell's novel in stories, and it swallowed me whole from the first page. This book is unforgettable, and I already know it's a title I'm going to be shoving into people's hands all year. The stories, narrated by the same character, Alby, about existing in the wake of his mother's death are hilarious, wrenching, dirty, and heartbreaking all at once — I'm not entirely sure how Sumell pulls it off, but he does. Watch this book soar.
Spanning 22 years of Heiny's stories, Single, Carefree, Mellow is a collection that I'm pretty sure is going to have staying power this year. There's a lot in here on relationships and infidelity (in fact, the title is a bit ironic), but it's all written with such a fresh take that nothing feels stale, and that's what makes this a get-your-hands-on-it-now kind of book. Get a taste of Heiny's voice here.
The idea that Link's first book for adults in a while is coming — it's kind of like knowing your favorite dessert is on the other side of a meal. The stories are said to be dark but funny, and since it's Link, always sharp. I'm ready to see the boundaries that Link pushes this time around. (And, as one of my friends on Facebook said who's already managed to dig in, "Kelly's collection is f*cking fabulous.")
If there is anything Anne Tyler cannot do, I would like definitive scientific proof, please. After completing 19 novels, Pulitzer Prize winner Tyler is back with another book that promises to be masterful, too. I could tell you about the book, but you should let Tyler do it instead. As she says, A Spool of Blue Thread is a "sprawling family saga" about the Whitshanks, and in classic Anne Tyler fashion, it's intimate, dramatic, and full of insight. Fifty years in, and we still want Anne as much as we did on Day 1.
You might know that, around here, we're on to that whole idea of struggling with the ideals of beauty. (Oh, you picked up on that? Well, good.) Amanda Filipacchi's fourth novel touches that subject right on the nose, following friends in New York City who fear that beauty stands in the way of getting what they want: love. Oh, and did I mention there's a murderer around, too? Filipacchi's novel — which is brilliant and original — mixes all the elements of an amazing story, with the perfect language to tell it. You want to read this book.
Find Me by Laura Van Den Berg (Feb 17; Farrar, Straus & Giroux)
I'm already deep into the galley of this novel, and I'm a little more than a little bit in love. The author of the acclaimed, mesmerizing short story collection The Isle of Youth , which broke her out as a voice to know and love, releases her debut novel into the world in February — and it's one to watch for. The book follows Joy, who has immunity to an epidemic that's sweeping the country.
The Buried Giant by Kazuo Ishiguro (Mar 3; Faber and Faber)
Is it a coincidence that this comes out the week of my birthday? No, it is not a coincidence that this comes out the week of my birthday. (Fine. It is.) The author of Never Let Me Go is finally coming out with a new novel and... what's that? You've already marked it as "To-Read" in Goodreads? Well, join NINE BILLION OTHER PEOPLE. No one is entirely sure what this one is about except for "lost memories, love, revenge and war," but it's Ishiguro... so does it matter?
Kirstin Valdez Quade's name should already be on your radar — she was named one of the National Book Foundation's 2014 5 Under 35. This collection of stories, set in New Mexico, is her debut — and we've already gotten previews of her words in The New Yorker, which provides enough reason to be insanely excited about a full collection of her words. Vivid, cutting, and precise sentences, and imagery that'll send you into a tailspin... yes, please.
Oh, goodness, and that's just the start — I know I'm barely scratching the surface. Tweet me with what else you're looking forward to, both in the first three months and also later down the line. Because, of course, there's Toni Morrison in April, and Judy Blume sometime in the summer, too. (And, yes, I heard Franzen might be releasing a book or something. ¯\_(ツ)_/¯) Anyway, I MUST KNOW.
Image: Brittani Jenee/Flickr