New Oreo Churros Are The Best Food Porn Yet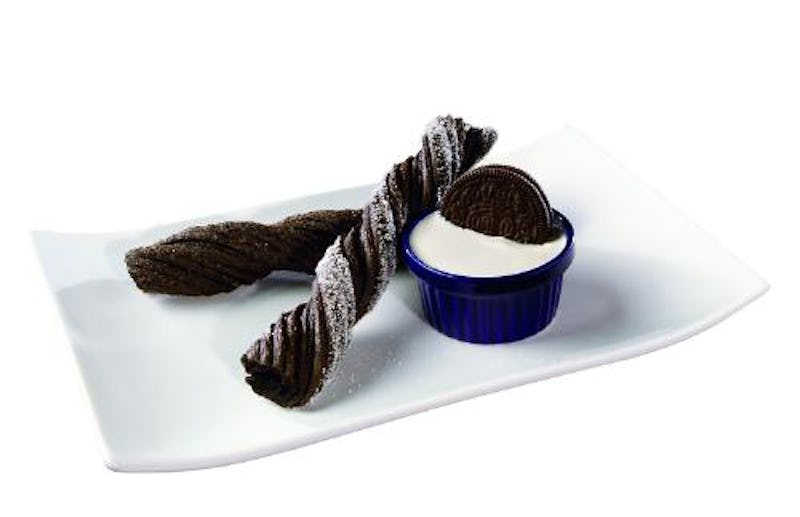 It's official: the word 'foodgasm' has taken on a whole new meaning thanks to the creation of Oreo churros from OREO® and J&J Snack Foods. I know, I know. It seems too good to be true. But the new sweet treat has already debuted at the National Association of Convenience Stores Show in Las Vegas this past month, where Jerry Law, Senior VP of J&J Snack Foods, promised us that fans of both Oreos and churros "will not be disappointed."
How can we be, when a press release describes the creation as having "a crispy exterior", a "warm soft interior", and that "'just-baked' OREO® cookie taste"? If the Oreo churro is anything like its parents, it's guaranteed to become our new favorite snack. To top it off, the churro comes with a side of legendary Oreo creme as a "dipping sauce." It can also be found in three different, mouthwatering forms: traditional churro sticks, double-twisted, or bite-size. Although there's no release date yet, it's only a matter of time before the nation is sweeping these snacks off the shelves.
There's just one problem: if Oreos are as addictive as cocaine, how will we be able to control ourselves with this new creation?
In all honesty, we probably won't, but if we have to sacrifice our calories to something, it might as well be to the rich, creamy, sugar-coated goodness of an Oreo churro.
Now the only thing left to do is wait for that release date....
Images: Oreo; Giphy