10 Of The Worst & Best Vampire Films In Cinema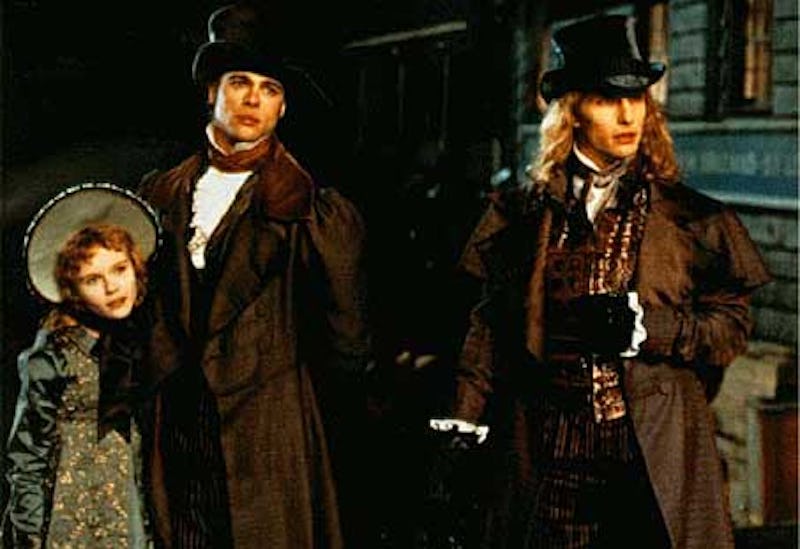 Before vampires became the glittery, human-loving creatures as we've made them out to be in modern TV shows and movies like The Vampire Diaries, True Blood and Twilight, they were more dark, mysterious, and even gruesome. Known for being bloodthirsty villains, many past vampire stories focused on their own survival with one another rather than uncomfortable love triangles with humankind. One story, by author Anne Rice, did just that by bringing together three vampires of New Orleans, Louis, Lestat and Claudia, who looked out for one another in their own society while humans merely played a minor role in advancing the plot, if at all.
With the movie release of Rice's book on Nov. 11, 1994, Interview with the Vampire celebrates its 20th anniversary on Tuesday, reminding everyone just how long it's been since these fictional beings became popular in Hollywood. And even then, with the fascination that surrounded this movie, vampires in film have existed for years beyond Interview with the Vampire days. Yet thanks to Brad Pitt (Louis), Tom Cruise (Lestat), and the sassiest little Kirsten Dunst (Claudia), we've continued to pave the way for vampires as they continue their journey in cinema. And in honor of Interview with the Vampire's birthday, I've compiled a list of some of the best and worst vampire movies that have made it to the big screen.
Abraham Lincoln: Vampire Hunter
Vampires are probably some of the coolest mythical creatures we've ever created after merpeople and unicorns and yet someone decided it would be a fantastic idea to taint their image with this film. As much as I love my 16th president… just no.
Cirque Du Freak: The Vampire's Assistant
Written by Darren Shan, this YA novel-turned movie, is one of 12 books in the series. Starring John C. Reilly, Salma Hayek, and Willem Dafoe, you would've thought this film about a boy's encounter with a vampire ringmaster and a spider at a freak show might be good, but it didn't garner much attention. The film only brought in $6,293,205 in ticket sales its opening weekend if that says anything.
Blade
I love stories about vampire hunters, but Wesley Snipes just didn't cut it here. Though it received an audience score of 78 percent, professional critics only gave it a rating of 55 percent. The worst part is that there were two other films that followed in its footsteps. Then again, I do like the idea of vampires who try to protect humans.
Dark Shadows
Oh, Johnny Depp, why? Although I'm usually a huge fan of Tim Burton movies (and Depp), this definitely wasn't one of his best. Expected to be funny from the trailer, it just didn't deliver the comedy most people wanted from it.
Twilight
There are just so many things I could say about this saga, but then you'd be reading my rant all day. Although I'll admit that I got sucked into the Twilight cult when the movie first premiered, I realized soon after how ridiculous the story between Edward Cullen and Bella Swan was. From vamps glowing in sunlight, to awkward love scenes, to a love triangle between a human, a vampire and a werewolf, this went wrong in so many ways. My one positive comment? At least the wedding in Breaking Dawn gave me something to pin to my Pinterest board.
The Little Vampire
Although still low on my list — probably because it is a children's movie — this film will forever remain a part of my heart. Focused on the life of a young boy, Tony (Jonathan Lipnicki), this is the one story about a friendship between a human and a vampire that I respect.
Interview with the Vampire
Of course, Interview with the Vampire is one of my top picks because it portrays a completely different side of vampires that we're accustomed to seeing. Aside from being the major food source in this film, humans really don't play much of a role in this as the story revolves around the battle between good and bad vampires. Also, Tom Cruise does well at playing crazy here (though I do wonder if he's even acting).
Daybreakers
About the need vampires have for more blood and the struggle they experience when they begin to run out of their resources, this film starring Ethan Hawke (yaaas) takes an interesting twist with vampires who harvest humans. I know. It sounds morbid, but it's actually pretty great.
30 Days of Night
Not only will you never find me in Alaska during winter after this movie, but I also won't visit without Josh Hartnett by my side either. Though a little (or a lot) gory and extremely dark, this story is about a small Alaskan town that experiences complete darkness for an entire month and becomes overrun by hideous, bloodthirsty vampires.
I Am Legend
Will Smith is the main reason you should see this movie if you haven't already, but you'll especially admire the fact that this film doesn't quite make it clear what type of monsters he's dealing with from the beginning. Although, like most vampires we've all read about, these creatures don't come out during the day because of the sun, they don't exactly resemble the mythical being in the way we think they would. And that's really the best part about it.
Images: some-random-imagines; chrismassoglia; 50shadesofjess; vampire-chronicles-appreciation; chrich88; mastersofhorror/Tumblr, pandawhale, giphy, ryot, reddit, Geffen Pictures/IMDb