Steve Carell Talks Villainous 'Foxcatcher' Role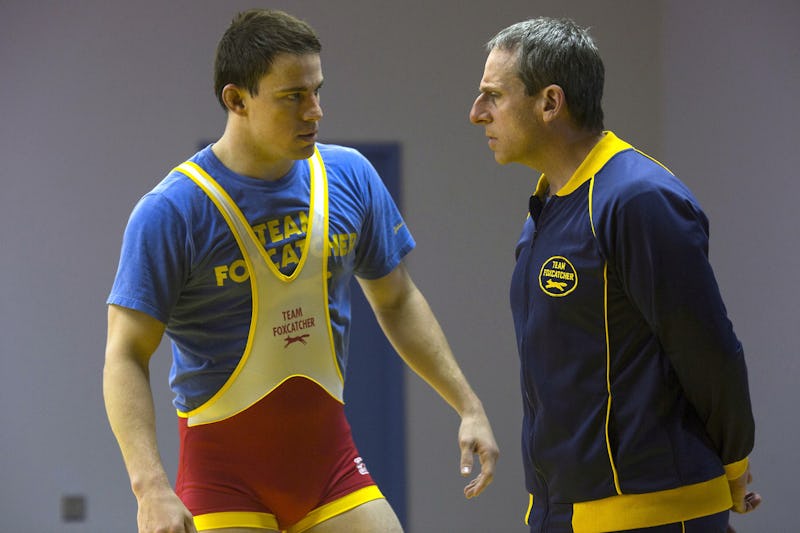 Steve Carell's performance as absent-minded Brick in the cult-classic Anchorman is one of cinema's most gut-busting performances. His take on The Office's Michael has us watching and re-watching our favorite episodes on Netflix years after the series wrapped. But in 2014's Foxcatcher , Steve Carell trades his comedic-timing and dry wit for the likes of a real life killer.
Foxcatcher follows the true story of Olympic wrestlers and brothers Mark and Dave Schultz (Channing Tatum and Mark Ruffalo) and their relationship with sponsor John du Pont (Carell). Du Pont, one of the wealthiest men in America and an avid nationalist and sports fan, invited the Schultz brothers to live at Foxcatcher grounds, where they would live and train for the Olympics. And for those who remember the 1996 headlines, the billionaire's supposed generosity ended in a bloodbath, when du Pont (spoiler — but not really — because, history...) offered the elder brother a handful of bullets to the chest.
"I thought a lot about how sad a person he was," Carell said of getting inside the mind of du Pont. "His parents divorced when he was 2, he grow up in this enormous house, essentially with just he and his mother, who, by all accounts, was a chilly person. I thought a lot about that, who he was growing up. Surrounded by wealth, and insulated by that wealth."
The film showcases the supremely lonesome life of du Pont, and his desperation for adult friendship. "I think he was lonely, and in need of things he didn't have the tools to acquire," Carell said. "He was somebody who was in need of assistance. He didn't have a circle of friend, he had a circle of employees. No one was going to intervene, he didn't have anyone who was there to see the red flags. That's incredibly sad and tragic to me," he said, adding: "I never approached him as a villain."
Carell, though serious when addressing our questions at the Los Angeles press day for the film, doesn't hesitate to crack jokes ("No one's referred to me as 'Mr. Carell' before") and whisper into Tatum's ear (who immediately starts giggling). He's an innately funny guy, but as Tatum notes, Carell on set as du Pont was anything but laughable.
"It was all pretty dark," Carell admits to the vibe on set. "Everyone took it very seriously. Mark (Schultz) was there, and Dave (Schultz)'s widow was there for a time. They were being very generous, and we felt a responsibility to them to be as honest as we could."
Those who have seen the film can attest: Carell as du Pont is pure terror. A silently lurking presence whose inability to take social queues and upbringing have molded him into an unsuspecting murderer. We saw Carell's serious (if not asshole-ish) side in The Way, Way Back, but Foxcatcher brings new meaning to the idea of antagonist.
"I want to do more of this. It was challenging, exciting, exhilarating, and I felt like it meant something," he said. "I don't know if I'll ever do anything on this level again, but I would aspire to."
Foxcatcher hits theatres November 14. Watch the trailer below.
Images: Annapurna Pictures