Grilled Cheese Hacks You Never Thought to Try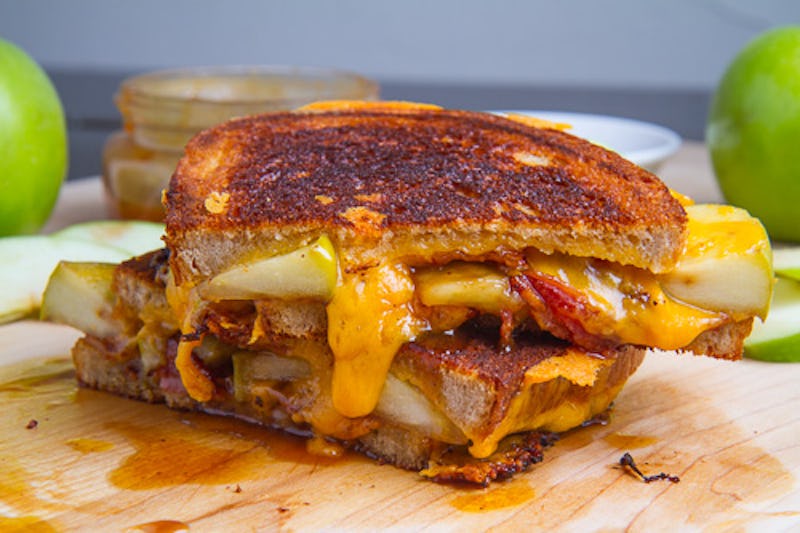 The beauty of simple foods is how easily adaptable they are. We saw it last week with our exploration into the greatest mac and cheese hacks known to humankind; and we're seeing it again this week, this time in the form of 13 grilled cheese hacks you've probably never thought to try before. Because the only thing better than grilled cheese I grilled cheese dialed up to 11, of course.
Once again, we have the culinary minds of AskReddit to thank for our gustatory inspiration. Last night, redditor cultcab asked the sub, "What are some ways to spice up a grilled cheese?"—which, of course, led the community to come out in droves strictly for the purposes of recommending their best grilled cheese add-ins and variations. Some of them are as simple as sticking something you've probably already got sitting around your kitchen in between the bread as you cook your sandwich; others require a little bit of planning and some superb flipping skills. Either way, though, these 13 ideas will take your grilled cheese from same ol', same ol' to completely and totally out of this world.
You'll notice that classic grilled cheese additions like bacon and avocado are absent from this list. Although plenty of redditors recommended both of those items, I feel they're such basic ideas that we shouldn't need a reminder to use them. Here, there be monsters. Delicious, cheesy monsters.
1. Give It Some Mustard
Or Grey Poupon, if you're feeling fancy. Or Coleman's, if you're feeling remarkably, unbelievably fancy.
2. Add Some Jam
Can confirm: Jam in grilled cheese is damn glorious. Go savory with Adventures in Cooking's Smoked Gouda and Tomato Sage Jam Grilled Cheese or sweet with the raspberry jam in Foodie Crush's Sweet Pear and Rosemary Honey With Havarti Grilled Cheese.
3. Stick Some Doritos in the Middle
It's like the grilled cheese version of shoving potato chips in the middle of your tuna sandwich (which, by the way, is amazing). Also, I suspect msnmr9 has a future in the Taco Bell test kitchen.
4. Swap the Bread With French Toast
Or just go ahead and make yourself a Monte Cristo. Although TingTangWallahWallah (sorry, I have to add it: Bing Bang!) suggests making your French Toast savory, I actually think sweet French Toast with, say, brie and some kind of fruit preserves (see: Item Number Two in this list) would be dynamite. Give Brown Eyed Baker's French Toast a shot and see how you like it.
5. Make It Well Seasoned
There's nothing a well-stocked spice cabinet can't do.
6. Turn It Inside Out
I often see the cheese-on-the-outside versions referred to as "inside out grilled cheese"; there's still cheese on the inside, too, though, so maybe it's just extra cheesy grilled cheese. In any event, Here's how The Kitchn does it.
7. ...Peanut Butter?
I certainly wasn't expecting that, but, well, to each his or her own.
8. Stuff It With Mac and Cheese
I love how this one is applicable both in a list of grilled cheese hacks and in a list of mac and cheese hacks. Don't you?
9. Add a Fried Egg
Feeling ambitious? Make it a Croque Madame, a la How Sweet It Is.
10. Try It With Mayo
I'll be honest: If I was going to put mayo in a grilled cheese, I'd just go ahead and make it a tuna melt. It might be worth a shot without the tuna, though.
11. Apple Slices and Soft Cheese
This. So much this. Even if you don't normally like apples, it is magical. I promise. Closet Cooking takes it to the next level with caramel sauce and bacon.
12. Add Some "Cowboy Candy"
I'm too scared of the jamming process to try this myself, but for those of you with more guts than I, let me know how it turns out if you try it. It sounds magnificent.
13. This:
Too much. Tooooooooooo much.
Images: Closet Cooking; Adventures in Cooking; Foodie Crush; Brown Eyed Baker; The Kitchn; How Sweet It Is