#TBT Reads: 'The Boxcar Children' Is A Weird Story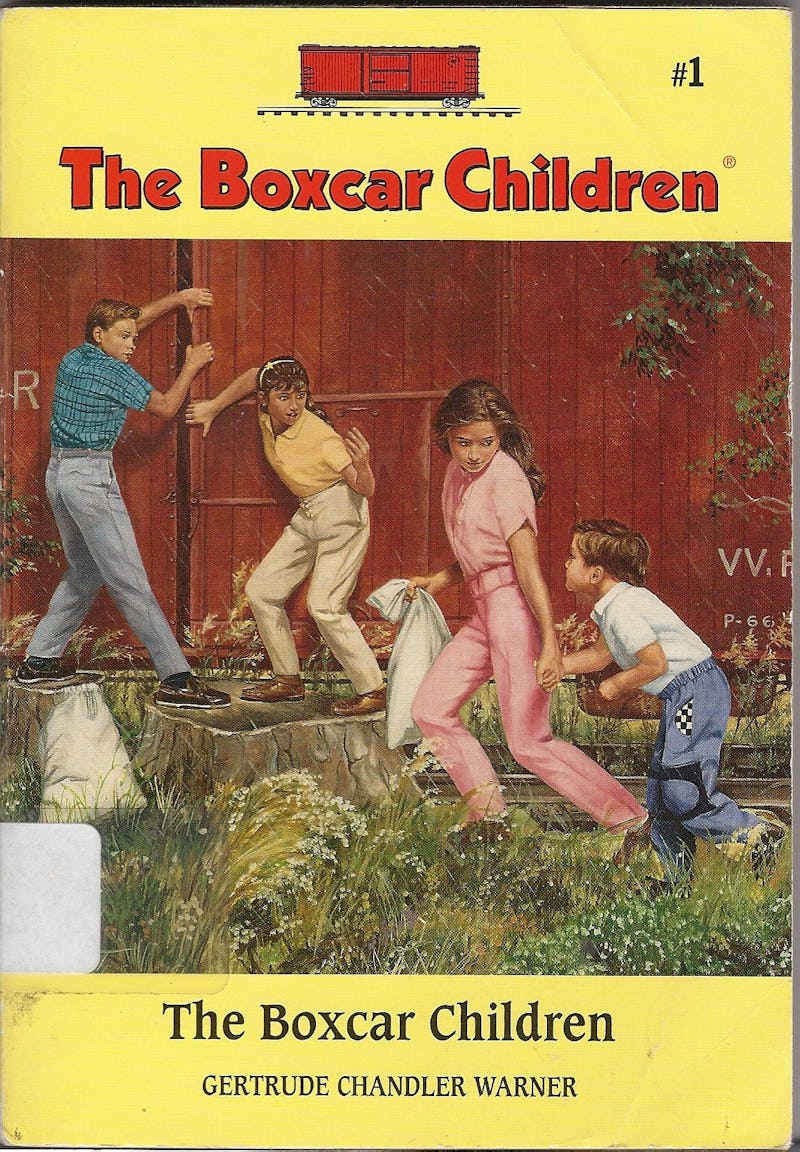 Who would have thought that books about orphaned, homeless children would be such shiny, happy stories? Anyone who has ever read Gertrude Chandler Warner's The Boxcar Children and its following series knows just what I'm talking about. The series centered on the four Alden siblings — Henry, Jessie, Violet, and Benjamin — whose parents die. They run away and find an abandoned boxcar, which they make into a little home for themselves. But when Violet gets sick, they have to let a doctor in on their secret, and that doctor alerts the kids' grandfather.
From then on, the Alden children live with their kind grandfather, who moves their boxcar home into the backyard. In the subsequent books, Henry, Jessie, Violet, and Benny solves small town mysteries, like theft, that their friends bring to them.
Warner wrote the original novel and 18 following, and the rest were ghostwritten but credited to her. She often came under fire for presenting children who are able to survive with no parental supervision, thinking it would encourage rebellion, but Warner never backed down from the fight, saying in her biography that that's precisely why she wrote it: children wanted to read about their resourcefulness and independent spirit.
The author never married, but devoted much of her life to charitable organization. She died in 1979, but its clear that her legacy lives on.
Why did we love The Boxcar Children?
After reading The Boxcar Children, I was ready to grab my big brother and little sister, run away, pretend to be orphans, and move into an old boxcar because it seemed super-fun. I was very pro-forts back in the day, and this boxcar situation sounded like the most durable fort in existence. Plus, after Harriet the Spy and Cam Jansen books, I was pretty sure I could make my way as a detective if need be. I was very, very good at making notes. And man, if I could have had the dog Watch, who was also an orphan that the children took in, I would have done anything. It sounded like they had quite the life.
And what about today?
Looking back at The Boxcar Children, it's mostly nostalgia that holds the series together. I do appreciate the kids' resourcefulness; they certainly don't fall apart when facing obstacles, which is important. But now, from an adult perspective, I'm shocked and appalled at how these children were able to fall through the cracks of the system. Their parents die and four children, as young as 6, are just allowed to disappear into the woods? Where was the grandfather? Where were the police? Where were the government officials? This is not OK, you guys.
And holy gender roles, Batman. Not to ruin this all for you, but it's the 14-year-old Henry that's the clear leader of the siblings. OK, sure, that could just be because he's the oldest — I'll buy that. But as Henry gets to be the wise problem-solver, 12-year-old Jessica, or Jessie, is described as very neat and tidy, and she does all of the cooking. (She's the one that took the thorn out of Watch's paw, and so he slept in her bed, which meant I wanted to be her anyway.) Violet, who is 10, is quiet and shy, and her notable qualities is that she likes to sew and loves the color — yes — violet.
Hey, the original book was first written in 1924, so we can't blame it. But that doesn't mean today I have to have my imaginary children read it without bringing up these issues.
If you loved The Boxcar Children, try reading...
1. The Glass Castle by Jeanette Walls
OK, so homelessness is certainly not as fun in Walls' memoir The Glass Castle , but it does showcase the power of familial bonds, true resourcefulness and what it means for people to do whatever they can to stay together.
2. The Mysterious Benedict Society by Trenton Lee Stewart
The Mysterious Benedict Society is a totally fun children's book about gifted kids that doesn't talk down to readers. If you found the mystery fun in The Boxcar Children, you're in for quite a ride with Stewart's unique story.
3. The No. 1 Ladies' Detective Agency by Alexander McCall Smith
Are you a mystery-lover, but don't love all the grit and violence? The No. 1 Ladies' Detective Agency is for you. Set in Botswana, Precious Ramotswe is a Miss Marple-style detective heroine who keeps careful watch on all of her neighbors and solves the local crimes.