26 Ways We Are All Michelle Tanner On Thanksgiving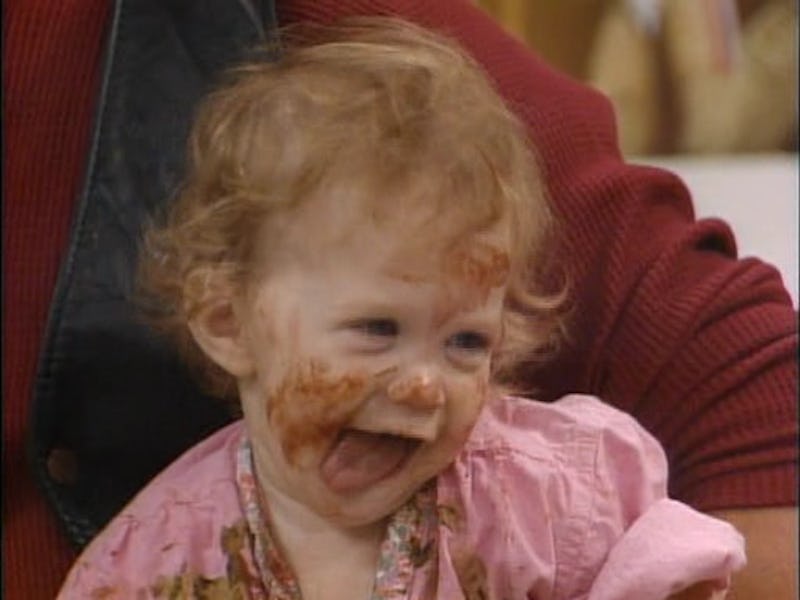 It's November again. The month where the beautiful, multi-colored foliage disappears along with any hope you had of maintaining your equally as intricate and not at all realistic diet. But, so be it. Because a month with a holiday pretty much dedicated to gluttony is exactly what you and I need right now (or always, if we're being honest). And you know what? It's cold, it's dark, it's dreary… there aren't too many activities you can do other than eat, anyway. Thanksgiving is truly the unsung hero of late fall and we are forever in its debt.
So, I've decided to commemorate this joyous, beloved holiday and the gamut of emotions we run through on that day. And to do so, I've looked to one of our collective childhood idols, Michelle Tanner, in order to accurately depict what it's really like to be us on Thanksgiving. We share many of the same attributes, after all. We're both rambunctious, overeager, temperamental, hungry (so hungry), attention starved, and impatient. I mean, if you can't relate to a character that didn't yet reach puberty, you can't relate to anyone, can you? So here are all the ways we, grown adults, are all Michelle Tanner on Thanksgiving:
PREGAMING
WHEN THE DOORBELL RINGS AND YOU TRY TO ESCAPE THE UNYIELDING CLUTCHES OF YOUR STRESSED OUT MOTHER
You're hoping it's someone on white horse.
STANDING IN FRONT OF THE DOOR, WAITING FOR YOUR RELATIVES TO NOTICE HOW GOOD YOU LOOK IN YOUR PARTY OUTFIT
You're not conceited or anything, but the H&M dressing room attendant told you this perfectly complemented your skin tone, so...
WHEN YOUR AUNT ASKS WHERE YOUR NOTICEABLY ABSENT MOTHER IS
Hell, probably.
WHEN YOUR GRANDMOTHER ASKS IF YOU HELPED WITH THE PREPARATIONS, NOW THAT YOU'RE A GROWN ASS HUMAN
A grandma mic drop, if you will.
WHEN YOUR MEDDELSOME UNCLE ASKS WHEN YOU'RE GOING TO STOP FREELOADING
Excuse you, but you're getting a master's degree. You're going to be a MASTER (whatever that means).
WHEN YOUR FAVE COUSINS ARRIVE
Built in best friends FO' LIFE.
WHEN YOUR COUSIN'S NEW GIRLFRIEND TRIES WAY TOO HARD TO BE "IN" WITH YOUR FAMILY
Aunt Franny is most definitely not that funny, Tiffany. You, on the other hand...
WHEN YOUR SISTER AND HER BOYFRIEND INNOCENTLY HOLD HANDS UNDER YOUR WATCHFUL EYE
Affection? Disgusting.
WHEN SOMEONE BRINGS A LOW FAT OPTION
Bread-less stuffing? What about a you-less Thanksgiving? How about that?
WHEN YOU'RE TRYING TO PUT ON LOVE ACTUALLY BUT YOUR FAMILY THREATENS YOUR LIFE IF YOU CHANGE THE FOOTBALL GAME
So what they're saying is it is annoying and not at all cute when you recite the movie word for word?
WHEN YOU'RE ONLY INTO THE SIDES
It's simple, there's just no room for turkey after the stuffing, mashed potatoes, sweet potato casserole, cranberries, yams, pasta (sup, Italians?)...
WHEN LONG DISTANCE RELATIVES ARE HANDING OUT EARLY XMAS GIFTS
Thanksmas!
WHEN YOUR GRANDFATHER ASKS IF YOU'RE SEEING ANYONE
The only person you're seeing is your personal trainer after this fiasco.
WHEN YOUR DAD INSISTS THAT SOMEONE HAS TO FINISH THE LAST BISCUIT
Because you're selfless like that.
WHEN YOUR DRINK "NEEDS A LITTLE SOMETHING"
More vodka. Definitely more vodka.
WHEN YOUR MOM PULLS OUT THE CAMCORDER AND YOU'VE ALREADY SLAYED THE ENTREE ROUND
First of all, did your mother travel back in time to get that camcorder? Because you're pretty sure the last time one was sold was in 1993.
WHEN YOUR BROTHER SUGGESTS YOU SHOULD SLOW DOWN MID-CHEW
Who decided to birth him anyway?!
PATIENTLY WAITING TO DIG IN AS SOMEONE YAPS ABOUT HOW THEY'RE SO GLAD THEY DECIDED TO BRINE THE TURKEY
YES, THANK YOU FOR ADDING MORE TIME ONTO THE MOST TIME CONSUMING DISH ON THE MENU.
WHEN YOU'RE FINALLY WHERE YOU'VE WANTED TO BE: KNEE DEEP IN MASHED POTATOES
In the words of the enlightened Uncle Jesse, "HAVE MERCY!"
WHEN YOUR MOTHER ASKS IF YOU THINK THE MEAL NEEDED ANYTHING
Seriously, what's the deal with that????
LETTING YOUR NEWLY INDEPENDENT SISTER DOWN GENTLY, BECAUSE SHE SHOULD PROBABLY NEVER GO NEAR A STOVE, EVER AGAIN
You can't just pretend like the Parker House rolls weren't overcooked. Cuz they were. They really were.
WHEN YOU OFFER TO HOLD YOUR COUSINS NEWBORN CHILD AFTER A FEW BREWS
It's cool, you wouldn't trust you, either.
WHEN IT'S YOUR TURN TO SAY WHAT YOU'RE THANKFUL FOR
You always have been bad on the spot.
WHEN IT'S TIME FOR THE FAMILY PHOTO AND YOU'RE IN FRONT... OF EVERYONE.
Whatevs, you're cute.
CRASHING
Tryptophan, man. It's real.
Images: Warner Bros.;Giphy (26)