The 27 Stages Of Eating On Thanksgiving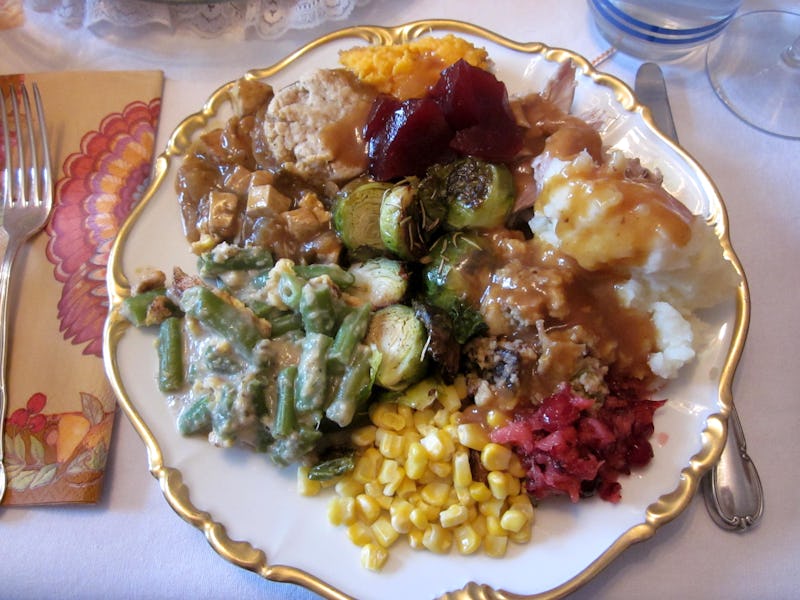 If you ask me, Thanksgiving is the greatest day of the year. Hands down. My main reason? Getting to eat all that great Thanksgiving food.
Yes, sure, Thanksgiving is about giving thanks and spending time with your family. But let's be real: mostly, it's about eating. Well, eating and spending quality time on the couch watching the Macy's Thanksgiving Day Parade, the dog show, and football. If nothing else, it's a magical day of over-consumption and pure laziness. Basically, it's every American's dream.
Because spending most of the day eating has just become an inherent part of Thanksgiving celebrations, there are many emotional and physical stages that every person goes through before the day is out. For some, these stages kick in even days before, as they scour their closet to find the exact cute but comfortable outfit that will allow for the greatest intake of food.
However, if you fall in the category in which eating is the central purpose to having that day off from work, then here's what you have in store for yourself. From the beginning to end, here are the 27 stages of eating on Turkey Day.
WARDROBE Selection
You want to look fancy, because it is a holiday, but you also need to wear something that will have some give to it.
ANTICIPATION
This can start as early as the night before the actual holiday. You basically know what's on tap — turkey, gravy, mashed potatoes, squash, pumpkin bread — but you're still excited to eat every single bit of it.
SMELLING all the glorious smells
Oh, those smells!
SEEing WHAT'S COOKING, LITERALLY
There's just so much to choose from...
considering whether to snack or save your appetite
If you eat it all now, you won't have to share it once it reaches the table! Now that's what I call planning ahead.
deciding you must to SNACK to "keep your blood sugar up"
It doesn't matter if it's for the main meal or dessert; nothing is off limits as long as your mom's back is to you.
TRYing NOT TO Overdo IT so you leave ADEQUATE SPACE
It's all about pacing yourself. Well, to a degree.
BEGINning TO GET hangry
Seriously? How much longer must I wait? And why the hell did Uncle Mike break out his Christmas sweater so early in the season? Why am I even related to these people?!
the moment WHEN YOUR HANGRY STAGE really SETS IN...
I. HATE. EVERYTHING.
THE realization that it's finally dinner time
Your stomach rumbles. It's just a matter of seconds now before you can dive right in and drown yourself in goodness.
THE INTENSE EMOTIONS OF THE VERY FIRST BITE
It's succulent. It melts in your mouth. You have been waiting all year for this moment. You even think you might cry tears of joy.
replaying THE FIRST BITE WHILE HAVING A SECOND BITE
Although you know that every bite that follows is going to be just as fantastic, there's just something about the first one that you want to savor in your memory. Firsts are always the best.
wondering why you don't eat thanksgiving food all year
Potatoes to squash to turkey to veggies, then back to turkey again!
ADMIRING THE COLORFUL ARRAY OF FOOD BITS ON YOUR PLATE BEFORE YOUR FINAL LAST BITES…
It's like a work of art, a work of art that you will literally lick clean off your plate.
THE IMPORTANT DECISION OF WHETHER OR NOT TO GO FOR SECONDS
It's about making not just your ancestors, but your future generations proud. There's no room for guilt on Thanksgiving. None.
ignoring the fullness to obviously go get seconds
It's this weird combination of pressure on your organs, a stomach forced into your lungs, and a sort of aching as your skin stretches to keep everything in place. time for seconds!
realizing ROUND TWO doesn't feel THE SAME
trying to push through everything your body is telling you
You might even start to softly sob. But it's so good! Just keep going.
REALIZing IT'S really TIME TO STOP
There's really nothing else you can do at this point.
CHASTISing YOURSELF FOR A GETTING A LITTLE CARRIED AWAY
Well, you did do this to yourself, so you really have no one else to blame.
promising yourself you'll work out the next day
Right after your turkey sandwich breakfast of champions, of course.
TAKing TO THE COUCH TO digest
You don't even like football, but you're too full to argue.
the strong, sudden desire to nap
And could someone get in here and rub my belly?
...or ralph
Must. Keep. Food. Down.
SWEARing YOU'LL NEVER EAT THAT WAY AGAIN
Which you've only said a million times before, and will probably say a million times more.
(NOT UNTIL NEXT THANKSGIVING, OF COURSE)
Because that's what Julia Child would want.
...oh, wait, did someone say dessert?
Suddenly, I'm feeling better.
Images: Liz Hait/Flickr; Giphy(11); ReactionGIF(4)