What Did Elsa Sing in 'AHS: Freak Show'?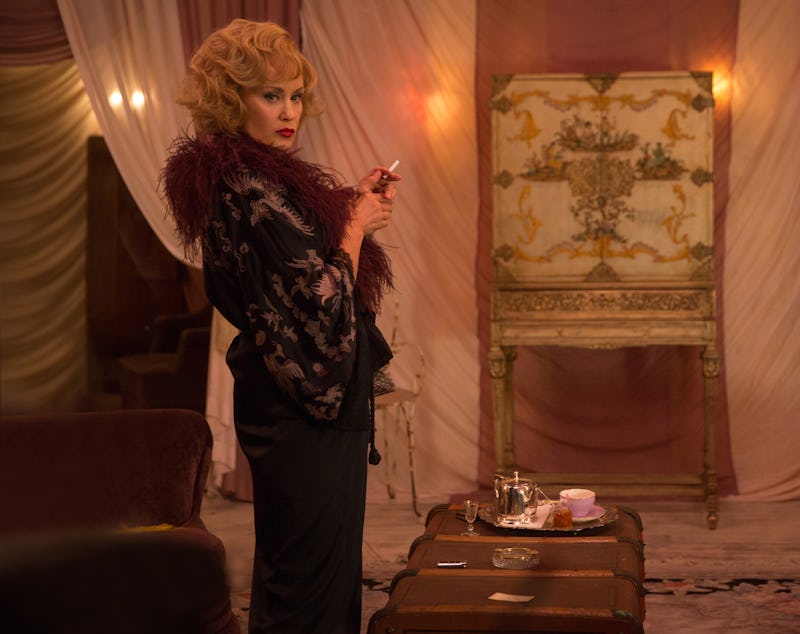 It was perhaps the one moment of levity during a particularly dark episode of American Horror Story: Freak Show. Though "Bullseye" was particularly light on blood (there was only one possible murder, after all), there were plenty of moments that would make anyone shudder: Emma Roberts' Maggie being forced to choose between love and homicide, Grace Gummer's Penny the Candy Striper forced to choose between love and a homicidal father, and Jessica Lange's Elsa being forced to choose between love and, well, committing homicide on a lover strapped to a bullseye. But, between all of those internal struggles, we got a chance to listen to what is, by now, AHS' episodic musical moment, when Elsa sang "September Song" to Paul before discovering there was another woman (Penny) in his life.
It was a surprising scene, not only because we very rarely saw Elsa show interest in anything other than her own fame (and perhaps her assistant, Ma Petite, who was cradled several times during "Bullseye" despite the fact that the actress who plays her Jyoti Amge, has told press that she doesn't like being held like a baby."). But also because, so far this season, which is set in the 1950s, we've seen Elsa sing David Bowie's "Life on Mars" and Sarah Paulson's Bette and Dot sing Fiona Apple's "Criminal." "September Song," on the other hand, is actually era appropriate, having been written in 1938 for Kinckerbocker Holiday, a Broadway musical.
In 1950, the year American Horror Story: Freak Show takes place, the song made its way onto the big screen, in A September Affair, starring Joseph Cotton and Joan Fontaine.
Of course, "September Song" had received some mainstream attention before then, when a big singer with big blue eyes decided to take on the song in 1946. That's right — Frank Sinatra himself recorded multiple versions of the song, in 1946, 1962, and 1965.
It wasn't long until the song became a standard, having also been performed by Bing Crosby:
Willie Nelson:
And Anjelica Huston in Smash.
And now, of course, Elsa. But what relevance does the song have in the AHS universe? Though the play for which it was written, Knickerbocker Holiday, focused on matters far, far away from Jupiter, Florida (the musical was a criticism of President Roosevelt's New Deal), one storyline focused on a woman attached to a powerful man, despite being in love with another person. Sound familiar to those who watched Paul wrestle with his relationships with both Elsa and Penny?
But the song holds relevance for Elsa as well. The lyrics to "September Song" surround an older person's insistence that courting games are unnecessary endeavors, only taking up precious time. And if American Horror Story taught us anything, it's that Jessica Lange's characters are people who find time extremely precious.
But how much time does Elsa, who's confronted with a skeptical freak show and a freak dissector, really have left?
Image: Michele K. Short/FX