Is 'Grey's' About To Drop A Pregnancy Bomb?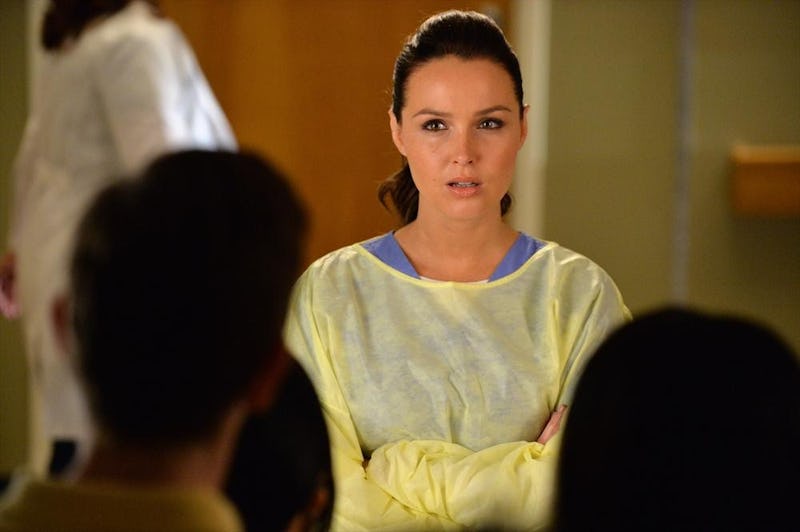 It's been 11 years now, and Grey's Anatomy still stresses me out on a weekly basis. This season, it's mostly because my two favorite relationships (Meredith and Derek's and Callie and Arizona's) are in serious jeopardy, and that's basically all I can think about. But after seeing a sneak peek clip from Thursday night's episode of Grey's Anatomy, "Could We Start Again, Please?" there's a chance the series is throwing us a totally unexpected curveball that will make us forget about couple drama. As it turns out, April might not be the only doctor at Grey Sloan Memorial expecting a baby. Jo, the resident dating Alex Karev, may or may not be pregnant, too.
In the clip, Jo's about to have her first solo surgery, and she's throwing up, supposedly from nerves. Then there's Stephanie waiting outside, and after she confirms that Jo isn't barfing because she's nervous to do a surgery with Dr. Bailey, she asks if she's pregnant. Of course, Jo says she's not, but should we believe her? I don't think so. You can watch the clip below and decide for yourself, but come on — rarely does a character puke (or do anything else) on this show without a bigger meaning behind it. Jo's either pregnant or suffering from a rare disease that Alex will have to save her from as a John Legend track plays meaningfully in the background.
Unfortunately, there are no spoilers that lean either way — but creator Shonda Rhimes has kept suspiciously mum about what Jo and Alex will be dealing with this season. When talking to TVLine over the summer, before the season premiere, she said:
Alex and Jo are in an interesting place — though I don't know if I would talk about them in terms of their relationship just yet, just because thats not really the focus at the moment.
Is it not the focus at the moment, or is something huge coming that you're hoping will shock your audience? I'm on to you, Rhimes.
And would it be the worst thing in the world if Jo was pregnant? Nobody can argue that Alex would make an awesome dad, and after working for so long with peds patients, he's prepared to take on a child of his own. I wouldn't be surprised if Jo freaked out, though, because I'm not sure she's quite as ready. She and Alex have talked marriage and starting a family before, and I think it's definitely in their future — I'm just not sure either of them expect that the future will come this soon.
Either way, I'm super excited to see where this potential storyline will go. And I need something to distract me from mourning the loss of Callie and Arizona's marriage. Pass the tissues, please? And maybe a pregnancy test for Jo.
Image: Eric McCandless/ABC