Turns Out, J. Law Really Can't Sing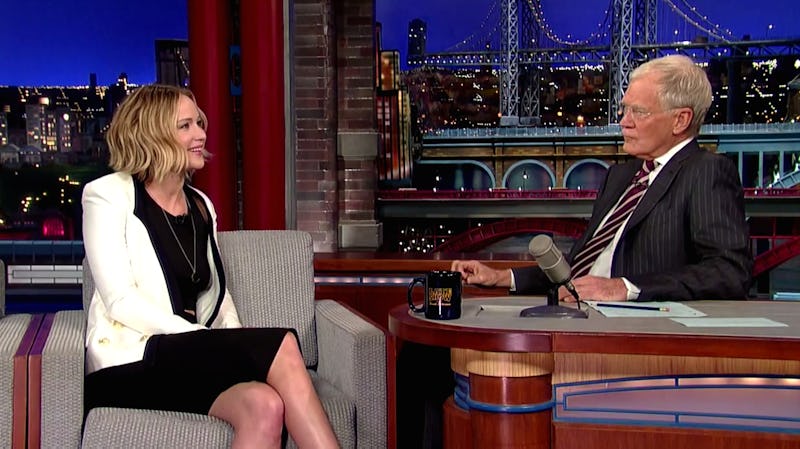 While the best part about a new film in The Hunger Games franchise being released is, of course, the film itself, but I'd totally be lying if I said that — when the franchise comes to an end next year — I wouldn't be missing the pre-release press tour the most. It's that amazing time of year when Jennifer Lawrence pretty much dominates the late night television show circuit with her goofy sense of humor, hilarious jokes, and, of course, her really, really ridiculously good-looking face. Luckily, though, no one will have to face a JLaw press tour-less reality just yet: This year's press tour for The Hunger Games: Mockingjay Pt. 1 is just gearing up, and, afterwards, we've still got the press tour for Mockingjay Pt. 2 to look forward to next year. So, wisely, I'm going to choose to ignore the fast-approaching end, and just focus on this. To promote Mockingjay Pt. 1, Jennifer Lawrence appeared on Late Show With David Letterman to chat a bit about what seems to be seasonal topics, like the Christmas pageant at her school that she performed in when she was a little kid — and how terrible at singing she was.
I don't really want to ruin the interview for anyone because, like most things JLaw is involved in, it's really better if it's experienced rather than read about — however, just to offer some set-up, it's basically Lawrence talking about how bad at singing Christmas songs she was...and then actually singing them, along with Letterman himself. I think this, everyone, is what we refer to as true television gold.
Check the interview below.
Image: YouTube