NYC Is Getting a Cat Cafe, Too!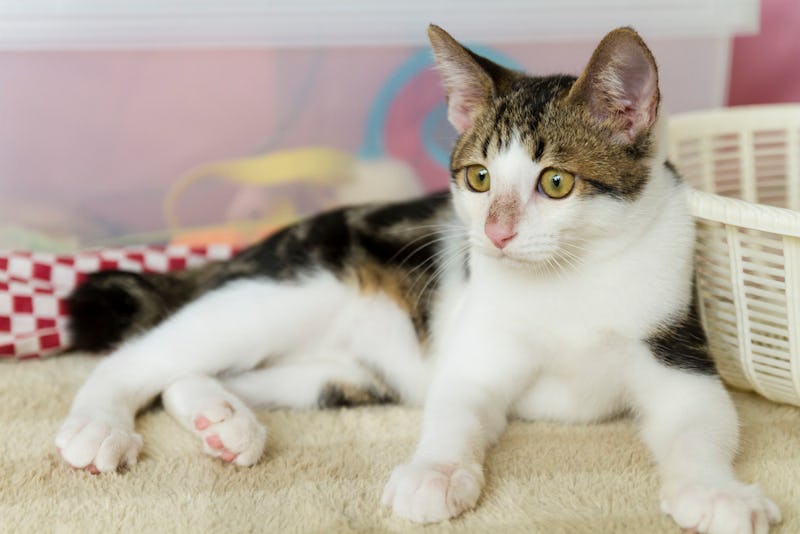 If you, like me, heard about the opening of Cat Town Café in Oakland and simultaneously performed your happy dance and wept about the fact that you live far, far away from California, I have good news: Another cat café is set to open in the U.S. soon, this time on the East Coast. According to Eater, the Meow Parlour cat café is setting up shop in New York City; its doors will open for the very first time on December 15. Feel free to emit your most excited "Squeeeeeeeeeee!" noise now.
Eater reports that Meow Parlour is the brainchild of Christina Ha and Emilie Legrand, who run the bakery and frequent pop-up market Macaron Parlour. Located at 46 Hester Street, it will consist of two spaces: The first, Meow Parlour Patisserie, will have the same coffee, tea, and pastries the duo sell at Macron Parlour for sale, while the second adjacent space will play host to a variety of furry, purr-y, adorable cats. You can bring your food and drinks from the café portion into the cat room, but the cats won't be able to wander into the food room. You understand — health and safety and all that.
There's just one catch: You'll have to reserve your space ahead of time via the cat café's online reservation system (it's not up and running yet, but that link will point you in the right direction when the time comes). Well, technically you can just show up; the Meow Parlour FAQ, however, notes that "your best bet is to book a visit." Slots are $4 per half hour, with a maximum of five hours per guest. But as annoying as it might sound to have to make a reservation, it's actually probably best for both the patrons and the kitties. I did make an attempt to visit the Purina-sponsored, pop-up cat café that occupied 168 Bowery in the spring… but I failed, purely because of scheduling. I woefully underestimated when I'd need to queue up in order to make it inside before it closed, so alas, I didn't get to experience it first-hand. I was, however, able to gawk at it through its many windows, and it looked truly wondrous. A reservation system will help keep the crowds down—and it'll also make sure the cats don't get overwhelmed or anything. Meow Parlour says it puts the care and wellbeing of their kitties above everything else (hence all the rules of conduct for the place), which is just as it should be.
The best part? All of the cats will be adoptable. According to its website, Meow Parlour has teamed up with KittyKind, a no-kill rescue group located in New York — so if you fall in love with the pile of warm fuzziness purring away on your lap during your visit, you can take it home and give it a forever home. Awwwwww.
Just in case you weren't already excited enough, here. Have some pictures of cats in other cat cafés all over the world. They'll keep you occupied until Meow Parlour opens on December 15:
1. Gimme My Blankey
2. If We Fits, We Sits
3. Lost in a Good Book
4. Meow!
5. Omnomnom
6. Curious Cat
7. Nap Time
Images: kalleboo, MsSaraKelly, yasa_ (4), feline_dacat, kevinlin1013/Flickr; Giphy