This Is Really Bad News For 'AHS: Freak Show'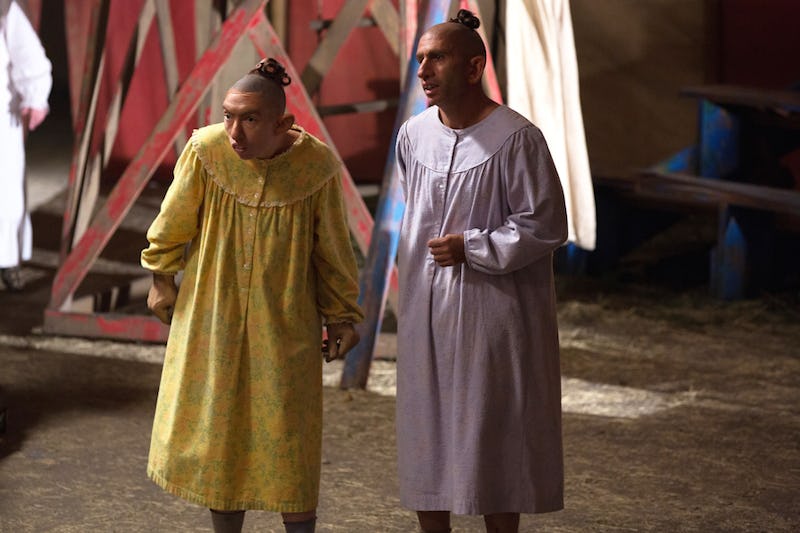 Something near and dear to Ryan Murphy's heart has been taken, and I'll bet you anything that he's not too thrilled about it. While all of Murphy's fans are more concerned with what the next episode of American Horror Story: Freak Show will entail, the rest of the AHS team is hoping that one extremely important part of their show doesn't get released to the public before it has the chance to air: That is, a script from American Horror Story: Freak Show has been stolen, and 20th Century Fox Television wants it back — now.
The theft, according to TMZ, allegedly took place after one of the actors left a few pages of his or her script behind on set last week in New Orleans. Although only one of those pages is being passed around to various media outlets, the scene that it describes is pivotal, containing all of Pepper's back-story. In it, the show reveals how the character found herself at Briarcliff Manor, the main setting of American Horror Story: Asylum, which took place during season 2 of AHS and was where we were first introduced to the character of Pepper.
Although anyone from the show itself has yet to comment, 20th Century Fox Television sent out a statement to TMZ to assure everyone that there will be major repercussions once the culprit is found.
"The theft and unauthorized distribution of our scripts is a very serious matter and we will take all appropriate steps necessary to vigorously protect our intellectual property," 20th Century Fox Television said.
I have to agree with them here because hearing a spoiler like that would be the worst. I'll just keep my fingers crossed that the people who now have that one page of the script do what's right and return the material — or, at least, keep the scene to themselves.
Image: Michele K. Short/FX