What's Next for Saul on 'Homeland'?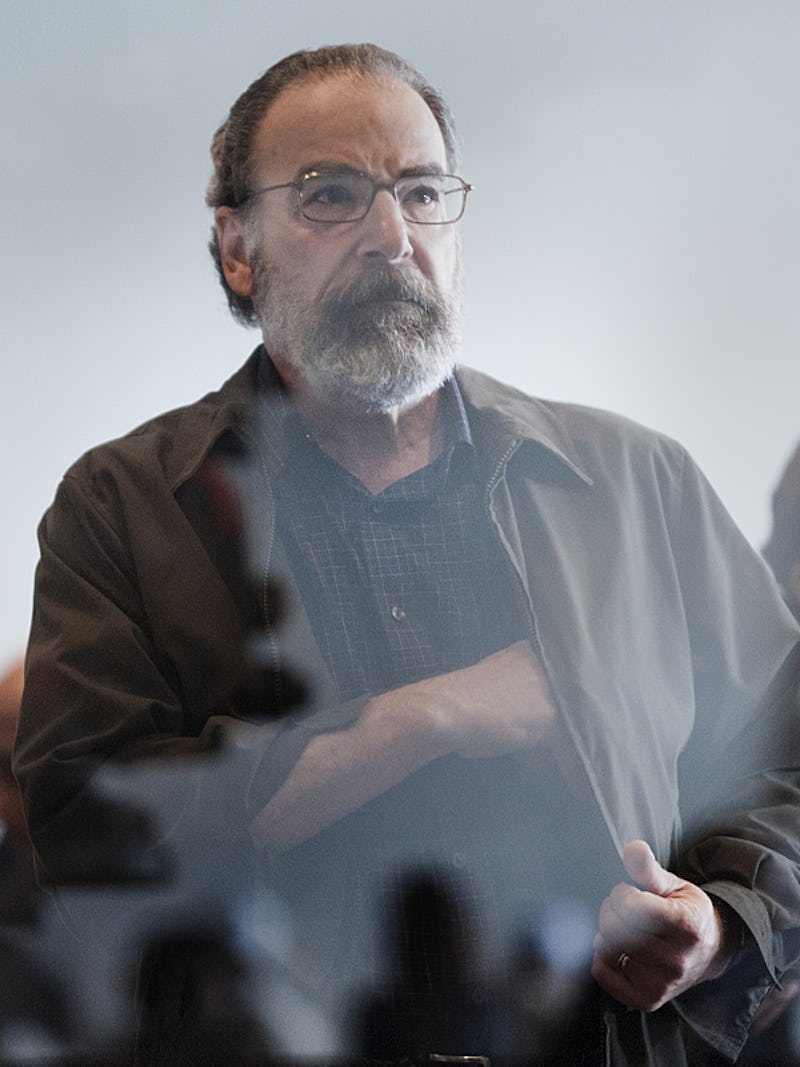 Saul's still got it. He may grumble about being out of shape (apparently, he usually only walks a half a block to the deli, not 20 miles through the very hilly desert), but he can still chain-strangle someone like nobody's business — seriously, I don't think I've seen a strangulation that brutal since the days of Jesse Pinkman. But even with his newfound badassery, Saul still captained the ship on one of the show's most emotional rollercoaster-esque episodes to date — because on Sunday's episode of Homeland, it was all up in the air.
I mean, last week I threw around the idea that he'd be taking a leaf out of Aileen Morgan's book (remember her? She rather heartbreakingly committed suicide in prison with a pair of reading glasses), and boy was it touch and go for a while there: as soon as I saw the close up of that nail, I thought it was game over for Saul — but then it turned out he just wanted it to pick the lock on his handcuffs. Then, we were treated to the horrible sight of him hanging unconscious in his cell... and that turned out to be a fake-out too.
His eventual escape felt like cause for celebration — until it didn't. When Saul made Carrie promise she'd "drop a bomb on the whole mess" if it went south, it became quite clear that he was far from out of the woods. And when the Taliban started closing in on him in the sleepy village he'd escaped to, things went very south, very fast: We quickly got to the point where was completely ready to blow his own head off to avoid becoming part of a detrimental prisoner exchange. How many of you thought he was going to pull that trigger, by the way? I don't think I breathed for a full minute during that scene.
Luckily, we got a bit of a reprieve : Rather than let him kill himself, Carrie tricked Saul into running right into the Taliban's arms, and his life is safe... for now. But what could possibly be next? Will Carrie & co manage to get him out before the prisoner exchange takes place? Or will Saul be forced to go through with his heavily-foreshadowed death? My gut says that after this episode that consisted mostly of will-he-or-won't-he (commit suicide), he's safe — at least for now. I could be wrong, but I can't see them killing Saul off after teasing us with the idea for so long; if they wanted to kill him, they'd have killed him yesterday.
At least I hope.
Images: David Bloomer/Showtime