'Hunger Games' Stars Take On 'SNL' Monologue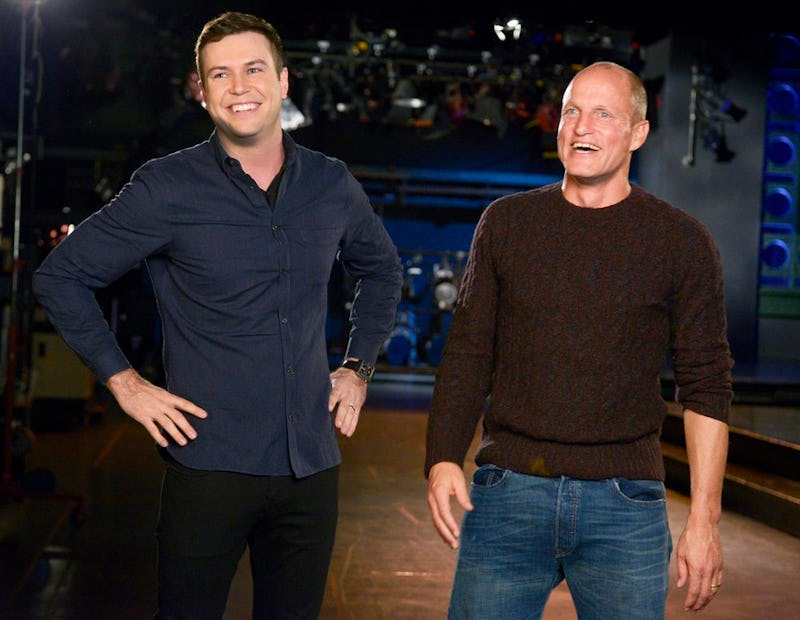 Hunger Games: Mockingjay star, Woody Harrelson, took the reigns of Saturday Night Live on Saturday to promote the upcoming — sure to be — blockbuster hit. It seemed to be a sure thing that Harrelson's episode was going to have some type of a hat tip to Hunger Games, the question was just how were they going to incorporate it. Well that question was quickly answered when Josh Hutcherson, Liam Hemsworth, and — oh yeah — Jennifer Lawrence joined Harrelson to sing a Taylor Swift inspired song.
If your mind is exploding right now with names like Swift, Lawrence, Hutcherson, Hemsworth, and Harrelson, you're responding the correct way. Harrelson started the monologue with a comment on how he had first hosted the show 25 years ago, in 1989. Segue into Taylor Swift's Internet breaking — sorry, Kim Kardashian — album 1989, and we find ourselves listening to Harrelson singing a song — to the tune of "Blank Space" — about all the crazy things happening in 1989. We've got the Berlin Wall, Cheers, a comment about Margaret Thatcher — this sounds like a bad Stefon skit — going for us until, out of nowhere, Hemsworth and Hutcherson show up to "help" Harrelson with the song.
I would have been happy with Harrelson singing "Blank Space," — with the hook line "Cause I got a blank space baby, cause I used to do cocaine," — but boy did SNL go all out on this monologue. And as if Hemsworth and Hutcherson weren't enough, Jennifer Lawrence walks out onto the stage to help even more. Harrelson asks if Lawrence is there to help him sing the song, to which she replies that no one wants to hear her sing, since she sounds like a deer caught in a fence. That line alone was a little Easter egg for fans of hers, who have seen Lawrence talk nonstop about how bad of a singer she is on late night shows this past week during Mockingjay press.
The three youngsters — all of whom were not even alive in 1989 — helped Harrelson finish up the song and complete the monologue, and it was perfect. Of course it was perfect, it had four of our favorite people in one place singing a parody of a Taylor Swift song. What is not to like about that situation?
Images: Dana Edelson/NBC