This Week's 'TWD' Got Twitter Hot & Bothered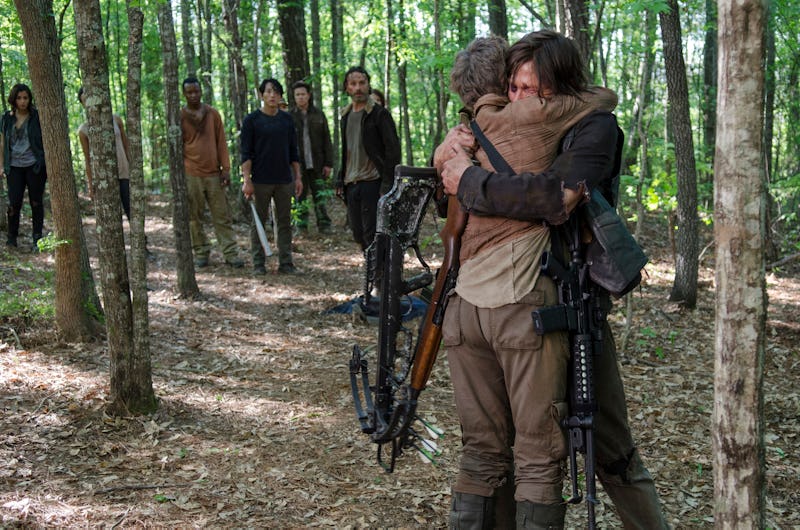 It's the eternal Walking Dead question: Will Carol & Daryl ever get together? Or are they just experiencing the best friendship ever? After Sunday's episode "Consumed," Twitter sure seems to have declared a prevailing conclusion.
Despite doing nothing romantic whatsoever — Carol & Daryl even shared a bed without any hanky panky or sweet caresses going down — throughout the episode, the sheer factor of giving fans an episode that is almost 100 percent focused on this dynamic duo gave everyone a lot of fuel for the ongoing Walking Dead 'ship. (Hey, I'm not complaining — this convo certainly curtails the nonsense Beth & Daryl 'shipping nonsense that seems to keep coming up. Yuck.) But it seems just a little far-fetched, at least for now.
Daryl did something incredibly sweet and kind for his friend: He took out two walkers, one of whom was clearly a child. It's not clear whether or not he knows what happened with Mika & Lizzie, but he knows that killing a child walker was too much for his pal. So he took the burden from her. It was an incredible gesture, but it wasn't necessarily romantic. After all, friends can do incredible things for each other without wanting to get into each other's pants. Can't they?
OK, maybe they can't. After all, Twitter is always right, right?
Of course, some people seem to get and appreciate the whole platonic friendship thing:
But for every one of those, there are 10 of these:
Sigh.
Image: Glen Page/AMC