Wale and Seinfeld Are An Unlikely But Great Pair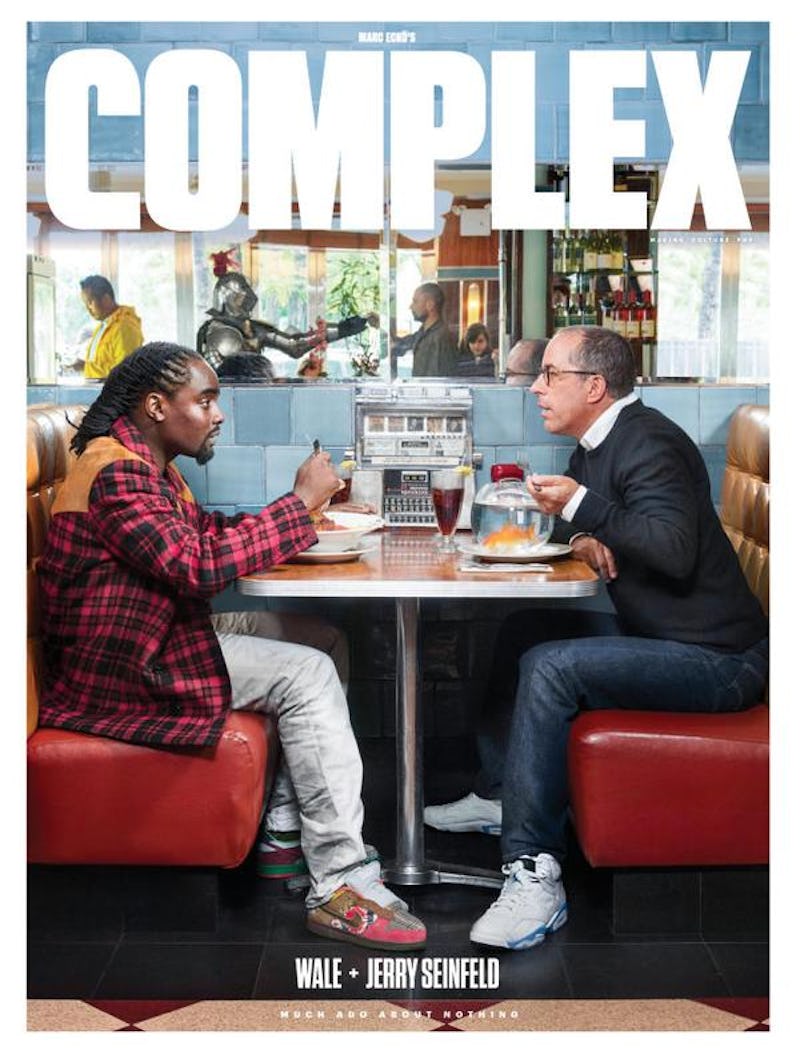 Like Oreos and peanut butter, Wale and Jerry Seinfeld are an unlikely pair of celebrity friends that shouldn't work and yet does work awesomely. The rapper and the comic grace the cover of the newest issue of Complex, pictured—what else?—having some coffee. Seinfeld and Wale first met after the comic released The Mixtape About Nothing, which was directly inspired by, and sampled material, from Seinfeld. In the Complex interview, they discuss everything from hecklers to suicide, and of course, Wale's notorious rage-fueled phone call to Complex when he was left off their list of Best Albums of the Year. The interview with Wale and Seinfeld draws a number of parallels between the worlds of comedy and hip hop, and one thing is for sure: neither of these dudes are talking about nothing.
Seinfeld has become something of a mentor to Wale, appearing on his new album The Album About Nothing. Seinfeld is having a second coming, maybe because he doesn't really give a damn about or buy into celebrity culture, something that Wale struggles with. They talk about the negativity from hecklers and critics (especially on Twitter) in both hip hop and comedy, about the urge to respond, about style, and even about strip clubs. And they do a delightful bit positing that perhaps Seinfeld was the catalyst for Wale's angry phone call to Complex, berating Juicy J.
On haters and hecklers, Seinfeld is decidedly unperturbed, whereas Wale gets emotionally involved with his critics. "It has no substance for me, it's like when somebody has a cigarette and they blow the smoke in your face, it's gonna be gone in two seconds," Seinfeld said. "I don't care. why do you give these people meaning?" Wale is at the opposite end of the spectrum (And I'm with him on this one. It's super difficult for me to ignore hateful criticism even though I know comment culture is insane.) "In my mind I try to rationalize... why people feel this way. Me personally, I want to know why. If you run into a car, you're gonna get hurt. Why is this entertaining to you? Nine times out of ten when I respond I'm just trying to find out the root of it."
Seinfeld's advice to Wale is to be more zen, which is obviously easier said than done. But a tough skin is necessary in both comedy and hip hop, two cultures that are especially scrutinized by fans and haters alike. "Every person has a different reason [to hate you]—and none of them have anything to do with you!" Seinfeld said. Wise, wise words.
They did agree that making someone laugh is more difficult than spontaneously freestyling; Wale paid respect to Seinfeld's comedy skills, saying " You gotta play off somebody's emotions. Being a comedian is probably the most pressure, next to being a quarterback in New York City or something like that." Both these artists, though wholly different in their art, take the gravity of persevering in performance seriously.
They talked about that Complex phone call that exploded all over the internet, and they had different takes on it. Wale said, "It wasn't fun for me, though. It's good now to laugh at it." Jerry's response: "Well then, it's good! All good entertainment starts with a painful moment. And if you're an artist you can take that pain and do something." Seinfeld's levity and Wale's gravity are definitely balanced, and it's so cool to see two worlds intersecting in their conversation. I don't know what it is about Seinfeld that elicits such great meditations from people, but watching him chat with friends, like on Comedians with Cars Getting Coffee, feels like a privilege. Wale even looks up to Seinfeld: "Some of our conversations I play back, and it helps me. Sometimes when I go through the dips, I'm like, this is just a dip," the rapper said. "You're always gonna dip," Seinfeld reassured him. So true, in hip hop, in comedy, and really in everything.
Image: Complex