"Miniskirt Rally" Prompted By Assault On A Woman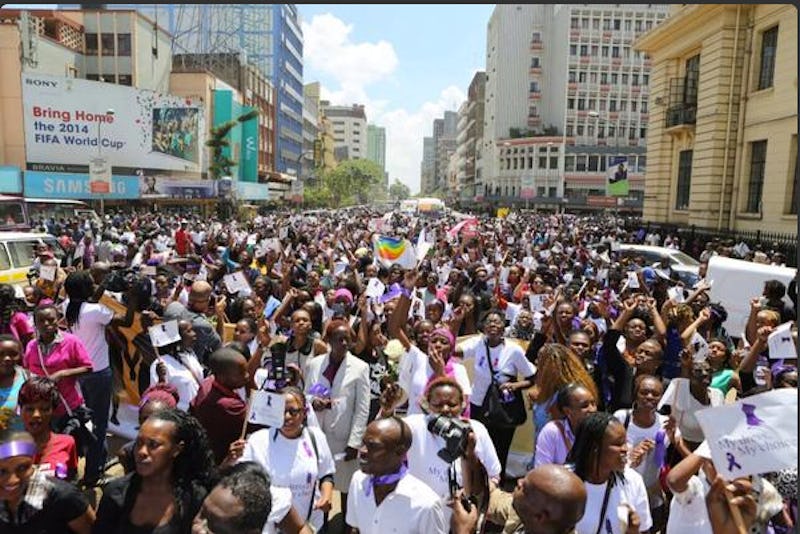 "Hell hath no fury like a woman scorned," goes the saying, and women in Nairobi, Kenya, proved that it was their turn to fight back. On Monday, protestors held a "miniskirt rally" in Kenya opposing the assault of a woman for her choice of attire. The woman, who was waiting at a bus stop last week, was surrounded by dozens of men who proceeded to tear off her clothes, beat her and kick her in the genitals for "tempting" men with the miniskirt she was wearing.
The incident was recorded and went viral upon appearing on Youtube, but so did outrage over the policing of women's bodies. Calls to action on social media spread like wildfire with the hashtag #mydressmychoice. Days after the video went online, a parenting advocate group, Kilimani Mums, organized the rally in an effort to "deliver a message to the touts who stripped our sister that it is wrong and a woman has a right to dress the way she wants." It also said in its Facebook event page:
This is our chance to stand together as women and deliver a message to our country that sexual violence will not be tolerated.
Amen, sister! Some also took to Twitter to support the cause.
Many women protestors donned miniskirts, of course, and a number of men who participated in the rally wore dresses in an expression of solidarity.
One of the protestors, Nebila Abdulmelik, told Buzzfeed News that she has seen women in long skirts and the abaya (a robe worn by women in Muslim countries) harassed for their "indecency."
Women's bodies at large are seen as the property of men to do with as they please... [The protest] is not just about the mini skirt. It's about wider issues … [and] how they play out in our daily lives.
Days before the horrifying assault in Nairobi, a woman in Kenya's second most populous city, Mombasa, was similarly attacked and stripped. In Uganda, women's rights groups have claimed that at least 50 women were stripped on the streets in neighboring Uganda after the country — infamous for its intolerance towards the LGBT community — passed an anti-pornography law.
Women in Malawi and Zimbabwe have also been assaulted and harassed for wearing skirts and pants, instead of dresses. All these incidents point to the persistent trend in conservative societies that insist on policing women's bodies, but thankfully, there are those — like Monday's protestors — who fight back, too.
Images: Boniface Mwangi/Twitter