Barbara Is Keeping a Huge Secret From Jim Gordon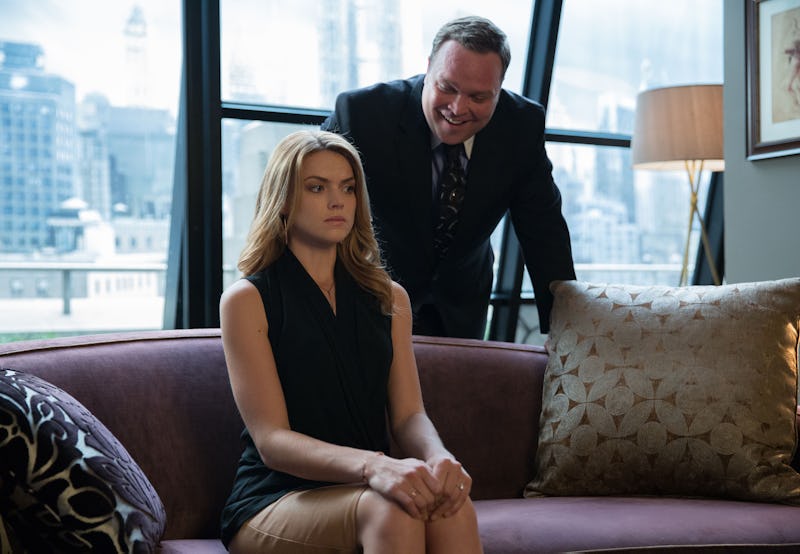 Well, that was fast. Don't get me wrong. I have been hoping to see more of the tumultuous relationship between Barbara Kean and Renee Montoya since long before Monday's episode of Gotham . I've been hoping to see more of the tumultuous relationship between Barbara and Renee since the pilot, basically. However, I wasn't expecting to see quite so much of the relationship — or to see it quite so suddenly — as was shown in the last five minutes of the episode, "Harvey Dent." Although Barbara left Jim Gordon with nothing but a letter to remember her by after she got a little too much experience with his police work, it appears that her disappearing act wasn't as a result of her fear of Falcone. Instead, she ran off to jump back into bed with Renee. Or did she?
The thing is, if there is one thing we've learned about Barbara so far, it's that she loves Jim and places his health and happiness above everything. Common sense. Personal morality. Old flames. Everything. Jim has come first in her heart over Renee since episode one, so it was more than a little jarring to see her wrapped up in Renee's arms and kissing her so easily only mere episodes after Jim saved her life — and while Jim was leaving her a voicemail message begging her to come home and telling her that he loves her. For that reason, there's a good chance that there's a lot more to the story of how Barbara got here than Gotham has revealed so far.
My initial belief is that Barbara is once again trying to protect Jim. Renee has access to contacts and resources and information that she is far from willing to share with Jim — or to share with Barbara, knowing Barbara will tell Jim. The reason that Barbara could have tearily left that goodbye letter for Jim could have been because she knew that what she was about to do would hurt Jim and that, in doing it, even if she managed to save him then she would lose him forever. However, whatever Barbara is after seems to be worth the sacrifice of harming the both of the people who care about her most in the city, even if we don't yet know what it is.
Of course, there's always a chance that Barbara genuinely wants to be with Renee. In fact, I'm sure that's at least partially true. However, this turnover was far too quick for that and, besides, ever-honest Barbara would be more likely to tell Jim that she's leaving him for his co-worker than she would be to sneak off in the night with a silly excuse. After all, Jim and Renee are co-workers. At some point, Renee is going to slip up and have a blond hair on her jacket or come to work wearing Barbara's shirt and Jim will be in the know about their affair and about the fact that Barbara didn't really leave Gotham as she said. In fact, I'm sure that's likely to happen before the season is even over, so I hope that Barbara's grand scheme was worth it.
Image: Jessica Miglio/FOX