Remember All The Drama From 'RHOBH' Season 4?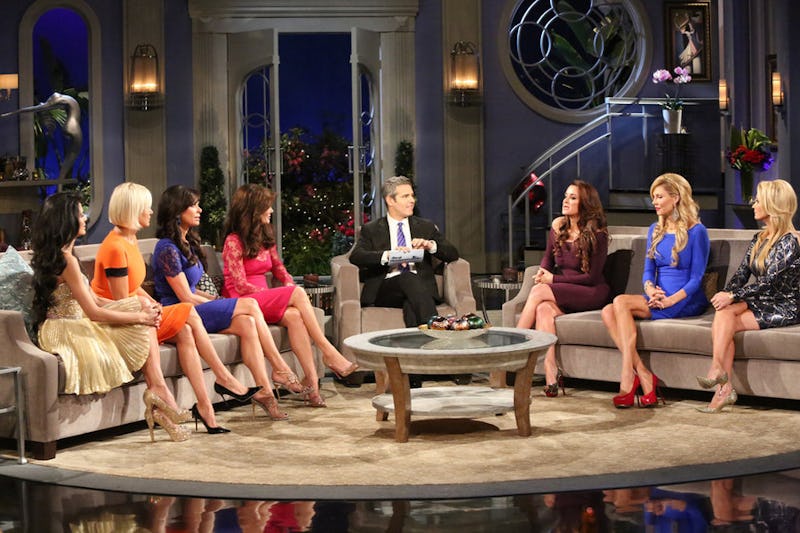 It's happening. After a long wait for Season 5 of Real Housewives of Beverly Hills to begin, the time is here. There is sure to be a large amount of drama this season, from champagne glasses being thrown at dinner parties to accusations of home-wrecking. Last season on RHOBH, new friendships never blossomed, hexes were (allegedly) placed on other cast members, and old friendships were destroyed. It got to the point where it became difficult to remember who was friends with who on the show. With Season 5 beginning, it seems necessary to remember what exactly went down in Season 4.
The fourth season featured a couple of new faces that will not be returning for Season 5, but that are definitely worth mentioning. First, there was Joyce, the beautiful pageant queen who had the best hair on the face of this Earth. Joyce butted heads mostly with Brandi during Season 4, but also had some issues with Carlton, the resident Wiccan. In turn, Carlton had some major issues with Kyle. These two, from the very beginning, just did not go well together. There was name calling between the two of them, weird "peace offering" gifts, and alleged spells cast upon Kyle's computer screen.
But out with the old and in with the new as Carlton and Joyce leave the show after one season and Bravo welcomes two new Beverly Hills housewives, Lisa Rinna and Eileen Davidson. But before we go and get invested with the new women, let's recap everything from last season that you'll need to know for Season 5's premiere.
Kyle and Lisa Had Issues
Kyle and Lisa's issues were painful to watch, because these two were quite good friends. From the beginning of the season, there were rumors in tabloid magazines that Mauricio — Kyle's husband — was cheating on Kyle. Kyle was hurt when Lisa brought up the rumors on camera — and in front of their young child — and felt it was an act of betrayal. Later on in the season, Lisa kept insisting that "they don't know what is the truth" regarding the infidelity rumors, while Ken — Lisa's husband — said, "of course we know they aren't true."
Beyond this, the two seemed to have a lot of back-handed talking about each other. They were constantly butting heads and taking small jabs at each other behind the other's back. They brought the other women into the drama — mostly Brandi — and seemed to not be able to reach stable ground.
At the finale, things seemed to get worse before they got better. There was a lot of yelling and a lot of accusations that both women didn't want to accept from the other.
Lisa and Brandi broke-up
Brandi and Lisa got extremely close during the third season. However, in Season 4, Brandi felt that Lisa flipped on her, and had turned back to Kyle as a friend. I know, pretty childish. But Brandi started to feel that Lisa was manipulating her and using Brandi as an attack dog on the other women in the group.
Brandi and Lisa — and Ken — all had a tough reunion show, where they seemed unable to clear things up. Brandi felt that Lisa abandoned her not, only for Kyle, but also for Scheana — from Vanderpump Rules. Ken told Brandi during the reunion that he could never welcome her back into his life after all the things she had done, which clearly hurt Brandi. After seeing Brandi cry during the reunion, Lisa got emotional, and it seemed that maybe, just maybe, the two could solve their issues once the cameras turned off.
Yolanda and Kim sent their kids off to college
It was an emotional season outside of the drama, as well. Kim and Yolanda both had high school seniors who were college bound, and their departure definitely shook up the housewives' worlds. It wasn't easy for either of them, but both women assured everyone that both of their daughters are doing great at their respective colleges and couldn't be better. Yolanda and Kim also seemed to bond over their empty nests.
Yolanda created a dream team that crumbled
Yolanda, Brandi, and Lisa became — whether it was on purpose or not — the dream team in Season 4. These three seemed indestructible throughout the beginning the season, but, slowly, cracks started to form in this dream team. At the end of the season, Brandi and Lisa, and Lisa and Yolanda, were not on the best of terms and the dream team was obsolete.
Images: Evans Vestal Ward/Bravo; tvhousehusband (4)/Tumblr