He's The Face Of A New Weed Company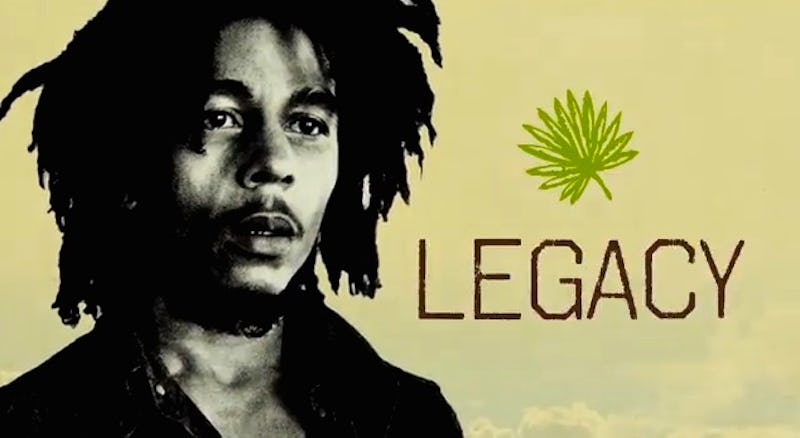 What do you think of when you hear the name Bob Marley? Here's where my mind goes, in order: infectious Reggae rhythms, dreadlocks, weed. Well, at the very least, a whole bunch more people are going to have the latter association very soon — a new Bob Marley-themed marijuana company is launching, with the announcement going out live on NBC's Today Tuesday morning. Basically, the deceased and much-beloved Jamaican musical legend (and, not to be forgotten, world peace advocate) will soon be the face of a global brand of cannabis products.
It's a partnership between members of Marley's family (he died in 1981) and a private equity firm, as detailed by NBC News' Tony Doukopil — the brand will be known as "Marley Natural," and is expected to boast a wide array of, well, whatever the marijuana aficionado craves.
Obviously, while widely regarded as far less dangerous than alcohol or tobacco, cannabis is nonetheless a recreational drug, so you'd be forgiven for thinking a family or a firm might not want to slap their name on a corporation dedicated to the stuff. But with marijuana fully legal and on sale in both Colorado and Washington, and Alaska and Oregon having voted similarly in the 2014 midterms, it's becoming clear that this particular prohibition is starting to fall away, and the Marley family is pouncing on the chance to get in on the ground floor.
It's being billed as the first global marijuana company, but according to the promotional video above, it'll still be a while before you can buy a Marley-style joint for your own, personal enjoyment — they're fixing on a target of "late 2015" for their products to hit the market. As head of the firm launching Marley Natural, CEO Brendan Kennedy framed this as the first step towards fulfilling Bob Marley's dream, albeit a more capitalistic one than some of his fans might have had in mind.
This is what the end of prohibition looks like. Bob Marley started to push for legalization more than 50 years ago. We're going to help him finish it.
Marley's daughter Cedella echoed the enthusiasm, describing how this move relates to some of her father's deepest-held beliefs.
My dad would be so happy to see people understanding the healing power of the herb. He viewed the herb as something spiritual that could awaken our well-being, deepen our reflection, connect us to nature and liberate our creativity.
The new company reportedly won't be dishing out pre-rolled joints, so if you're hoping to smoke something enormous like Marley himself would have, you'll need to work on your dexterity for a while. But as for the herb itself, the company claims they'll be offering much the same as what Marley loved best, boasting of "Heirloom cannabis strains, including some of Bob's Jamaican favorites."
Images: Marley Natural (2)